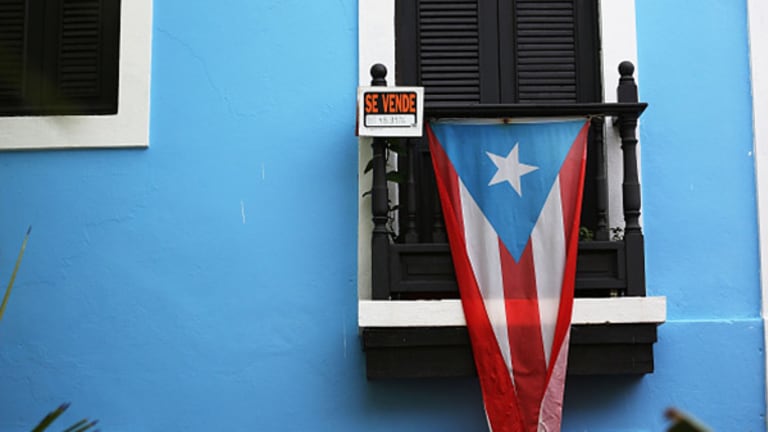 Puerto Rico: Debt Restructuring, Fiscal Reforms Are the Best Hope
The U.S. territory's leaders could go a long way toward reducing skepticism in Congress by purging the overt corruption and fiscal mismanagement that has marred the government for a decade.
Editors' pick: Originally published March 23.
For months, we have heard leaders of the Puerto Rican government blame the U.S. territory's fiscal crisis on predatory hedge funds and other investors, "vultures," to use their words.
Now we are learning that the vultures may be homegrown.
In fact, in December, law-enforcement officials arrested 10 people  in a massive public corruption scheme that rocked the island. And the chief federal prosecutor in the case left little doubt about who is to blame.
"If we put together the money related to those cases of corruption and fraud, we really wouldn't have the economic crisis at this time. And I'm not talking about 10 years ago; I'm talking about some four years and nothing more," said U.S. Attorney Rosa Emilia Rodríguez-Vélez, following questions from the press.
Then, just a few weeks ago, an investigation by a government ethics watchdog found that Puerto Rico Governor Alejandro Garcia Padilla's brother is the sole paid employee of a mysterious non-profit that relocated to the island in 2014.
The organization, formerly called the "Hispanic Education and Legal Fund," based in New York and linked to politically connected labor leader Dennis Rivera, is housed in the San Juan headquarters of Puerto Rico's largest bank. In 2004, while operating under its previous name, he used this same non-profit as one of two conduits to funnel more than $1 million into a bogus charity tied to former New Mexico Gov. Bill Richardson.
The stench of corruption undermines the victim image that Puerto Rico has leveraged to ask Washington for help, while long refusing to engage in serious negotiations with creditors toward a voluntary restructuring of the debt.
To give some background, the island's debts amount to nearly $72 billion.
To put that into perspective, according to a recent article in The New York Times, the debt is about eight times greater than Detroit's. 
Puerto Rico wound up in this situation as the result of several unfortunate factors: high levels of government spending, excessive pension and benefits offered to government employees, and a mass migration of the brightest skilled citizens to better opportunities in other areas of the United States.
What's worse, the island's financial issues have seemed to trickle down into other areas. Its major electricity provider has been all but crippled by its obligations, as was made clear during a recent hearing of the House Committee on Natural Resources.
Politically speaking, the problem with corruption -- now a clear priority for U.S. Attorney Rodríguez-Vélez -- comes at an inopportune time for Puerto Rico's leaders, as they urge Washington to craft for the island a massive, unprecedented restructuring regime in lieu of providing it with traditional, state-like access to Chapter 9. It will almost certainly give pause to Republicans, who are already wary of the broad implications of an unprecedented regime.
And there is another dynamic complicating Puerto Rico's position in Washington.
As it becomes clear that many of the island's fiscal wounds have been self-inflicted, its creditors are in fact sounding less like the "vultures" that Puerto Rico's leadership has made them out to be. Creditors have floated the idea of avoiding comprehensive restructuring by proposing a deal that they say would not only fulfill obligations to debtors but also preserve essential services such as hospital care and maintenance of transportation infrastructure.
Instead of even considering that offer, though, Puerto Rico's leadership seems bent on winning support for its unprecedented restructuring proposal. It remains stubbornly committed to this approach, despite the fact that experts such as William M. Isaac, a former chairman of the Federal Deposit Insurance Corp., pointed out that state-like Chapter 9 access for the island would be sufficient if paired with growth-targeted fiscal reforms.
That approach, which would allow the island to restructure the debts of its instrumentalities and public corporations, has the added benefit of being rooted in many decades of established bankruptcy law. And if reforms were tied to some type of federal oversight mechanism, it would conceivably give Congress a potent tool to look into corruption on the island.
In making the case for congressional action, Puerto Rico's leadership has warned that the island's debt crisis will have dire consequences for the American economy and global financial markets if it isn't addressed. But Puerto Rico's leaders should know that they could go a long way toward reducing skepticism in Congress by taking tangible steps to get the island's house in order, starting by purging the overt corruption and fiscal mismanagement that has marred the government over the past decade.
This article is commentary by John Burnett. Follow him on Facebook,Twitter and YouTube.