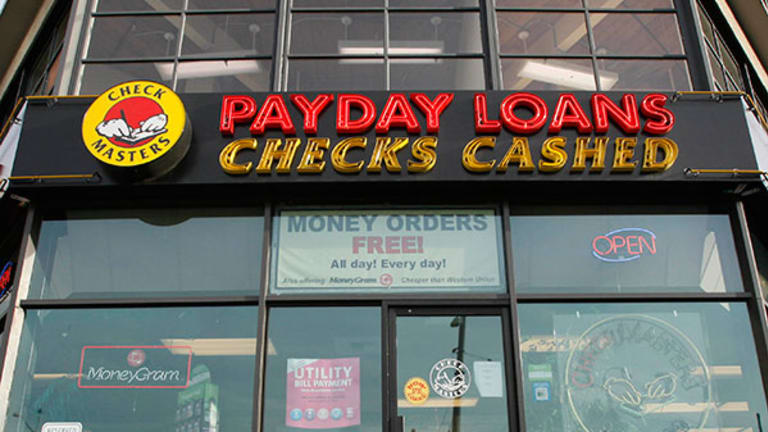 Payday Loan Firms Are Extending Deals And Cleaning Up On Fees
Extending loan periods, payday loan firms are charging higher fees for the extra time.
With the U.S. Consumer Financial Protection Bureau expected to issue new rules that would curb at least some of what consumer advocates call excessive fees and interest rate charges by payday loan firms, the payday industry is branching out into other, longer loan-term areas for revenue.
Industry insiders call the longer deals "installment" loans, much like a mortgage or auto loan where you pay monthly over a long period of time to repay the debt, only with higher loan rates and fees.
The installment gambit isn't expected to replace the traditional two-week payday loan, but it does give the payday loan sector another avenue for profit as Uncle Sam weighs heavier mandates on current industry practices. By establishing a new loan channel, payday players not only open up new avenues for growth, they've bought some much-needed time for themselves to earn more profits at the expense of usually low-income consumers, with little or no data trail for federal regulators to track and monitor.
Consider these longer, payday loan terms that were provided to The Street by the Center for Responsible Lending:
- Advance America in South Dakota: A $1,000 in-store loan with 12 bi-weekly cash payments of $172; after the 6th payment, the lender will have collected $1,033.
- Ace Cash Express in California: A $2,600 loan, with recurring payment authorization, due in nine monthly payments of $594; after the 5th payment, the lender will have collected $2,968.
- CashCentral (CheckSmart subsidiary) in Missouri: A $2,000, two-year loan; after a year of payments, the lender has collected over $3500, and the borrower still owes principal of $1,750.
Currently, the 12 million Americans who receive a payday loan each year, pay $7 billion in the process, according to the Pew Charitable Trusts. When you break the data down further, it only gets worse for payday loan customers. "The average payday loan borrower is in debt for five months of the year, spending an average of $520 in fees to repeatedly borrow $375," Pew says. "The average fee at a storefront loan business is $55 per two weeks."
So why would consumers ever go for longer-term loans, given the rapacious nature of the payday loan sector? "Payday loans are marketed as quick, financial fix, even though the reality ends up being much different," says Diane Standaert, director of state policy at the Center for Responsible Lending. "Once stuck in the payday loan debt trap, it's hard to get out."
Geographically, not all states allow the longer-term payday loans, although loan companies capitalize on the fine print to attract customers. "In some states, payday lenders exploit loopholes or evade protections in other parts of the law," Standaert states. "Many states correctly protect against the high charges on these types of loans, and those should stay in tact as the best way to prevent these abusive loans."
Consider California, where auto vehicle title loan consumers are a popular target of lenders. "In California, we are seeing an increase in high-cost car title and installment lending above $2,500," says Liana Molina, director of community engagement at the California Reinvestment Coalition (CRC). "The state Finance Lenders Law does not restrict interest rates on consumer loans above $2,500, so the majority of these loans carry interest rates above 100-200% APR."

One consumer the CRC spoke to paid $6,700 over 24 months for a $2,529 car title loan with a 112.47% interest rate. "Throughout the term of the loan, she experienced threatening phone calls and was fearful that her car would be repossessed," Molina adds. "These loans are an extremely expensive and stressful source of credit, and borrowers should be very careful and strongly consider all other options before resorting to these lenders."
On the federal level, advocates say the government must move forward on all fronts to combat excessive payday loan rates and fees. "As the CFPB moves forward to issue new rules, it must do more to ensure that payday lenders can't keep people trapped in unaffordable loans, regardless if the loan is due in two weeks or two years," notes Standaert.
Uncle Sam is already lining up new rules on the short-term loan end. Now, the federal government, via the CFBP, might start taking a closer look at longer, more expensive, payday loans, too.