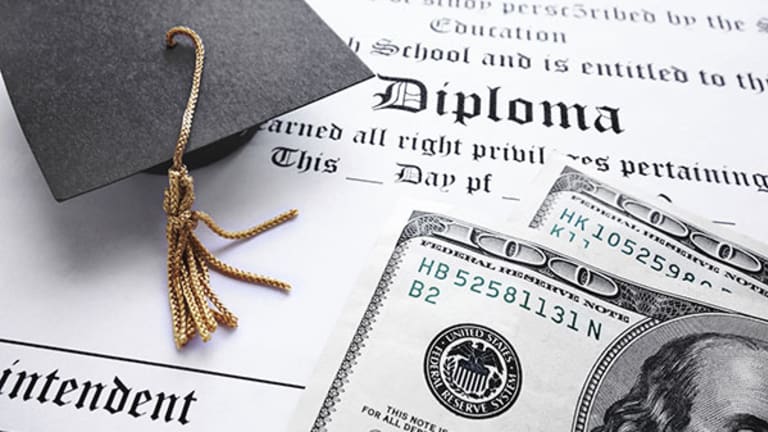 Pay-as-You-Earn Student Loan Repayment Caps Get a Hearing in the New Year
Your payments could be capped at 10% of discretionary income if a goal of adding some 5 million additional students is realized.
NEW YORK (MainStreet) — Next year, the Department of Education is expected to make good on President Barack Obama's promise to increase how many students get access to its primo income-based repayment program. That's when a panel will convene to hammer out an enlargement of Pay As You Earn, a program that limits monthly payments to up to 10% of discretionary income. After 20 years, any remaining balance can be wiped out.
A Dec. 19 post on the Federal Register says the department wants a variety of people on a rule-making committee; it hopes to draw from various colleges and universities, including financial aid administrators, as well as veterans groups, consumer watchdog organizations and the offices of state attorneys general. Loan servicers, guaranty agencies and student loan debt collectors also get seats on the committee.
The goal is to make some 5 million additional students eligible for income-based repayment caps. The committee may also make changes to the way active-duty service members get federal student loans under the Servicemembers Civil Relief Act. Last Spring, the Department of Justice sued student loan servicer Sallie Mae — now known as Navient — for overcharging former service members. Sallie Mae/Navient agreed to a $97 million settlement.
"At a time when higher education has never been more important, it's also never been more expensive," Obama said at a June 10 press conference when the wraps were taken off Pay As You Earn. "Over the last three decades, the average tuition at a public university has more than tripled. At the same time, the typical family's income has gone up just 16%."
The devil — and the cost — may be in the details. The government has yet to put a price tag on expanded income-based repayment. Cost-savings may be realized in tweaks that the Department of Education has already proposed, such as limiting benefits for borrowers with high debt and high income.
In general, the solutions will not be quick and dirty. The DOE is expected to host a series of three-day conferences at its K Street headquarters in Washington, most likely Feb. 24-26, March 31-April 2 and April 28-30, when implementation, timetables and other questions will be discussed.
— By John Sandman for MainStreet