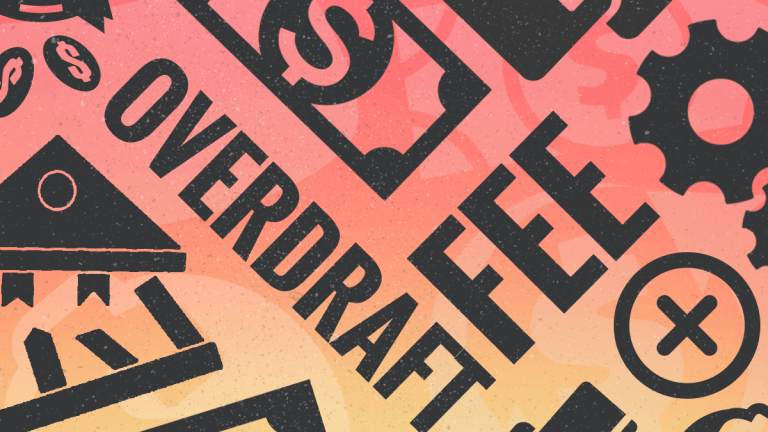 What Is an Overdraft Fee and How Do You Avoid Them?
Overdraft fees can be an annoying and potentially costly price of overdrawing from your checking account. Find out more about the different kinds of overdraft fees and how to avoid them.
Overdraft fees are one of the first things people should take note of when opening a checking account. According to data released recently by the Federal Deposit Insurance Corporation, large banks collected $11.45 billion in overdraft and non-sufficient funds (NSF) fees in 2017. This does not count similar fees collected by smaller banks and credit unions. Find out more about these troublesome fees and how you can avoid them.
What Is an Overdraft Fee?
An overdraft fee is a common penalty fee that banks charge when you spend or request more money than is available in your checking account. When you request more money than is in your account, the bank will either cover the remainder or reject the transaction. Often, the overdraft fee is justified as a fine for the bank needing to cover the transaction.
However, some banks will also charge other fees, such as penalties for overdrawing your account balance, dipping into your line of credit, or for leaving your account in the red for several days. This can cause overdraft penalties to compound, potentially resulting in hundreds of dollars worth of fees.
Types of Overdraft Fees
While most banks charge a standard overdraft fee, there are other kinds of penalties that you can also incur from overdrawing from your bank account. It is important to know the difference between these fees and which ones your bank charges.
Standard Overdraft Fee
People incur the standard overdraft fee if they purchase something that puts their account into a negative balance. This is the most common type of penalty for overdrafts on checking accounts. According to Bankrate's 2018 checking account and ATM fee study, the average overdraft fee among larger banking institutions is $33.23.
Non-Sufficient Funds (NSF) Fee
Some institutions will charge a NSF fee when they reject a transaction for insufficient funds. When you overdraw, some banks won't cover the cost of purchase and will instead close off the account to any further transactions until there is a suitable balance available. Banks may also issue an NSF fee for issuing or receiving a bounced check. NSF fees tend to be around the same amount as standard overdraft fees.
Overdraft Protection Fee
Also known as an overdraft transfer fee, banks charge overdraft protection fees when they dip into your savings account or line to cover transactions made in a checking account with no available balance. While overdraft protection allows you to make purchases when your account is in the red, many banks will charge a fee ranging from $3.64 to $12.30, according to a study from Kasasa. Luckily, many banks charge these fees per day rather than per transaction.
Extended Overdraft Fee
Some banks impose an extended overdraft fee when your checking account has a negative balance for multiple days - typically five days. This fee is charged in addition to standard overdraft fees. This type of overdraft fee is sometimes called an "extended overdrawn balance fee" or "sustain overdraft."
5 Ways to Avoid Overdraft Fees
There are few things worse than watching your hard-earned money get eaten up by extra fees and charges. While overdraft fees can be frustrating, there are many things you can do to avoid incurring these penalties.
1. Track Your Account Balances
The easiest way to avoid overdraft fees of any kind is to keep tabs on your account balances at all times. One of the easiest ways to do this is to participate in mobile banking, which will allow you to check in on the status of your accounts with only a few taps on your smartphone. Regularly logging into your bank's website and checking your account balance. Overdrafts aside, this is a best practice for making sure that your bank accounts aren't compromised.
2. Use Technology
Many banks offer notification services for low bank balances. Typically, these notifications come through email or text message, letting you know when your account balance is dipping into the danger zone. You can opt into these services when you open an account, but many major banks will also allow you to opt-in online after opening the account.
3. Don't Get Overdraft Coverage
When you open an account, banks will ask you if you want to opt in to overdraft coverage. Opting out of overdraft coverage will mean that any debit card or ATM transactions won't be covered by your bank. While this could cause some awkward moments at the checkout counter, it could also help you avoid some of the most common (and most expensive) types of overdraft fees.
4. Connect Your Accounts
Connecting your checking account to a savings account or a credit card will give your bank something to draw funds from in the event that you overdraft. Doing this will incur an overdraft protection fee, but these types of fees are often much lower than your standard overdraft fee.
5. Get a Prepaid Card
Having consistent issues with keeping your account in the green? Consider getting a prepaid credit card. These cards allow you to deposit a certain amount of money on them and work similarly to a traditional debit card but are not linked to a checking account. This will help you bypass the sometimes exorbitant overdraft fees. Be aware that some of these cards sometimes have associated fees of their own, so do your homework to find prepaid cards with minimal fees.
How to Get Overdraft Fees Waived
Already incurred overdraft fees? Wondering if you can get out of it? Luckily, most banks will waive the overdraft fee on your first offense if you call and ask. Some institutions even have a policy that forgives customers in good standing once a year. However, if you habitually overdraft your account, these exceptions are unlikely to apply.