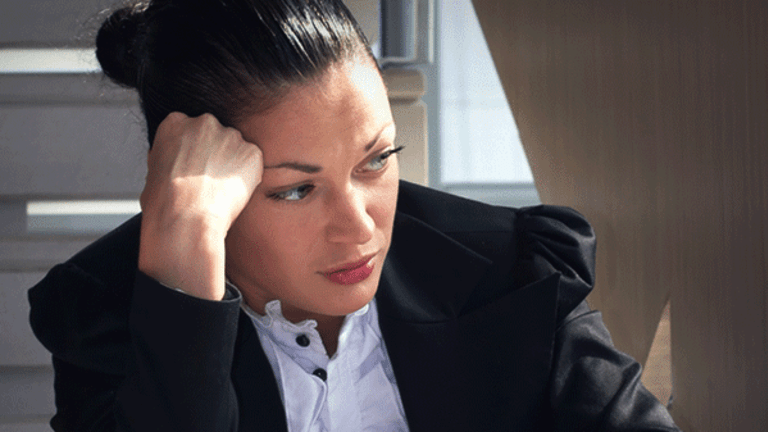 Over 30% of Americans Say Their Financial Life Is 'Worse Than Expected'
A new study shows that more than 30% of Americans say their financial lives are a mess right now, despite indications the economy is improving in 2017.
Editors' pick: Originally published Jan. 11.
The economy is improving. The key benchmarks financial experts use to gauge the U.S. economy are largely trending upward. Gross domestic product, consumer sentiment, the stock market, and a rising interest rate policy by the Federal Reserve all signal a healthier U.S. monetary landscape.
So why are so many Americans so negative about their own financial situation these days?
That's a question tackled this week by the National Endowment for Financial Education. The Denver-based group produces an annual survey on Americans' new year's resolutions, and in 2017, the results are an eye opener.
The good news is that 68% of U.S. adults surveyed by the NEFE say they will prioritize improving their financial lives as a new year's resolution this year. The bad news is that 31% rate their personal financial situation as "worse than they expected it to be."
The gist of that financial anxiety is this - too many Americans believe they're experiencing a one-step-forward and two-steps back reality with their money management these days. According to NEFE, an alarmingly high number of Americans regularly suffer financial setbacks, with their cars, their homes (especially with costly maintenance problems), and health, among other issues, that keeps them lagging behind in their financial lives.
The survey also finds that 48% of Americans "admit that they are living paycheck to paycheck," thanks to high credit card debt, job woes and rising housing payments. All that adds up to "more financial stress," according to the NEFE study.
Recent political volatility isn't helping matters, experts say.
"People are down now because we just went through a very, some can say, depressing election period with half the country feeling sad over the result and the other half being largely the people who felt the brunt of bad economics over the years," says Arik Kislin, a real estate investor, developer and entrepreneur.
Kislin says that, with less income, joblessness and expenses rising, people who fall into the "worrisome" category are feeling the pain from debt that has been accumulating. "Essentially, they are dealing with the past," he notes. "The way to handle it is to look ahead to the future. We do not know what Trump will bring, but the economy is picking up, markets are gaining, and while people who don't agree with Trump might feel an emotional low, they should see the financial optimism as a positive."
To get a grip, or at least lock into a more positive monetary mindset, financial specialists advise looking for household "budget" leaders.
"A great way to get your financial life on track is to decide who will wear the 'family CFO' hat," explains from Kevin Brauer, chief financial officer at Affinity Federal Credit Union, the largest credit union in New Jersey.
Brauer believes that, in the same way companies have a CFO, a family needs one too. "This person should be comfortable in dealing with topics around money and commit the time to handle financial planning, budgeting, bills and much more," he says. "From there, it's about having open and honest dialogue around your finances - for example, when creating a budget, a family must consider everything from the age of their parents and will they be responsible for their support at some point, where they are in their own life cycle, the age of their car, if they'd like to buy a house and even how lavishly they'd like to vacation."
"Lay all of this out on the table to help paint your financial picture and make more informed financial decisions moving forward," he adds.
Taking a laser-like focus on spending is another solid way to reduce financial pressure, says Roger Klee, a finance professor at Cleveland State University. "Control of one's spending is vital for healthy finances, and technology has made tracking expenses easier than ever," Klee says. "One cannot fix what one cannot see. Avoidance will just make the current situation continue into the future."
It's "easy" to not realize where all of your money goes each month, says Klee. "For example, buying a latte at Starbucks might cost $4 apiece, but when you buy 20 per month you are spending $80, and that's a relatively easy expense to cut," Klee says.
Klee also advises using expense tracking sites like Mint.com, to monitor all spending regardless of the credit card, debit card, or PayPal account used. "It doesn't track cash spending, but you should be doing very little of that, anyway," he says.
Taking a more analytic view of money, and more importantly, money problems, is another healthy option for worried financial consumers.
"Your money doesn't have to be a black hole of doubt and uncertainty," says
Todd Curtis, chief customer officer at YNAB, an online debt control services firm in Provo, Ut. "Even if you wish you had more money, if you have a budget, you're in control of the money you have, and therefore, in a position of power," he says. "You can sleep at night knowing the bills are covered, and ensure that your money is moving you closer to your priorities and goals."
Besides, "more money" is never the answer to a money management problem, Curtis adds.
"More cash won't fix all your problems," he says. "Take the time to decide what is really important to you, and use your budget as a tool to get there - that will keep you focused. Does this spending help me reach my goals? If not, don't spend it. That's not restriction, that's empowerment. And reaching your goals will make you truly happy."
Yet for about one-third of U.S. adults, worries about money overshadow any talk of goals and financial happiness. Apparently, it's going to take some time to turn that scenario around.