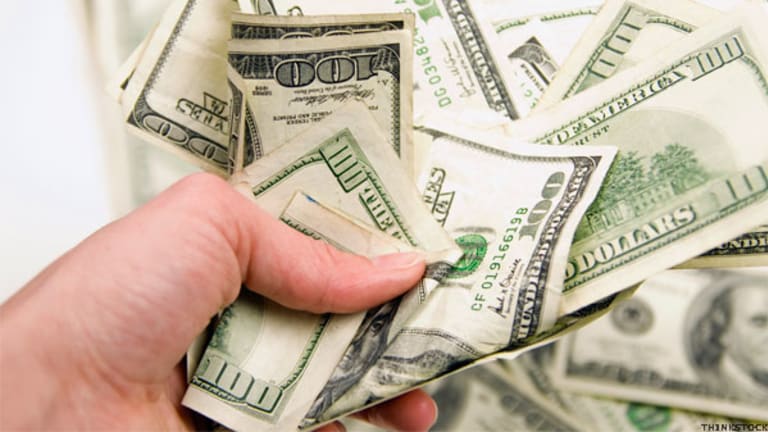 Our College, Mortgage Debt Is Falling, But We Still Need New Cars
Consumer debt levels were in retreat last year, thanks in part to a steady drop in unemployment throughout 2013.
NEW YORK (TheStreet) -- Consumer sentiment softened a bit last month, but Main Street America's outlook on the economy is still light years better than during the last half of 2013.
According to TradingEconomics.com, U.S. consumer sentiment slid from 82.5 in December to 81.2 last month. But those levels are way ahead of the mid-70s levels seen in September, October and November.
Maybe that relatively seesaw outlook from Americans can explain why consumer debt levels were in retreat last year.
Manilla, the New York City digital mailbox services provider, says overall U.S. consumer debt fell by 4%.
Also see: Reasons for Bankruptcies? They're Not What You Think>>
"There are a number of factors at play when considering why overall debt is lower going into 2014, including the fact that we've seen a steady drop in unemployment throughout the year, from 7.9% nationwide at the end of January 2013 to 6.7% at the end of December," says Jim Schinella, CEO of Manilla. "Improved employment equates to more people having funds to pay down existing debt."
Manilla says student loan and mortgage debt is down as consumers scramble to get cash liquid in hopeful anticipation of a resurgent economy.
The report says that the average student loan debt of $14,411 is down by 6.75% from the end of 2012. Regional economies can strongly influence student loan paydowns, though. Atlanta, which has seen its unemployment rate fall from 8.3% to 7.4%, was near the top of the list of cities where residents are paying down college debt at a faster clip. Albany, N.Y., in a state where unemployment is still relatively high, has an average student debt level of $18,380, and residents are paying off student loans more slowly.
Manilla says mortgage debt is also in decline. The national mortgage loan average fell by 5%, from $156,345 in January 2013 to $148,960 last month.
Also see: Foreclosures Sink Back to 2007 Levels>>
Cities where mortgage loans are highest (including San Francisco, New York and Boston) were also the cities where residents were most likely to lag on paying off mortgage debt.
One area where Americans are actually piling up personal debt is with their cars, trucks and SUVs. Thanks to higher vehicle sales -- AutoNationsays new vehicle sales were up 11% last year -- the average U.S. auto loan debt rose 9% over the same time.
The takeaway? Americans have historically had a strong attachment with their cars and trucks. It's one loan debt they don't seem to mind, even as they take more aggressive steps to paying down other big-ticket debt items.