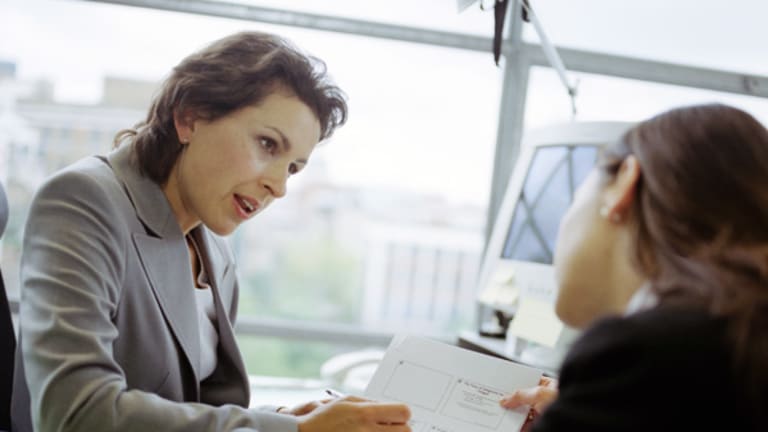 Once Wall Street Bankers, Now Consultants
Thanks to a startup and a growing consumer demand for their consultancy services, they're getting a fresh shot at a career.
NEW YORK (TheStreet) -- You're a banker and you were working on Wall Street. You were doing great until you were suddenly laid off because of what came to be known as the Great Recession of 2008.
What now?
Well, there's money in the economy again. Luckily for you, there's also increased demand for independent financial consultants who not only make it easier for borrowers -- including small businesses -- to find the best deal on loans, but also help larger banks find borrowers who won't default on those loans.
Nearly one million independent financial brokers are currently operating in the U.S., according to census data. Several ex-Wall Street professionals are striking out on their own and offering their expertise directly to consumers and small businesses.
One such service provider is Verifico, launched in early 2012 by Paris Benson, a serial technologist -- one who deals with the transfer of data over a communication channel-- and UCLA economics major.
The startup's senior leadership team includes lead technologist Andy Bauch, who worked the Department of Treasury; Leila Fiorentino, head of strategic partnerships and a former senior executive at American International Group (AIG) - Get American International Group, Inc. Report; and operations head, Sami Siddiqui, who was earlier CEO of Citigroup (C) - Get Citigroup Inc. Report unit Citibank's credit card operations.
Verifico is a promising tech startup that provides a virtual marketplace connecting consumers and independent financial services specialists including loan consultants, tax professionals and credit repair agents, to create a platform of trust for potential borrowers and small business owners who require startup capital or funding for machinery and project investments.
Verifico came to be as an offshoot of a scam buster that identified and helped shut down about 40 unscrupulous finance companies that were defrauding their clients. As the demand for independent financial professionals grew, the market found its unofficial home in places like Craigslist, leaving consumers unprotected.
Since 2008, many entrepreneurs and small business owners have been struggling to obtain funding to make new investments or expand their frontiers to new markets, even if they have maintained strong credit histories and generated impressive cash flows. Verifico lets them connect with experts who can get their loan funded, Benson told TheStreet.
Take Jack Quinn, who owned a thriving restaurant in New Orleans. He needed $100,000 to hire new staff and buy equipment. "My bank for 20 years wouldn't even consider my application for a business loan. I applied to 10 places online before I realized I didn't know whom I was even talking to," he said. When Jack applied to Verifico, he heard back from three brokers the same day and eventually got a loan at a good rate in two weeks.

The nationwide market for independent financial service providers, operating beyond the contours of the arena dominated by large financial institutions, is $86 billion. Furthermore, 61 million Americans, or nearly 20% of thepopulation, work with independent financial experts rather than a large bank, according to the Federal Reserve.
This burgeoning off-mainstream loan market is also providing more than half of the 344,000 finance experts, who were victims of recession-led big-bank layoffs, a shot at the career after they were let go five years ago and struggled to find another job.
Verifico diminishes the odds of scammers with a stringent verification process that brings on board the most reliable and qualified finance professionals to service a national base of 70,000 potential borrowers, according to CEO Benson. The vetting process involves thorough checks on financial consultants' background histories with the BBB (Better Business Bureau), interviews with their colleagues and supervisors, and an extensive scan of online reviews and complaint boards.
"One CPA was rejected because of multiple complaints on scam boards, but it is worth it for our users who are entrusting their finances to professionals on the system" Benson said.
The financial matchmaking service has 1,000 independent finance experts on its rosters and handles 500,000 inquiries a year. While its online user interaction platform is similar to eBay (EBAY) - Get eBay Inc. Report, it has an edge in terms of a back office system, helps financial service providers seamlessly advertise their services, manages client projects, streamlines services, processes online payments and tracks the progress of a client account from start to finish.
Verifico says its service has been helping large financial institutions strengthen their lending operations, too. The general sense among borrowers is that "banks are not lending as much because their loan applications are getting rejected. But that's because banks have added more criteria for loan applicants. The financial experts on Verifico help customers connect with the right vendors," Benson said. "As a result, banks are getting more qualified loan applicants."
This article represents the opinion of a contributor and not necessarily that of TheStreet or its editorial staff.
>>Read more: Buffett, Paulson Stakes in Verizon Set High Bar for AT&T
>>Read more: GOP Is Wrong: Small Business Hitting Stride in Economic Recovery