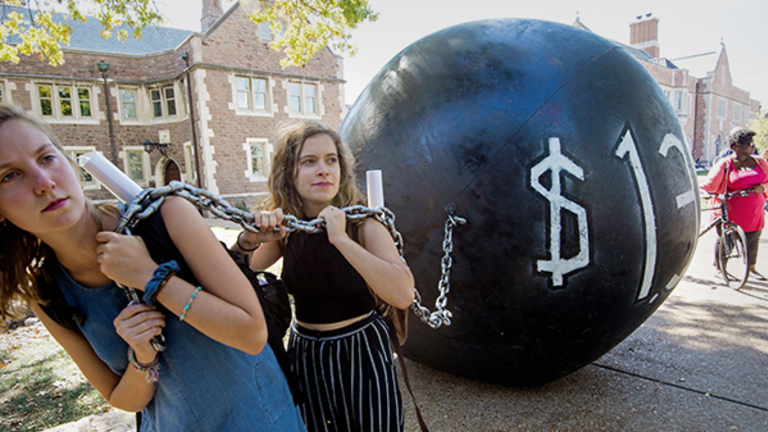 Now Is the Time for Both Parents and Graduates to Take on Student Loan Debt
For students fresh out of college and parents trying to figure out a way to pay for it down the line, summer is a great time to strategize.
With graduation complete and a few months until new college students arrive, now is the perfect time to take on student loan debt.
The student loan totals the Class of 2017 are still being tallied, but college and scholarship site Cappex put the Class of 2016's student loan debt at an average of $37,172 per student. That's up 6% from 2015, with debt carried by 70.1% of all graduates. That's also up from $12,759 two decades ago, when just 54% of all students graduated with debt.
Meanwhile, the Federal Reserve Bank of New York notes that total student loan debt reached $1.21 trillion by the end of 2016. That's up $78 billion from a year earlier and is the second largest pile of U.S. consumer debt behind mortgage debt (at $8.48 trillion, up $231 billion from a year ago). More than one in ten student loans are past due. That's a worse delinquency rate that for credit card bills, of which 7% are past due. In March, credit bureau Equifax put outstanding student loan balances at $1.334 trillion, up 8.8% from a year ago. More than 1.2 million student loans were taken out in the first three months of the year, accounting for $10.17 billion -- a 22% increase over the value of those loans at the same time last year.
For parents who see all of this and want to go hide in a bunker somewhere until their kid graduates, advisors note that you aren't helpless here. Unfortunately, 70% of Americans do not know what a 529 plan is, according to a survey by financial services firm Edward Jones. Only 32 % correctly identified the savings option this year, up four percentage points from 2016 (28%). The college savings plans, first offered in 1996, allow investors to save for college without being taxed on the growth of their savings.
"The cost of college is rising annually, and many Americans are trying to identify the best savings strategy to address their needs," says Kyle Andersen, a principal at Edward Jones responsible for advising clients on college savings strategies. "We urge investors to be proactive and learn about the different investment and savings options available to ensure they properly align with their long-term financial goals."
Generation X (ages 36 to 55) was significantly more likely to correctly identify 529 plans (47%), but Millennials (30%) and Baby Boomers (29%) had no idea they existed. Among those with children, 42% could identify a 529 plan, compared to 27% without. Without a 529 plan, 43% of Americans plan to use savings to pay for college, followed by scholarships 36%, federal or state student aid (36%) and private student loans (23%). The 529 plan accounts for only 14% of college savings strategy.
"There are many variables that affect a college savings strategy, so it's important to stay well diversified and start planning immediately," says Danae Domian, an Edward Jones principal responsible for college savings plans. "Proper education can prevent individuals from solely relying on scholarships or financial aid, as these strategies can be unpredictable."
Plus, young parents who implement that savings strategy now can prevent the struggles they faced when they graduated. While the job market has improved since early Millennials graduated during the recession, it still isn't great for those just getting out of school. The Bureau of Labor Statistics puts the current unemployment rate at 4.4%, that jumps to 8.2% for people ages 20 to 24 -- or roughly the age of most recent college graduates. Only 70.4% of people that age are an active part of the workforce, compared to nearly 81.7% of those between 25 and 54.
Unfortunately, according to a survey by Prudential Financial, most graduates have no idea how to handle their student-loan burden once they start paying it off. Roughly 53% don't know their monthly repayment amounts, while 74% have no idea how long they'll be making payments. Though 25% have no idea whether they have private or government loans, student borrowing in the U.S. has almost tripled in the past ten years. While 90% of students and graduates Prudential surveyed said college was worth the expense, only 25% of those with student loans called college debt "good debt."
"We wanted to understand how student loan debt affects students and graduates in their daily lives," says Prudential Advisors president Caroline Feeney. "The findings are troubling, given the amount of emotional and financial stress graduates face as they struggle to save enough money to establish families and households, plan for retirement or protect themselves against unexpected life events."
Graduates with debt already feel as if they're starting behind their peers. More than half (55%) say their debt prevents or forces them to delay saving for emergencies. Another 42% of those carrying debt are delaying buying a home, while 40% say their debt prevents or forces them to delay retirement savings. Debt is keeping 25% from having children, while 20% are putting off getting married.
"Encouragingly, we learned graduates continue to value the benefits of higher education," Feeney says. "But by understanding the terms of borrowing, taking advantage of all funding sources and carefully managing finances, students and their families can minimize the burden of student loan debt after graduation and improve their financial wellness."
While most graduates saddled with student loans say they wouldn't call the loans "good debt," only 12% said they would have skipped college. Meanwhile, previous graduates advise prioritizing student loans behind only rent and food, toning down your discretionary spending (clothes, drinks, etc.), finding a side job just for paying off student loans and, for those still in school, work during school instead of taking the maximum loan amount available.
In general, graduates advise avoiding credit-card debt and creating a budget. All of the above should make it clear that student loans on their own aren't necessarily bad. The Pew Research Center reports that, on average, college graduates between 25 and 32 earn $17,500 a year more than those with only a high school diploma.
"The big takeaway here isn't that students should skip college to avoid debt," says James Mahaney, vice president, strategic initiatives at Prudential. "Rather, it is that college-bound students can learn from graduates to avoid burdensome debt as they find ways to take advantage of all options, including applying for more grants and scholarships, participating in work-study programs and managing their money responsibly, even before college."