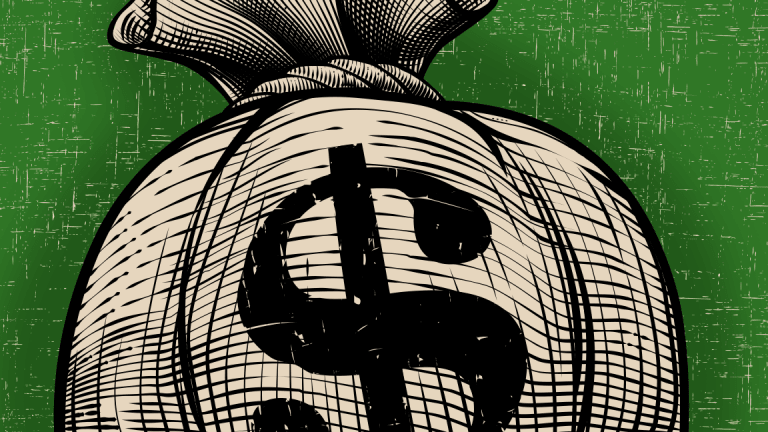 75% of Americans Would Quit 'Game of Thrones' for $1,000
Americans would go to great lengths to get an extra $1,000. Here's what most people would do to land one grand.
A new study on consumer financial behavior shows how far Americans would go to pocket some extra money -- and turning off "Game of Thrones" is at the top of that "money madness" list.
The study is an interesting one, zeroing in on both what lengths Americans would go to in order to pocket $1,000, while pointing out that half of people surveyed are "depressed or anxious" about their cash situation.
The data comes from Acorns, a micro-investing app company, and offers some interesting takeaways:
-- Three quarters of Americans between the ages of 18 and 44 would not watch the final season of Game of Thrones in exchange for $1,000.
-- Another 75% said they would "forego the Internet for a week" and "give up coffee for a year" for a $1,000 cash payout.
-- Almost 70% of respondents would rather share their weight than how much money they've saved (72% of men vs. 64% of women.)
The Acorn study comes on the heels of another report, this one from Bankrate.com that states only 39% of Americans say they "have enough savings to cover a $1,000 emergency room visit or car repair." For Americans who are not able to pay that expense, 36% of respondents would need to borrow the money in some fashion."
This, despite the fact that 34% of Americans say they have had a major unexpected expense in the past year, according to Bankrate.
"Unplanned expenses can pop up at any time and your best protection is having an emergency savings cushion," says Greg McBride, chief financial analyst at Bankrate.
So, how can Americans come up with $1,000 or more for unexpected expenses, without giving up Game of Thrones, or foregoing coffee and the Internet? TheStreet posed that question to several personal financial experts. Here's what they advise, savings-wise:
Pay yourself first -- This means choosing your (future self) at all times, explains Ogechi Igbokwe, founder of OneSavvyDollar. "The moment you get paid, just calculate the amount you'd like to put away and transfer it," Igbokwe says. "If you wait to save what's left over, there's usually nothing left over."
Cut out any unnecessary spending -- One of the simplest ways to save $1,000 quickly is to go cold turkey on eating out, drinking out, and getting coffee, says Deborah Sweeney, chief executive officer at MyCorporation.com. "Coffee alone, if you're getting a $5 cup Monday through Friday every week, rings up at $100 a month," says Sweeney. "Eating out at restaurants for dinner, happy hours and lunches also quickly add up too, if you do it on a consistent basis."
Start couponing -- People who use coupons for their regular shopping save between $30 and $50 per week, notes Parker Daniels, an insurance specialist at TheGeneralAutoQuotes.com. "That's $120 per month that you could save," Daniels says.
Drop your gym membership -- Studies show that 67% of gym memberships never get used, Daniels adds. "The majority of those that do go to the gym only go twice per week," Daniels says. "The average gym membership costs $58 per month. Finding free workouts online for at-home or outdoor health plans is a great alternative."
Lower Your Credit Card Debt -- This one's a "twofer", both adding to savings and cutting credit card debt. "The average American between the age of 18 and 65 carries a credit card balance of over $4,000," says Chris Whitlow, CEO of Edukate, a financial benefits provider. "If you only make minimum payments on that debt, it would not only take a decade to pay it off, you'd spend an average of $150 per-month just in interest payments. Pay off your debts in full so that you're not wasting money on interest payments." Whitlow says consumers can easily save $150 per month by curbing credit card debt.
Cut back on alcohol -- The U.S. Bureau of Labor Statistics estimates that 1% of all consumer spending is on booze, Whitlow points out. "Depending on your income and where you live, this adds up fast," he says. "Even if you only have a few beers every month with friends, you're likely racking up $50-$100 in extra costs."
Jump-start your savings campaign with a no-spend month -- This exercise can make a big difference in your personal balance sheet, says Carla Dearing, CEO of Sum180, an online financial wellness services firm. "It's simple -- just commit to a 30-day period of spending only on necessities," Dearing says. "Walk or bike to everywhere instead of driving; take lunch to work every day; embrace free entertainment options, like exploring local parks. Not only will you save a lot of money during this one-month period, you may find yourself re-evaluating old spending habits altogether and deciding you prefer your own creative, low-cost alternatives."
Another good idea: Merge your best money saving practices with a spreadsheet or money tracking app to keep track of your savings, and help you know where your cash is really going.
"Simply gathering the data and seeing it in one place will empower you to better align your spending to your priorities and zero in on ways to save," Dearing adds. "The point is to learn to be mindful of where your money is going."
"That allows you to prioritize and make targeted changes to your spending."
Without, presumably, missing out on any season "Game of Thrones" finale.