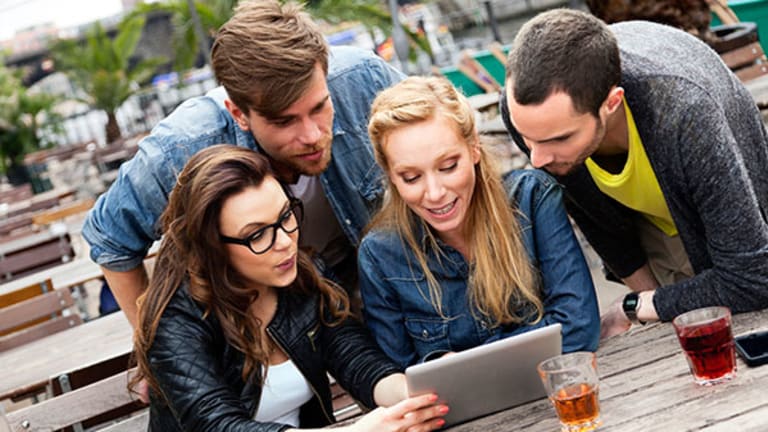 Millennials Are Wary of Debt, Unthinkably Optimistic About the Future
The youngest generation in today's workforce shies away from debt - likely because of the Great Recession - but not savings and even investing.
Kate Dye was able to graduate from college without owing a dollar — and she has no plans of changing her liability-averse financial situation anytime soon.
"I still live like I'm in school and in a city with low rent," said the 25-year-old resident of Hamilton, Ontario in Canada who works as a health consultant. "I don't want to go into debt, because I want to have the freedom to travel or make a career change to do something I am passionate about. Not now, but in a few years. I think most of my life milestones are going to happen later than they did for my parents, and debt is one of them."
That feeling seems to be a mantra for the youngest generation in the workforce — and likely not surprising for one that witnessed the financial devastation of the Great Recession. A recent Bank of America survey shows most Millennials are not comfortable with the idea of going into debt — 94% — or making risky investments — 88%. Nearly 80% also are not O.K. with taking out of their savings at this point in their lives.
"The debt avoidance not only stems from the20'08 recession and stock market crash, but I believe the real estate crash also impacts the low debt mentality," said Christina Lindsey Orta, financial planner and vice president at Lindsey & Lindsey in Westlake Village, Calif. "It was normal to observe people owning multiple homes and losing everything. This definitely has impacted their desire to not over-extend and not be mortgage heavy."
Orta said she also believes the vast majority of this generation — especially the younger Millennials — didn't have as many working years to save prior to the downturn and saw not only their savings wiped out, but many had to move back in with their parents.
"Many lost their jobs or had to go back to school, incurring more debt due to the lack of jobs," she said. "This could have quite the impact on the psychology of savings and debt."
However, while nearly a third said the Great Recession did affect them personally, most Millennials remain steadfast in their optimism. More than 80% said they are more likely to save more money and invest more money in 2016, according to the study.
"As a group, Millennials are pretty resilient and optimistic regarding their future," said Alison Novak, an assistant professor at Rowan University who studies Millennials' attitudes. "Millennials see events such as the 2008 recession as an example of how people and the country can bounce-back after economic problems. They may be hesitant to take on debt, but they also may be in a better financial position in the future, much like those people effected in 2008."

Novak added many are also debt-concerned due to the burdens of student loans.
"Their first hand-experience with this type of debt has made them think long-term about finances rather than just looking at the immediate situation," she said.
Dolph Janis, founder and owner of Clear Income Strategies Group in Charlotte, N.C., said Millennials may also be taking care of their financial health more than previous generations not just because of their first-hand knowledge of debt, but also due to all the studies and surveys that people under 50 aren't saving enough for the future.
"Millennials don't want to fall in that stat," Janis said. "They are looking at more bright things for the future, while creating a plan to understand the best way to make money is not to lose it."
Janis added employers also likely are playing a role into Millennials' attitude, offering — and even encouraging — them a chance to start 401(k) plans and other benefits for the future.
Leeyen Rogers, 25, and a vice president of marketing in San Francisco, already is taking advantage of her employer's match for her 401(k), and has an outlook many her age share about the future.
"I feel optimistic about my future finances, I believe that there's an upward trajectory," Rogers said. "The future seems bright because my field is in-demand. I would go into debt for grad school, but only if it would further my professional goals and it makes sense."