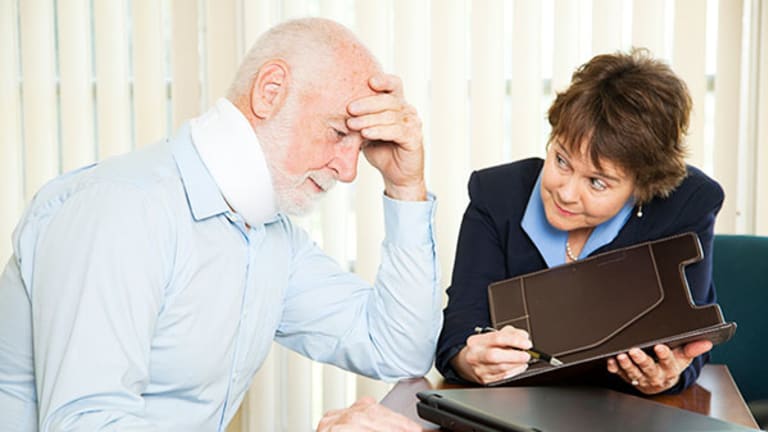 Medical Debt Is Responsible for the Majority of Bankruptcy Claims in the U.S.
Despite the preoccupation in the news with credit card debt, it is actually medical debt that is responsible for the majority of bankruptcy claims in the United States.
NEW YORK (MainStreet) — Despite the preoccupation in the news with credit card debt, it is actually medical debt that is responsible for the majority of bankruptcy claims in the United States.
Specifically, the website NerdWallet.com recently reported that Americans pay three times more in third-party collections from medical debt each year than they pay for bank and credit card debt combined, with 21 billion dollars in medical debt collected from American consumers in 2012. This year alone, roughly 51 million American adults will be contacted by a debt collection agency about medical bills--or approximately one in five. This means more than $1 out of every $3 paid to third-party collectors is for medical debt--roughly three times as large as financial and credit card debt combined.
However, NerdWallet Health's study indicated that many people who are facing medical debt are being erroneously overcharged. In fact, the group found rampant hospital billing errors with overcharges up to 26%.
Some of these issues were even more pronounced for Medicare patients. In particular, the NerdWallet study highlighted that Medicare Compliance reviews conducted by the Office of the Inspector General found that none of the hospitals they audited fully complied with Medicare billing requirements, with nearly half (49%) of Medicare medical claims containing billing errors.
"The medical system is a minefield for the average consumer," Christina LaMontange, General Manager of Health at NerdWallet and author of the study, said in a press release. "While expenses mount for households, bills are riddled by a shameful number of…medical errors."
Yet, many American consumers feel at a loss about how to gain control of the situation.
Some 63% of the adults NerdWallet surveyed responded that the medical bills they received were more than they expected, while 73% said they could make better health decisions if they knew the cost their medical care would be before soliciting it.
"The system that Americans trust for their medical care is not trustworthy when it comes to their finances," says LaMontagne. "Many Americans think they are getting the greatest care in the world, and yet the American household is more indebted to the medical system than ever before."
According to NerdWallet health finance expert Andrew Fitch, consumers can make better health decisions by comparison shopping for health services and drugs, building financial literacy regarding their health insurance coverage (including auditing their medical bills for errors), and using public or private services to help them make sense of their bills.
"Some states, like California, offer free and easy resources to contest a medical bill and medical bill advocates can be hired to reduce bills," says Fitch. "Help is out there, even if you have to go digging to find it."
One organization that offers such help is the Medical Bill Advocates of America, which claims that nearly 80% of the medical bills their clients come to them with have errors.
"Why is our system so complicated that regaining health means losing financial well-being?" asks Pat Palmer, founder of MBAA.
Considering that American households have lost $2,300 in median income, while health care expenses have increased $1,814, it would be wise for American consumers to take more initiative in understanding their health insurance packages. Out-of-pocket spending on healthcare is expected to accelerate to a 5.5% annual growth rate by 2023. That is double the growth of GDP.
While the recent passage and implementation of the Affordable Care Act is a step in helping consumers avoid medical bankruptcy by subsidizing healthcare for those who would otherwise be uninsured, it still can cause problems for people who choose the wrong plan.
"The average deductible for a silver plan, the most popular under the exchanges, can be north of $3,000 for an individual or $6,000 for a family -- and that's just for in-network care," says Fitch. "While 2015 out-of-pocket expenses are capped at $6,600 for an individual and $13,200 for a family, plans may impose separate out-of-pocket maxes -- or have no max at all -- for out-of-network care."
Fitch also notes that given the narrow network of approved providers within these plans, it becomes a likely scenario that an individual will at one point accidentally visit an out-of-network doctor or clinic and then be stuck with a large bill.
However, the ACA often offers external appeals process for health plan decisions, which provides recourse to individuals who face large medical bills after undergoing medical care that was not covered by their health insurance plan. A recent study in California even found that nearly half of such insurance denials were overturned in favor of the patient after review by an external board.
Medicare is also taking steps toward ensuring compliance with Medicare billing guidelines by expanding the Recovery Audit Program (RAP) to all 50 states in 2010. The program--which uses third-party contractors to review medical bills by hospitals for compliance issues--identified $3.65 billion in overpayments during 2013.
--Written by Laura Kiesel for MainStreet