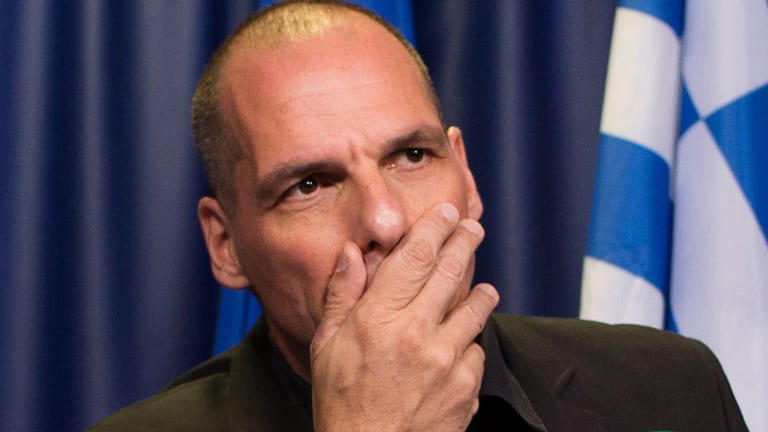 How Investors Can Prepare for Greece Vote This Holiday Weekend
U.S. investors may be having a long holiday weekend, but Greece's debt crisis definitely is not.
U.S. investors may be having a long holiday weekend, but Greece's debt crisis definitely is not.
NEW YORK (MainStreet) — U.S. investors may be having a long holiday weekend, but Greece's debt crisis definitely is not.
With U.S. trading closed on Friday for the July 4th holiday, investors will have to wait three days to react to any developments in Greece, most notably Sunday's referendum on whether Athens should accept or reject the latest bailout proposal.
Until the Greek debt crisis is abated, market volatility will be part of the norm. To navigate the choppy financial waters coming from the Greece, investors can protect their portfolios in several ways, including exchange-traded funds (ETFs) that bet on market declines.
Above all, investors need to remember they're in the market for the long haul.
"Volatility in and of itself is distressing, but it is not a problem," said Matthew Tuttle, portfolio manager of the Tuttle Tactical Management U.S. Core ETF in Stamford, Conn. "The biggest thing you need to protect against is a large loss, which is often preceded by large spikes in volatility."
A few strategies for investors to follow is to use a tactical approach: purchase ETFs or use a money manager who can "stay in harmony with market trends and can reduce exposure when the markets get volatile and gets out once it starts trending down," Tuttle said.
Dealing with sudden volatility is tough in a pinch, but it's still possible for investors to shield their portfolios against large losses, said Patrick Morris, CEO of New York-based HAGIN Investment Management.
"Your best hope is to commit some cash to leveraged inverse ETF, because it reduces your dollar exposure and offsets big market declines," he said. "It is fast, easy and cheap, and you get a lot of help from the leverage. This is purely tactical, so it's just for risk management. If the market runs upward it's going to hurt."
As Morris points out, leveraged inverse ETFs--also known as Short or Bear ETFs--have their own risks, so invest in them with caution.

The markets may not have not completely priced in the Greek debt crisis. While Europe and banks have "probably taken steps to contain any contagion," the markets are still hoping for a deal, Tuttle said.
If Greece does leave the euro zone, the probability of more selloffs in the market is high, he said.
"In the long term, it is probably not a big deal," Tuttle said but could concern investors who trade emotionally.
A dip in the market heading into the weekend is less cause for concern, of course, for long-term investors or individuals who are not planning to retire for 20 years or more.
"Short-term market volatility is simply the price of admission to build wealth for the long term," said Robert Johnson, president and chief executive of The American College of Financial Services in Bryn Mawr, Pa.. "As unsettling as it may be, investors need not be frightened into making changes as a result of short-term fluctuations in the market."
Instead, investors should focus on adding investments to their portfolio, because they will have an opportunity to buy at a lower price.
"Too often investors succumb to emotion and pull out of the market at the first sign of trouble," he said. "Investors often sell low and buy high. Trading involves making several good decisions - when to get in and when to get out and when to get back in again. Investing only involves one decision - to buy and hold investments for the long term."
Mitigating dips in the market is not easy, because investors have to make a judgement call of when the volatility is actually going to take place, said Edison Byzyka, vice president of investments for Hefty Wealth Partners in Auburn, Ind.
"In terms of this weekend, mitigating equity downside on the portfolios may be accomplished by purchasing minimum volatility equity ETFs or mutual funds or by shifting into more fixed income holdings, mainly into interest rate hedged positions," he said.
Moving some funds into small "positions of cash may not be a bad idea," Byzyka said. "At the end of the day, the goal should be to capture less downside even though you may not capture the entire upside," he added.