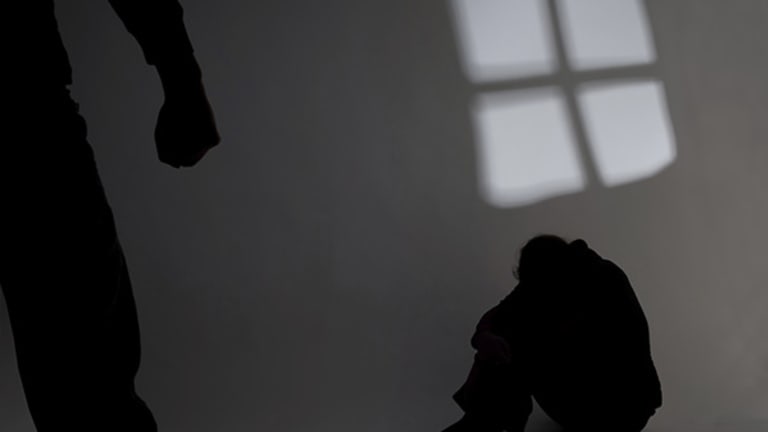 How Do You Know If You're in a Financially Abusive Relationship?
Here's how to spot the red flags of financial abuse and get help.
It's one of the most powerful methods of keeping victims trapped in abusive relationships, but many people know little about it. "Financial abuse" occurs when an abuser uses forcible tactics to take control of a victim's finances, such as restricting access to bank accounts, dictating how all money is spent and refusing to allow a victim to work. According to the National Network to End Domestic Violence, financial abuse is experienced in 98% of abusive relationships and strikes all socio-economic, educational, ethnic and racial groups. Here's what you need to know about why financial abuse occurs, what the warnings signs are and how to get help.
The Abuser's Mindset
Sometimes financial abuse appears only when a partner attempts to leave a relationship, while other times it occurs all throughout a relationship. But whenever it surfaces, the reason behind it is power and control.
"Money is about having power and there's always a power and control aspect in abusive relationships," says Susan Feingold, a licensed clinical psychologist based in the Chicago area who specializes in women's issues and couple relationship issues.
Although the abuser acts like a bully, in reality he's often hiding his own shortcomings.
"As in other abusive relationships, it's a facade for a seriously insecure person who feels inadequate and uses another person to feel better about themselves," Feingold says. "It can also be a sign of an individual with character problems like explosive personality, or perhaps a personality disorder."
The Warning Signs
Victims sometimes miss the red flags of a financially abusive relationship, because the warning signs can start out subtle and become more overt over time. At first, the abuser might attempt to use charm to take control of a victim's finances, such as offering to handle the bills and give the victim an allowance each week to "make their life easier" and "ease stress." Sadly, when the victim eventually realizes what is happening and tries to take back financial control, she might discover that she no longer has access to her family's bank accounts or that debt has been run up in her name.
According to the National Network to End Domestic Violence, some other tactics abusers use to control a victim financially include hiding assets; stealing the victim's identity, property or inheritance; not including the victim in investment or banking decisions; and sabotaging work or employment opportunities by stalking or harassing the victim at a workplace or battering her before important meetings or interviews.
If you suspect you might be experiencing financial abuse, ask yourself whether you feel fear toward your partner when it comes to spending money and seeking information about your family's finances.
"I think a clear indicator is having to answer to someone else for even minor expenditures, as well as [engaging in] lying or secrecy for fear of your partner's reaction," says Feingold.

How to Get Help
Far too many victims remain in financially abusive relationships, because they view their situation as hopeless. Due to the financial challenges they face as a result of their abuse—such as limited access to funds, mountains of debt or a ruined credit score—they often fear they won't be able to find affordable housing and financially support themselves and their children if they leave. However, it is possible to break free from a financially abusive relationship.
Consider calling the U.S. National Domestic Violence Hotline at 1-800-799-7233 or TTY 1-800-787-3224 to speak with a trained advocate, who can provide advice, resources and information, and connect you with programs and shelters across the country for victims of abuse.
If you're able to find a way to support yourself and earn your own money, that can be a positive step toward regaining financial independence.
There are also many free resources available that can help you better understand and manage your own finances. For instance, Allstate has created a financial education curriculum for victims of financial abuse through its Allstate Foundation. Called "Moving Ahead Through Financial Management," the curriculum is provided to domestic violence programs around the country and can also be downloaded online.
Pamela Morris, an Allstate spokesperson, says the Allstate Foundation also works with local domestic violence organizations to help get victims on their feet by providing them with matched savings programs, no- or low-interest loans and other credit-building services.
Therapy is also an important step in overcoming financial abuse. Although therapy isn't always easily affordable and accessible to everyone, if you have health insurance, mental health services might be covered under your plan. Otherwise, check to see if your community offers free clinics or support groups.
"Being in an abusive relationship leads to poor self-esteem," says Feingold. "Work on feeling better about yourself and empowered."