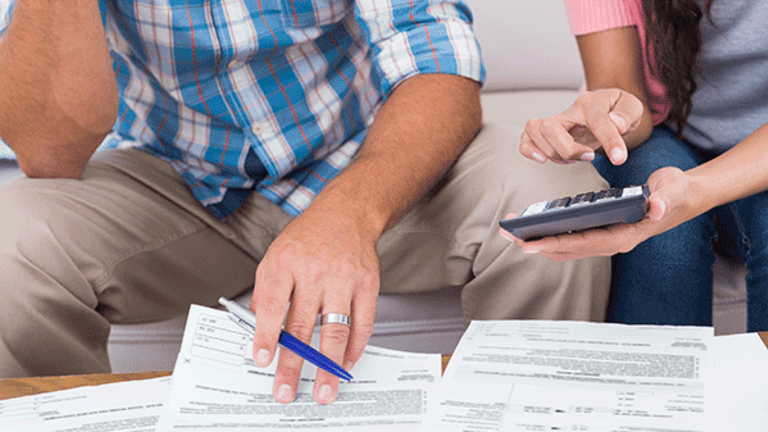 Household Debt Is Through the Roof, but That May Not Be a Bad Thing
Older generations' skyrocketing student loan and credit card debt is teaching younger students and cardholders how to be more frugal.
Editors' pick: Originally published Dec. 14.
You are likely in a whole lot of debt right now, but that isn't necessarily a bad thing.
Financial analysis site NerdWallet just completed its annual survey of household debt and found that the average household with any kind of debt owes $132,529 -- though that includes mortgage debt. The average household with credit card debt has a balance of $16,061. All told, U.S. household debt has grown 11% in the last decade, though it still isn't at levels it reached just before the Great Recession in 2008.
According to the Federal Reserve Bank of New York, total U.S. household debt sits at $12.35 trillion. Right now, we're definitely better at handling some of this debt better than others. The bad news is that auto loan debt sits a $1.14 trillion, up $90 billion from a year ago and near its peak for the last year and a half. Roughly 3.5% of those loans are past-due, trailing only the delinquency rates for student loans (11.1%) and credit cards (7.2%).
Student loan debt, meanwhile, sits at $1.28 trillion after rising $76 billion from the same point in 2015. The average 2016 college graduate is carrying $37,172 in student loan debt, according to college and scholarship site Cappex. That's up 6% from last year, with debt carried by 70.1% of all graduates. That's also up from $12,759 two decades ago, when just 54% of all students graduated with debt. Credit card debt isn't looking much better at $747 billion, up $33 billion from last year.
However, mortgage debt is actually down $12 billion from the spring despite being up $90 billion overall. Mortgage debt now stands at $8.35 trillion, but it's teaching lenders some much-needed lessons about who to lend to and when.
"This quarter, mortgage balance growth remained low in part due to tight lending standards, while non-housing debt continued its steady rise seen since the financial crisis," said Andrew Haughwout, senior vice president at the New York Fed. "Subprime and overall auto loan originations remained strong and auto loan delinquency rates were low and relatively flat. Yet disaggregating results by credit score revealed significantly higher, and rising, delinquency rates among subprime auto loans."
There's no questioning that auto loans are a shambles. The $28,535 that NerdWallet says the average household owes on its auto loans is steeper than its credit card debt and closing in on average household student loan debt ($49,042). But it isn't the only scapegoat for U.S. debt troubles. The average household pays a total of $1,292 in credit card interest per year, which isn't helping households that are already pinched by external forces.
According to the Bureau of Labor Statistics, the consumer price indexes for medical costs increased by 57% and food and beverage prices by 36% between 2003 and 2016. During that same span, NerdWallet found that median household income has only grown 28%, from $43,318 to $56,578 in 2003 and 2016, respectively. As a result, according to NerdWallet's projections based on data from the Federal Reserve Bank of New York, total debt in the U.S. will hit $12.5 trillion by the end of 2016. That surpasses the total debt of $12.37 trillion in December 2007, just before the recession.
However, there are actually ways in which it's getting better. After adjusting for inflation, household debt has grown 10 percentage points faster than household income since 2002. That gap narrowed significantly since 2008, when the difference between debt and income was 38 points.
Also, the cost of education has finally stopped outpacing income — growing 26% since 2003, compared with 28% income growth. Though student loan debt has grown 186% in the past decade, between September 2015 and September 2016, student loan balances increased by just 6.32%. That's the lowest annual growth since NerdWallet started tracking the numbers in 2003. Some of that slowdown can be credited to the drop in attendance at for-profit institutions -- 13.7% between fall 2014 and fall 2015 -- which have been under pressure from the Department of Education to accept stronger regulatory scrutiny and cut back on financial aid. An improving economy, meanwhile, has allowed more potential for-profit college students to enter the workforce immediately.
All of which has a trickle-down effect. If more workers are shying away from for-profit schools they can't afford, they're also taking fewer financial risks. That means they aren't overextending themselves by, say, using a higher-interest credit card to cover tuition that isn't paid for by a lower-interest student loan.
"Taking on debt to cover the gap between income and expenses is a short-term fix with costly long-term results," says Sean McQuay, NerdWallet's credit and banking expert. "Instead of taking on debt, try to increase your income by finding freelance work or a part-time job you can do on the side, or cut back on expenses where you reasonably can, before adding to your credit card's balance."
Credit card users are also learning that it isn't cheap to hold a whole bunch of revolving credit card debt. The average household with revolving credit card debt carried a balance of $6,885 as of June 2016 and pays $1,292 in interest, assuming an annual percentage rate of 18.76%. This isn't a low-income issue, either: households that bring in more than $157,479 per year pay almost four times more in credit card interest than households that make less than $21,432.
That said, when a person who makes $20,000 a year owes $3,611 in credit card debt, that's 18% of his annual income. When a household making $150,000 a year has $10,036 in credit card debt, that's less than 7% of its income. The self-employed are acutely aware of how rough revolving credit card debt can be: households led by self-employed individuals spend $1,631 in credit card interest annually, while heads of household who work for someone else pay only $1,211 to finance their credit card debt each year.
It's why younger generations have become less tolerant of credit card debt and debt in general. As credit agency Equifax discovered, about 70% of college students have one or more credit cards, but a slightly higher percentage pay their balances in full each month -- without help. In a survey of more than 600 college students ages 18 to 24, this happens despite 16% of respondents using credit cards for emergencies only. Nope, 72% pay off their credit card balances each month on their own, and 18% said their parents helped pay off their balances every month.
Even if they haven't paid their balances of within the month, more than half with outstanding balance (59%) plan to pay it off within a year.
"We're talking about a generation that has subtle, but meaningful differences from its Millennial predecessors," says Melanie Wing, vice president of customer insights at Equifax. "We wanted to peer inside this consumer group, understand their relationship with credit, and attempt to prevent what we're seeing with Millennials - many of whom are plagued with record levels of student loan debt and an inability to successfully achieve their financial goals."
As Bankrate notes, just 52% of Americans have more emergency savings than credit card debt. However, Millennials are more likely than any other age group to have a nest egg that exceeds their bills.
"Contrary to society's perception of Millennials and their financial characteristics, Millennials have learned from their parents' mistakes and are more cautious when it comes to saving for that rainy day," said Greg McBride, Bankrate chief financial analyst. "Their aversion to credit cards may have also played a part in helping them grow their savings accounts."
Also, though CreditCards.com found that more than one in five Americans with debt (21%) believe they will never pay them all off -- up from just 9% in 2013 -- only 11% of Millennials give the same response. Why? Because they know how credit and debt work and how to balance them. The percentage of U.S. households with credit cards carrying revolving debt has decreased from 44% in 2009 to just 34% today, according to the National Foundation For Credit Counseling, and Millennials are a big reason why.
Yes, 67% of Millennials hold a credit card, according to Experian, but 68% have pre-existing debt and 64% say finances are holding them back from their life goals. There are 49% who want to travel the world. Another 49% want to buy a home. There are 30% who want to start a business, 28% want to go back to school and 22% would like to change careers. It's why 71% have never maxed out a credit card, 77% have never had their credit card interest rate increased and 58% pay the full balance instead of the minimum each month.
"This survey provided us with the feedback we had hoped: that this generation, despite being bombarded by information from a variety of sources, is developing credit-smart behavior early on," Wing added. "However, we firmly believe ongoing education; appropriate tools and resources; and a thorough understanding of the implications that today's financial decisions can have on tomorrow's milestones are keys to a positive experience with credit."