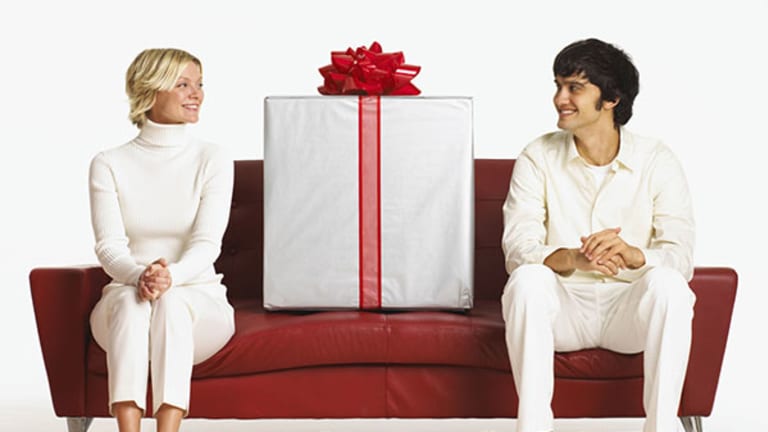 Holiday Gifts: What We Buy Our Spouses -- Versus What They Really Want
Affluent households are giving more holiday presents but often missing the mark in gifts to love-ones.
NEW YORK (MainStreet) — You'd love a bottle of Bowmore or even a simple gift card, but receive some cologne instead. She would really appreciate a luxurious spa treatment or classic handbag but you gave her a sweater you thought was "cool looking." No matter how long you've been together or how well you think you know each other, gift-giving can still be a challenge.
Americans are spending more on gifts this year. In fact, the most affluent among us are spending 20% more than in 2013. Holiday gift giving is growing at the fastest rate since the recession, but we still find it hard to get it right. YouGov.com surveyed adults to determine their spousal gift intentions – and then asked what men and women wanted to receive themselves. Perhaps not surprisingly, the answers were vastly different.

WATCH: More personal finance videos on MainStreet | More videos from Scott Gamm
View Today's Auto Loan Refi Rates
The results found that women are four times more likely to buy their guys fragrances or male cosmetics as there are men who have such items on their wish list. And ladies are three times more likely to buy their fellow jewelry as there are men in the market for it.
So what do men want? According to the research, guys are twice as likely to want fine liquor and wine, or a gift card to their favorite retailer, as there are women who buy them such gifts.
Meanwhile, guys are just as clueless in the giving department. Men are 20% more likely to give a fashion item as a gift than women who really want that. And half of men aren't giving the lady in their life what they really want: gourmet foods, handbags, spa treatments, gift cards and books.
But we all know the simple solution: to get what you want, just buy it yourself. And a great number of us intend to do just that this year. Nearly half (45%) of upscale respondents said they are buying gifts for themselves for the holidays – up from 36% in 2012. One third are buying themselves jewelry or a watch, one quarter are splurging on gourmet food, fine wine or spirits and 20% are purchasing fragrances or cosmetics.
Some of the fastest growing self-appreciation gifts are smartphones (up 44% since 2012), art (up 1,300%) and travel (up 83%). And some of us (11%) have the true spirit of the season: "giving to themselves" by donating to a charity – up 175% since 2012.
--Hal M. Bundrick is a Certified Financial Planner and contributor to MainStreet. Follow him on Twitter: @HalMBundrick