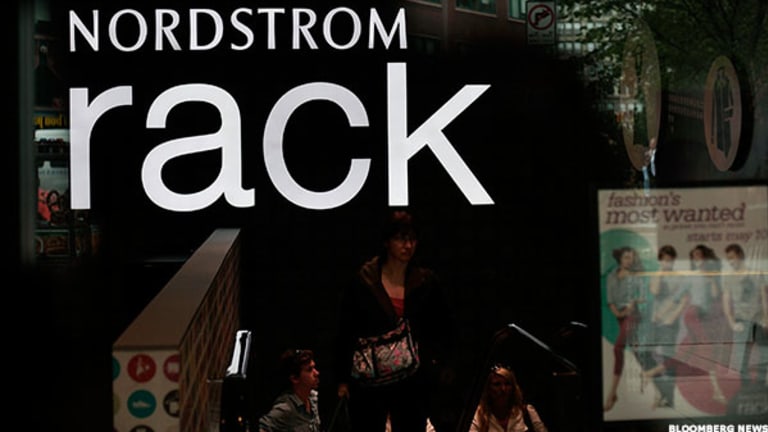 Have American Consumers Become Snobs?
As U.S. spenders abandon Walmart, Budweiser, McDonald's and the Olive Garden for Nordstrom Rack, Blue Moon, Chipotle and Capital Grille, value becomes key.
PORTLAND, Ore. (TheStreet) -- The U.S. consumer is abandoning discount store for upscale clearance outlets, all-you-can eat shrimp for daiquiri bars and burger joints for bread bowls and non-GMO burritos. There's a strong chance we're becoming snobs.
The last few weeks have been a seemingly endless string of bleak earnings reports from Walmart (WMT) - Get Walmart Inc. Report , Target (TGT) - Get Target Corporation Report , Macy's (M) - Get Macy's Inc Report , Burger King (BKW) , McDonald's (MCD) - Get McDonald's Corporation Report and Darden Restaurants (DRI) - Get Darden Restaurants, Inc. Report . At the same time, fast-casual restaurant chains including Starbucks (SBUX) - Get Starbucks Corporation Report , Chipotle (CMG) - Get Chipotle Mexican Grill, Inc. Report and Panera Bread (PNRA) continue to post gains, upscale chain restaurants like Capital Grille, Maggiano's Little Italy and Bahama Breeze have seen a 5% gain over the last year, according to NPD Group, compared to casual dining's steady losses since 2009. Even in brick-and-mortar retail, Nordstrom Rack (JWN) - Get Nordstrom, Inc. Report has witnessed 4% growth in same-store sales over the last year and 25 new store openings as discount and department-store competitors -- including main-line Nordstrom shops -- watch sales slip.
Read More: Why We Don't Shop At RadioShack Anymore
Since the recession, the term "value" has been kicked around quite a bit, but not discussed in any great measure. To the U.S. consumer, it now trumps all. According to the Census Bureau's 2013 poverty report, the median annual household income in the U.S. in 2012 was $51,017, less than the 2011 median of $51,100. That 2011 number followed two straight years of decline and is nowhere near the $56,080 average salary from 1999. In fact, 2012's real median household income is still 8.7% lower than it was in 2007, just before the recession, and even trails the inflation-adjusted median income of $51,681 earned by U.S. families in 1989.
That means middle-class families have not only failed to gain ground in 24 years, they actually lost more than 600 bucks over that time. That's not terribly insignificant if you consider that the price of the average movie ticket then was $4, compared with $8 now, while the price of a gallon of gas hovered around a dollar, compared with the $3.50 average now.
That's changed just about everybody's spending habits just a bit.
The U.S. auto industry reached 15.6 million vehicle sales in 2013 after bottoming out at 10.4 million in 2009. While the industry is on pace for 15.9 million sales this year, it's still well below the 17.4 million it rung up back in 2001. As a result, the average age of a car on U.S. roads is 11.4 years, according to U.S. automotive data service Polk. That's up from 8.9 years a decade ago and 9.8 as recently as 2007.
Read More:  Empty Shelves, Broken Promises At Walmart, Kmart, Sears
Hence, when U.S. car buyers do finally get to buy a new car, their selections are based more on value than anything else. Of the 9.6 million vehicles sold in the U.S. through July, crossover utility vehicles -- SUVs on more efficient car platforms -- have sold more than any other category with 2.2 million leaving lots. They're not less expensive than small cars (1.9 million) or midsize sedans (2.1 million), but the mileage and room they offer has fueled 14% growth from last year.
There's a similar situation going on in the niche beer market as well. Overall U.S. beer sales have dropped during four of the last five years since the recession and fell 1.9% by volume last year. Meanwhile, pricier "craft" beer has watched sales climb steadily during that period, increasing 18% by volume and 20% by dollars during that time.
As the folks at Washington-based industry lobbying group the Beer Institute point out, however, lots of that volume and cash shift in the beer world comes from beer drinkers cutting back on light lager in direct response to unemployment numbers. Basically, if they're going to spend on beer, they're buying less beer and making their choices count. That leads to an uptick in not only craft beer sales, but in craft-style brands like Anheuser-Busch InBev's (BUD) - Get Anheuser-Busch InBev SA/NV Report Goose Island and Shock Top and SABMiller-MolsonCoors (TAP) - Get Molson Coors Beverage Company Class B Report joint venture MillerCoors' Blue Moon and Jacob Leinenkugel.
It's a small detail, but it carries over into just about every element of consumer culture. Since 2009 casual dining traffic has dropped 2% each year, taking roughly 7.1 million visits off the table during that span. Families with children made 1 billion fewer visits to U.S. restaurants over the past six years, compared to 306 million fewer visits by adult-only parties. As of February, visits to casual dining establishments like Olive Garden are at a six-year low. Those visits dropped another 2% in the first quarter of 2014 despite casual dining restaurants slashing prices on their food routinely since the economic downturn. In the past six years, big casual dining chains relied on their promotional offers -- including 2-for-$20 meals -- so heavily that they accounted for 29% of all visits in 2013.
It not only hasn't helped traffic, but it's crushed the perceived value of those all-you-can-eat breadsticks and Tour Of Italy platters. The cost of dinners out rose nearly 3% over the last year, according to the Consumer Price Index. That's more than the overall rate of inflation and isn't helped when a $10 promotional meal jumps to $12 or $14, jacking up the price 20% to 40%.
Those price-slashing chains are now hemorrhaging customers who would rather turn two casual dining trips into one fine dining outing. Fine dining establishments including Capital Grille and Maggiano's saw visits increase 5% last year compared to casual dining's losses. Meanwhile, the average fine dining patron spent $28.55 per visit last year compared to a casual diner's $13.75. Instead of popping into a Red Lobster or Olive Garden once a week, more consumers are splurging for updated decor and fresher menu items twice a month or so.
Take that same value-oriented approach shopping and the discount store chains aren't the only businesses affected.
The mall industry's reaction to this has been simple: Let the old malls die and give customers the malls they want. Mall giants Simon and Westfield have each shifted toward outdoor outlet malls with bigger floor space and fewer retailers. According to Capri Capital Partners, sales per square foot at outlet malls rose 9% from 2010 to 2012, while traditional malls received a more slight 4% bump. At the same time, outlet malls enjoy relatively low 5% vacancy rates while more traditional malls are seeing vacancies of 10% to 15%. That's sent the rent per square foot for traditional malls plummeting since 2007.
ShopperTrak notes that the number of unique mall shoppers has remained relatively stable over the past decade, but store visits are plummeting. In 2007, shoppers typically visited about five stores per trip. Today, that's down to about three as shoppers get more focused on the actual shopping and spend less time using the mall for recreation.
That's putting the squeeze on mall mainstays like PacSun, Aeropostale (ARO) , Abercrombie & Fitch (ANF) - Get Abercrombie & Fitch Co. Class A Report and American Eagle (AEO) - Get American Eagle Outfitters, Inc. Report -- all of which have been plagued by slow sales and low earnings this year. Though a Piper Jaffray "Taking Stock with Teens" market research study found that 82% of teen spending is still done in brick-and-mortar stores, the research firm also found that young shoppers tastes have shifted considerably since the recession. At a recent Piper Jaffray Consumer Conference, a panel of high school students said they planned to spend some of their back-to-school cash on Coach (COH) and Michael Kors (KORS) handbags, Louis Vuitton iPad cases and Kate Spade wallets. By couching those centerpiece accessories in cheaper items from fast-fashion stores like H&M or Forever 21, they're spending more on style and moving away from the lower-tier logos of mall stores past.
They're also spending less overall. By using coupons and focusing their shopping, teens are keeping their bills to $75 or less. That makes sense, as a survey by market research firm Scarborough says 61% teens have less money to spend at the mall than they did five years ago, and 37% say they're going to the mall less often. When asked what they do there most often, 71% gave the obvious, but fairly straightforward answer of "shop.
The Bureau of Labor Statistics notes that 4.5 million teens aged 16 to 19 were employed in July, down from 5.5 million last year. Though the number of unemployed teens of that age shrank from 1.86 million in July 2014 to 1.1 million this July, the number that just left the workforce altogether rose from 9.5 million to nearly 11 million. That dragged down participation rate from 41% of all workers aged 16 through 19 in summer 2012 to just 27% this year.
The kids with the designer bags and wallets aren't flaunting cash or credit: They're doing the best with what little they have. The same can be said for consumers splurging on Costco memberships to get deals on bulk goods are driving that chain's comparable sales up 5% this year. Or for TJX customers growing same-store sales at Marshall's, HomeGoods and T.J. Maxx by getting department-store-quality items at clearance store prices.
U.S. shoppers are jumping up a tier and spending more, but they're also learning that cheapness and quantity don't always yield quality or durability. If that makes them snobs, then they should have put their noses in the air years ago.
-- Written by Jason Notte in Portland, Ore.
>To contact the writer of this article, click here: Jason Notte.
>To follow the writer on Twitter, go to http://twitter.com/notteham.
>To submit a news tip, send an email to: tips@thestreet.com.
This article is commentary by an independent contributor, separate from TheStreet's regular news coverage.