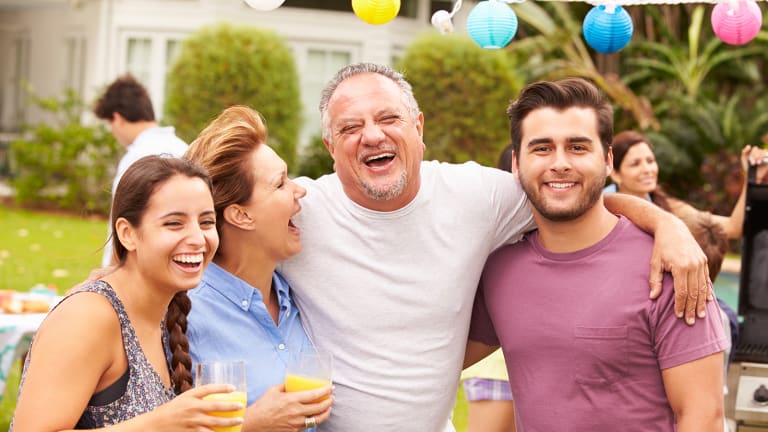 Don't Spend Nearly $230,000 of Your Retirement Fund Supporting Millennials
Letting Millennial adult children live at home and save money comes at a cost to your investments. But there's a way to help your kids without hindering your retirement plan.
Adult children are costing their parents a tremendous amount of money to support -- and jeopardizing their retirement.
According to a survey conducted by Harris Poll on behalf of finance site NerdWallet, 80% of parents are losing as much as  $227,000 by covering a portion of their adult child's expenses after they turned 18.
Cell phone bills, groceries, rent, health insurance, car insurance and student loans can add up, NerdWallet found. "As parents, we tend to want to do everything we can to help our children succeed. But sometimes we focus on the present at the expense of the future," says Andrea Coombes, the site's investing expert.
The bottom line: These parents are losing money they could have saved in a retirement plan such as a 401(k) or IRA.
Since the economic downturn nearly a decade ago, young adults have found themselves in increasing need of their parents' help.
The Bureau of Labor Statistics puts the overall unemployment rate at 4.1%, but that rises to 7.2% for adults ages 20 to 24 and 14.5% for those ages 18 and 19. College graduates often end up unemployed, and weighed down by student loan debt in excess of $37,000, according to student loan analysis site Cappex.com.
According to the Federal Reserve Bank of New York, student loan debt has nearly tripled in 10 years, rising from $510 billion to $1.4 trillion today, with 9.6% of all of those student loans past-due.
As a result, the majority of parents of children 18 and older (87%) told NerdWallet they had their adult children living with them for some period of time.
On average, some children stuck around for 4.5 years, with parents paying for groceries (56%), health insurance (40%), cell phone bills (39%) and car insurance (34%). Another (21%) are paying their child's rent just to get them out of the home, while others pay for clothing (32%), entertainment (20%), an allowance (10%) or even a car loan (10%).
"You want to provide enough [support] to let them grow to their true potential but not so much that they become lazy," says Rebecca Pavese, a financial planner with Palisades Hudson Financial Group's Atlanta office.
Making those adult children employable is even more costly. More than a quarter of parents of children 18 and older (28%) are paying, or have paid, for tuition or student loans for their adult child, borrowing $21,000 and paying it off over 10 years, which NerdWallet says costs parents roughly $80,000 in retirement savings. Throw five years of other expenses into the mix, and those costs can easily add up to $227,000 in lost retirement savings.
Even little contributions make a difference. If a parent gives an adult child an allowance of $200 a month for five years, that's $12,000. Invested in a retirement account earning 6% interest, that amount can grow to almost $40,000 by the time the parent retires.
With that in mind, NerdWallet's Coombes and Palisades Hudson's Pavese have a few suggestions for helping adult children -- without hurting your own finances.
Consider a loan: Instead of simply handing adult children money, Pavese suggests offering a loan pegged to the Applicable Federal Rate (AFR) set by the Internal Revenue Service every month. In December, those rates ranged from 1.51% for short-term loans to 2.09% for medium-term loans to 2.61% for long-term loans. A loan benefits your child, and the IRS won't deem a loan a gift during tax season.
Enforce your loan: Pavese also recommends setting a repayment schedule documented with a promissory note signed by you and your child, and drafted by an attorney, particularly if you're lending money for a house or apartment. Spell out the consequences, if the loan isn't paid back: You'll withhold future gifts or exact a financial penalty.
Put the "student" back in student loans: Ask your child to reimburse you for health care costs or other bills, says Coombes, but draw the line on taking out another student loan, which will have a negative impact on your finances. Federal student loans tend to have lower rates. Your children also have far more time to pay off that loan before their retirement than you will.
No free rides: Adult children living at home can save on rent, but shouldn't live rent free. Come up with a fixed amount of rent per month and have them pay their share of all bills (groceries, utilities, etc.). Their rent can help pay down other expenses or give them a nest egg for when they leave, but Coombes says it should also help them build a monthly budget while you secure your retirement.
More of What's Trending on TheStreet:
This article is commentary by an independent contributor. At the time of publication, the author held no positions in the stocks mentioned.