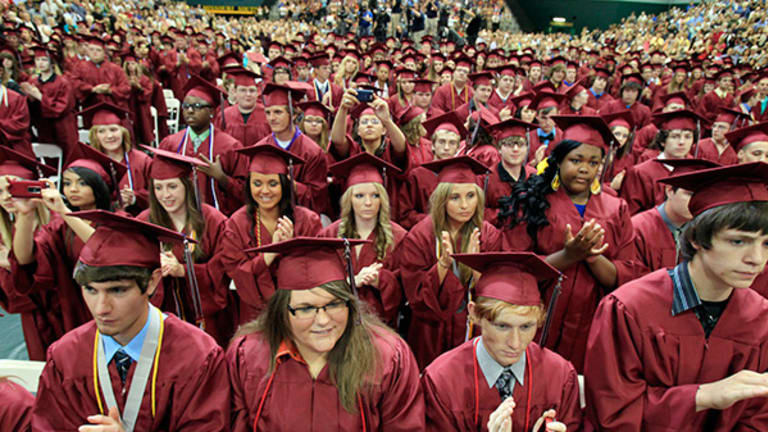 Do Common Bond's Layoffs Signal a Bump in the Road for Student Loan Refi Startups?
While looking to high-end students with pristine credit, the siren call of subprime borrowers may beckon.
While looking to high-end students with pristine credit, the siren call of subprime borrowers may beckon.
Common Bond, the New York City-based student loan refinance startup, laid off ten employees last week according to industry sources. Among them were Beth Starr, head of the company's capital markets effort.
Starr had been on the job for six months and came to Common Bond from Jefferies & Co., where she was managing director and had arrived following the collapse of Lehman Brothers, where she had worked for 17 years. Sources say CFO Morgan Edwards has taken over in her stead. A Common Bond spokesperson declined to comment.
Headcount at Common Bond is in the 51 to 200 employee category according to company-supplied information on LinkedIn. CrunchBase, which tracks companies, estimates 101 to 200 staffers. There are about 50 people in the group photo on the company's website. Splitting the difference among the three, 5% to 10% of Common Bond's staffers were let go.
An off-the-record source within the company said the notion that these layoffs amounted to news was "a red herring," stating that "it's a non-event on our end," and, referring to the headcount reduction, added "it's something we do from time to time; (it) keeps the organization healthy and strong." The source said that new equity financing, the acquisition of another company in the space and a new senior executive hire would likely take place in the coming weeks.
Common Bond is aligned with the peer-to-peer lending model of Prosper Market Place and Lending Club—which laid off 12% of its staff on Tuesday—that brings person-to-person lending and crowd-sourced financing to student loans, where outstanding debt has reached roughly $1.3 trillion. Between 85% and 90% of student loans are made by the U.S. Department of Education, and while ED allows its loans to be consolidated, it doesn't refinance them.
Common Bond targets high-end, low-risk borrowers, including undergraduates but particularly STEM, MBA, law and med school graduates with high incomes. Common Bond is among the refinancers highlighted on Student Loan Hero's website, along with Citizens Bank, Darien Rowayton Bank, Ernest, SoFi and Purefy. Its average borrower is 32 years old, has an income of $140,000 a year and has a FICO score over 760.
Common Bond's founders, CEO David Klein, Mike Taomina and Jessup Shean, met at the University of Pennsylvania's Wharton School of Business, where their start-up proposal was accepted by Wharton's Venture Initiation Program. At the time, they had no real experience in running a company. Yet they have veteran investors: Vikram Pandit, former CEO of Citigroup, Tom Glocer, former director of Thomson Reuters; and Tom Kalaris, former chief of wealth and investment management at Barclays. After a 2012 rollout where they raised $3.5 million in seed funding from Wharton alums, Common Bond received $100 million in debt and equity financing from Tribeca Venture Partners and the Social + Capital Partnership in 2013. Common Bond has issued $200 million in loans thus far and is on pace to do $500 million by year's end.
What lies ahead is hard to predict, however. Though a five-fold increase over a few years is impressive, an industry source said that this nevertheless "makes them a small player, more likely to be acquired themselves than acquire another company in the space."
Who would that be? "It won't be a bank," the source said, suggesting it might be a Common Bond competitor. "That leaves just a handful of companies who are either much smaller than Common Bond, such as Earnest or Purefy, ones that are in trouble themselves, such as First Marblehead, or bigger companies such as Simple Tuition."
The wild card is Common Bond's cash burn.
"If they've securitized $500 million, they probably received half their future profits up front, let's say 3%, with the other half residuals paid over time from servicing and advisory fees. 3% of $500 million is $15 million," the source surmised. "If they have 100 staffers, they could easily be burning through that much cash over the last three years. That means the business is not yet sustainable and therefore still dependent on equity investment." Since starting in Brooklyn, New York, the firm moved to pricey digs in Manhattan.
While there may be a shake-out among lenders, some say demand in the student loan space is still strong which could prop up struggling companies--and that subprime borrowers may be on their radar. "We don't see evidence that points to market saturation," said Andy Josuweit, CEO of Student Loan Hero. "The traditional pool of prime borrowers is obviously being cherry-picked, but there remains a massive opportunity for lenders who are able to originate (for) non-traditional borrowers. The current interest rate environment sustains the market opportunity." Josuweit noted, however, that "the recent volatility in capital markets might decrease securitization appetite, causing a log jam in originations."