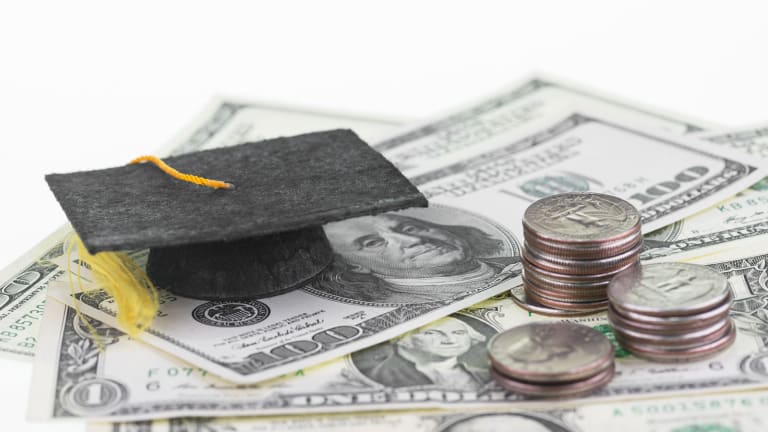 College Tuition Discounts Tax School Endowments to the Max
Net revenue growth can't keep pace with endowment funds diverted to supplement school-based financial aid.
Getting into a competitive college has become increasingly difficult. The cost of any school, public or private, is on a relentless, upward trend.
But there's also a competition for students among the schools themselves, especially for students with top GPAs and standardized test scores. Schools that can offer the best financial aid packages usually win out.
Private colleges' discount rates — or the average amount of tuition revenue schools devote to financial aid through grants — have again reached an all-time high and show no sign of abating, according to an annual survey by the National Association of College and University Business Officers (NACUBO), released this week, which paints a bleak financial picture for these institutions, as the amount they contribute to student tuition grows.
The Washington, D.C-based NACUBO's mission is to advance the economic viability and business practices of colleges and universities. Since NACUBO was established 54 years ago, the role of endowments has increased significantly.
In the 2015 NACUBO Tuition Discounting Study, 401 private, non-profit schools broke records for tuition discount rates for 2015-16, beating highs of the previous year. For the 2015-16 academic year, the average institutional discount rate--or the percentage of total gross tuition and fee revenue schools gave back to students as financial aid grants--was an estimated 48.6% for first-time, full-time freshman and 42.5% for all undergrads. In order to make sure these students stayed on campus, these private colleges allocated 42 cents from every dollar of tuition and fee revenue toward scholarships and grants.
"Even in a year of lower endowment investment returns, colleges and universities spent substantially more from their endowments," said NACUBO President and CEO John Walda. "It is not surprising to see higher discount rates as many institutions are directing endowment spending to student financial aid."
Also not surprisingly, schools with the biggest endowments were more likely to divert money to students with the greatest need. NACUBO found that schools with over $1 billion in endowments used them to pay for about one-third of their scholarships.
While endowment largess makes school more affordable, replacing spent assets is a concern. "With net revenue growth slowing down and the nation's student population evolving," said NACUBO's research director Ken Redd, "many schools are testing strategies to ensure they can continue to deliver on their missions and remain financially sustainable in the years ahead."
Those strategies continue to depend on how well schools can handicap the capital markets, the source of most endowment wealth.
Meanwhile, NACUBO found that discounted tuition as a recruitment and retention strategy doesn't appear to be paying dividends. Net revenue growth for the colleges surveyed was projected to be just over 1% per first-time, full-time freshman, a decline from the previous year. 37.5% of institutions surveyed had enrollment declines for their entire student body from 2014-15 to 2015-16.