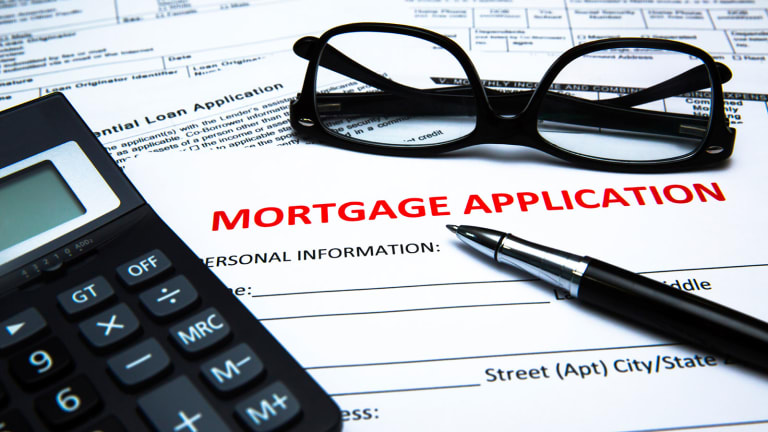 Choosing a 15-year Mortgage Can Save You Thousands of Dollars
Homeowners who want to pay less interest often opt for 15-year mortgages.
NEW YORK (MainStreet) —Matt DeMargel and his wife, Misti, never considered obtaining a 30-year mortgage, because the amount of interest they would pay would equate to 60% of the cost of their house.
Instead, the public relations executive opted for a 15-year mortgage when he bought a 2,542-square foot home in Kingwood, Texas, a suburb of Houston.
"I hate debt, even the so-called 'good kind' of secured debt," he said. "We are working to pay off our mortgage in five years. Even if we pull that off, we will have paid more than $30,000 in interest over that five year period."
Dave Ramsey, a personal finance expert who is host of a radio show, said he always advocates choosing a 15-year fixed rate mortgage when buying a home.
"When you have a 15-year mortgage, it costs just a few dollars a month more," he said. "It's only 20% to 25% more per month than the traditional 30-year mortgage, but it saves you 15 years of your life in debt."
The amount of money homeowners can save from paying less interest can easily help fund a large portion of their retirement, but determining whether a 15-year mortgage is right for your household can be more complicated.
Benefits of a Shorter Duration
Depending on your goals and lifestyle, a 15-year fixed rate mortgage is the quickest way to owning your home. If one of your plans is to receive a much lower interest rate, then choosing a shorter interval will meet your objective, said Brook Benton, a vice president at Atlanta-based PrivatePlus Mortgage.
"A 15-year loan is typically the lowest fixed rate you can obtain," he said. "If you like the security of a fixed rate and the payment fits into your budget, this product is a home run."
Paying off a mortgage quickly is a priority for some homeowners who detest shelling out more money for interest. If a consumer borrows $200,000 over 30 years at 4.17%, he or she will pay just over $150,000 of interest, said Craig Lemoine, an associate professor of financial planning at The American College of Financial Services in Bryn Mawr, Pa. A homeowner who opted for a 15-year note would pay a slightly lower interest rate of 3.29% and his total interest payment drops to around $53,600. (Even a 15-year note at the same rate of that 30-year loan would generate just under $70,000 in interest.)
"A reduction of lifetime interest paid can be quite attractive," Lemoine said. "The lure of a shorter note is the vision of a paid-off home in 180 months. The emotional satisfaction is tantalizing."
While you receive the benefit of a lower interest rate, a 15-year mortgage commits consumers to higher payments. If it fits within your overall budget, then paying more each month should not be a concern.
This route is also advantageous for homeowners who are refinancing their mortgage or contemplating downsizing to a less expensive or smaller home, said David Reiss, a law professor at Brooklyn Law School.
Homeowners who have lived in their house for a few years and want to refinance their mortgage should consider a 15-year note, because they have likely "paid down a significant amount of principal," Reiss said. A combination of a lower interest rate and the possibility that the homeowner is now earning a higher salary means the monthly payments could be manageable, he said.
Disadvantages of a 15-year Mortgage
Potential homeowners whose salaries vary from month to month may want to choose a traditional 30-year mortgage so that they have some flexibility in their budget.
"Don't get yourself in a hole if you have a tough month or two," Benton said. "You can always pay extra towards the principal each month."
The lower mortgage rate appears to be a good way to save lots of money, but if the higher monthly payment pushes your budget to the limit, then avoid having to struggle to eke out the money.
"Don't force a high payment if it's just not the right time for you," he said.
Qualifying for a 15-year mortgage may also be more difficult, especially if your credit score is weaker than it should be, said Lemoine. The income requirement is likely to be higher than if you are applying for a 30-year counterpart.
Other reasons to skip a 15-year mortgage is if you think you might be moving in a few years or you are not sure where your career path will lead you. These could be reasons to be more conservative, Benton said.
"Building a bunch of equity with a 15-year loan might not be your goal, and a lower payment on a 30-year loan for the time-being makes sense," he said. "You can always start saving money and investing it until you are ready to sell and buy again."
The possibility of losing equity in your home is a real concern for a 15-year note, because it can take several years before the value rises again, said Amy Tierce, a regional vice president at Wintrust Mortgage in Needham, Mass. The equity you have in your home is "vulnerable to market conditions," she said.
Choosing the duration of the mortgage can be a tough choice. Opt for the 30-year mortgage to reduce the amount of risk, but save the difference in what you would pay each month between these two types of mortgages, she said. It may turn out that the homeowner can pay off their mortgage earlier than they had planned, which is a boost to their savings.
This strategy doesn't limit their options if they wind up losing their job or face some other unexpected hardship and can not afford the higher payments, Tierce said.
"I have seen many 15-year borrowers refinance to get into a 30-year, because life has changed and now they need the benefit of the lower payment," she said. "Americans traditionally do not have enough savings to sustain them when a life event occurs. Building up secure savings and retirement accounts is more important than building equity in a home for the average consumer."
--Written by Ellen Chang for MainStreet