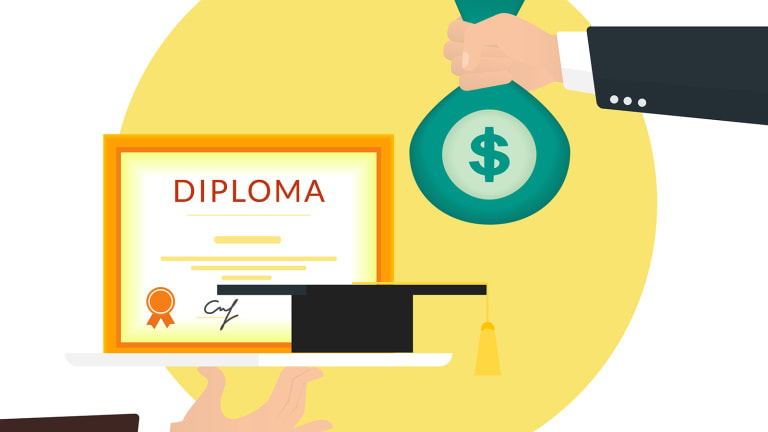 Publish date:
Can You Actually Refinance a Student Loan? Yes, You Can
Refinancing a student loan can save you big bucks -- that is, if you know what you're doing.
Refinancing a student loan can save you big bucks -- that is, if you know what you're doing.
Editors' pick: Originally published May 16.
Cash-strapped college graduates may not realize it, but they can refinance their private or government-backed student loan, and cut their monthly payments, often significantly so.
Take a college loan of $15,000, at a 6.8% interest rate. Refinancing that loan down to 3.5% can save $25 per month on the life of the loan and ultimately save $2,800 in loan interest.
There is no shortage of financial institutions willing to refinance a student loan: Citizens Bank, Wells Fargo, and plenty of credit unions and online lenders offer such programs. Visit Lendedu.com for a good list of college loan refinancing options.)
Financial services firms are getting very creative on how and when you leverage refinancing programs to repay a college loan. For example, College Ave Student Loans, a Wilmington, Del.-based private student loan lender, says its refinancing plan allows qualified graduates to pay only the interest charges for the first two years of the loan, and provides an option to repay the loan over the course of five to 15 years (or any year in between), and refinance college loan amounts as low as $5,000. Fixed rates start as low as 4.7% and variable rates start even lower, at 2.50%.
"The goal is to help students and graduates find the right repayment plan that fits their overall financial goals, whether that's managing to a monthly budget, lowering their rate, or some combination of the two," says Joseph DePaulo, College Ave Student Loans co-founder and chief executive officer.
While you can refinance a college loan, there are some caveats and some fine print to know before signing off on any deals, experts say.
"If you work in public service -- defined as an employee of a not-for-profit organization -- you may be eligible for public service loan forgiveness," says Nick Vail, co-founder and financial advisor at Integrity Wealth Advisors in Indianapolis. "Essentially, you make 120 monthly qualified payments and the remainder of your loan is forgiven."
Vail says he worked with a professor who has over $150,000 in student loans. "Using the public service loan forgiveness plan, and by entering into an income based repayment plan, he will likely end up paying around $90,000 toward these loans," he says. "The remaining balance, with interest, will be forgiven, and not taxed at all. The amount will likely be over $200,000."
In addition, comparing student loans is not "apples to apples", like mortgages, other student loan gurus say. "When I'm asked if a student loan can be refinanced, the borrower is almost always asking about federal loans or a combination of federal and private loans," says Kris Alban, vice president at San Diego-based iGrad, a provider of financial literacy and default prevention for colleges and universities.
But whether or not a refinance is actually beneficial depends on many different variables, Alban says.
"Refinancing a federal loan to get a better interest rate will turn the federal loan into a private loan, and eliminate all of the benefits associated with the loan - benefits like deferment and forbearance, subsidized interest during deferment, multiple repayment plan options, and the ability to have loans forgiven in certain circumstances," Alban says. "These are substantial benefits which have the potential to save you much more than a percentage point or two on your interest rate."
"Also, the U.S. government does offer a free loan consolidation option, which can make the repayment terms much more flexible and keeps all of these benefits intact - but it does not change the interest rate substantially," Alban adds.
Robert Farrington, founder of TheCollegeInvestor.com, who works with college graduates to reduce student loan debt on a regular basis, strongly advises loan recipients against refinancing federal government student loans unless you can afford the Standard Repayment Plan and don't plan to take advantage of any student loan forgiveness program.
Consider those variables, and factor in your credit, too. "The most important factor when it comes to qualifying for a private student loan refinancing application is your credit score," Farrington adds. "Lenders want to see borrowers that have excellent credit. Some lenders take into consideration other factors, but your credit score is still key. Second to that is income and the ability to repay."
If borrowers are lacking in either, the lender will likely require a cosigner, he says. "This is a tough one because I don't think that people should cosign student loans. However, everyone's situation is different, and it could make sense for someone," he says.
Farrington recommends using a comparison tool like Credible. "They'll compare the major student loan refinancing companies and show your best rate and fee options," he says.
So, yes you can refinance your student loan. But be smart about it, and be thorough researching a deal. After all, there's a lot riding on your student loan payments (including your credit score), and you'll want to get any refinancing deal right the first time.