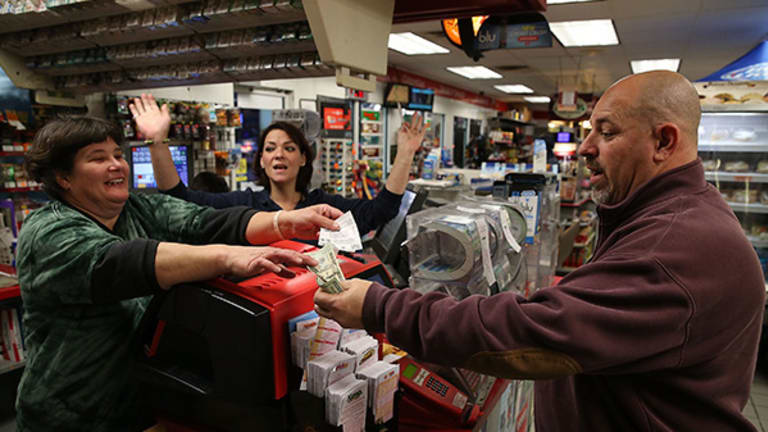 Americans Are Spending Mind-Blowing Money on Lotto Tickets in These Top States
In some states, buying lottery tickets is an extremely popular pastime and borders on obsession. But residents of this state really shell out to try their hand at luck.
Lottery tickets are alluring to gamblers and even occasional ones who want to explore the opportunity of winning millions of dollars by the stroke of luck.
Buying a ticket is a relatively cheap expenditure, and coughing up a spare $2 is a low risk, inexpensive investment that could reap a high payoff.
But even though the odds are not in the favor of consumers much like Vegas, people are happy to keep playing for years. Office pools, friends and social media often increase the hype about the up the jackpot figures and capitalize on fear, greed and hope.
In some states, buying lottery tickets is an extremely popular pastime that borders on obsession. The U.S. generated $66.78 billion from lottery sales with the exception of seven states who have not legalized lotteries -- Alabama, Alaska, Hawaii, Mississippi, Nevada, Utah, and Wyoming -- based on an analysis of data conducted by LendEDU, a Hoboken, N.J.-based student loan marketplace, utilizing 2015 data released by the U.S. Census Bureau. Out of the total amount, $42.27 billion was allocated for prizes, $3.18 billion was allocated for administration and $21.35 billion was allocated for proceeds.
For 2016, the Census Bureau projected there were $323 million people living in the U.S. which means the average amount spent on various types of lottery tickets is $206.69 per year, LendEdu said.
Some residents are diehard fans of playing the lottery, and Massachusetts natives spend the most money per capita at $734.85 annually while Rhode Island follows a close second at $513.75 each year. The third highest amount was spent in Delaware at $420.82, New York with $398.77 and West Virginia at $359.78.
The lottery is barely embraced by residents of North Dakota who spent the least amount of $34.09, followed by Oklahoma with $43.74, Montana at $53.19, New Mexico with $65.84 and Nebraska at $78.52.
The states with the largest amount of people generated the largest revenue - New York's total was $7.78 billion, followed by California at $5.52 billion, Florida at $5.27 billion, Massachusetts at $5.01 billion and Texas at $4.28 billion.
Even spending an annual $206 , the average amount spent on lottery tickets for Americans, is an expensive diversion for many consumers who are saddled with credit card debt or student loans. The adage of "paying yourself first" is a better motto to follow since the majority of Americans have not saved enough money for retirement or future health issues.
Investing that money tax-free into an IRA for 30 years would yield more than $16,000 to a retirement nest egg, assuming a 6% annual rate of return, said Greg McBride, chief financial analyst for Bankrate, the NewYork-based financial content company.
"Nearly one-in-four American households has no emergency savings," he said. "Skipping the lottery tickets is a good start toward making regular contributions to your savings account."
The probability of winning even small amounts of money such as $100 or $500 from the lottery is nominal.
"The odds of increasing your net worth and liquidity by saving or paying down debt are 100%," said Bruce McClary, spokesperson for the National Foundation for Credit Counseling, a Washington, D.C-based non-profit organization. "Either of those options is a much better proposition than throwing money away on lottery tickets."
A 2016 online poll from the NFCC revealed that the majority of consumers would take the proceeds of their lottery winnings and pay down their debt with 87% who agreed and only 8% who would invest it and increase their savings. Hardly anyone or only 3% would use the money to buy a new house or car while 1% would travel and another 1% would give it to friends or family.
More of What's Trending on TheStreet:
How will Hurricane Irma move the market? Follow @TheStreet on Twitter for updated storm coverage:
Hurricane Irma: How Floridians Are Using Tech, Apps to Prepare for the Big Storm