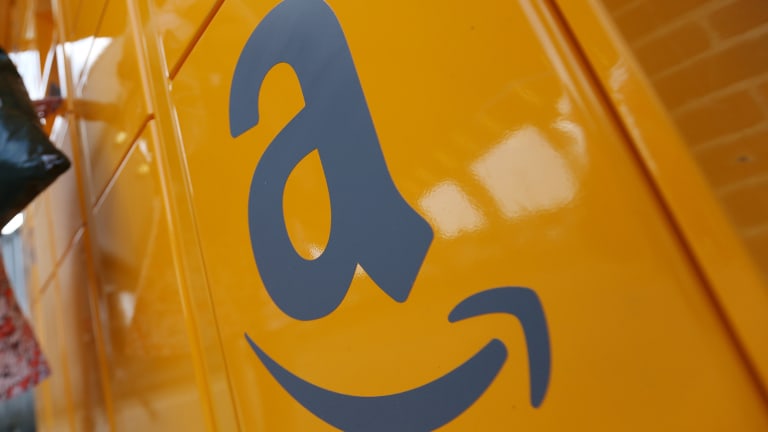 Amazon Announces a Card That's Almost Too Good to Be True
Earlier today Amazon announced its new Prime card, a credit card with no fee, ordinary interest and a whopping 5% cash back on Amazon purchases.
Earlier today Amazon announced its new Prime card, a credit card with no fee, ordinary interest and a whopping 5% cash back on Amazon purchases.
Editors' pick: Originally published Jan. 12.
For Amazon Prime shoppers, life has just gotten a little cheaper. This morning, the online retailer
its partnership with Chase bank to release the Prime Rewards Visa Card, a credit card which returns a whopping 5% cash back on all Amazon purchases. 
The card, which is only available to Prime subscribers, also gives 2% cash back at an oddly specific mix of restaurants, gas stations and drug stores, and 1% cash back everywhere else. It will also eliminate foreign transaction fees, a vestigial rent that banks continue to charge users every time they travel overseas.
The card works on a points system, so shoppers get 100 points for every dollar in percent-back rewards they earn. So, to take a hypothetical $100 purchase, a cardholder would get:
500 points for shopping on Amazon,
200 points for shopping at a restaurant, gas station or drug store, or
100 points for shopping anywhere else.
Cardholders can then redeem 100 points for $1 in direct rewards, either deposited into their bank account, drawn down against their credit card balance or spent on future Amazon shopping. They need a minimum 2,000-point balance before those rewards kick in however.
In a final push for that financial X factor, the Prime Card will also be made out of metal, joining the ranks of such vehicles as the American Express Centurion, the Chase Sapphire Reserve and the Magnises in trying to look and feel like the coolest thing in your wallet.
News of the credit card helped push Amazon shares above $800 per share Thursday for the first time since late October. Investors seem to love Amazon no matter how much it says it will increase capex or venture into nascent, sometimes risky, businesses.
"This reminds me of when we had companies that had so much business and so much room for expansion all you wanted them to do was grow so we could imagine great things," wrote Jim Cramer, TheStreet's founder and portfolio manager of the Action Alerts Charitable Trust portfolio, in a column that exclusively appeared on TheStreet's premium site Real Money, Thursday. "It is a company that has almost no viable competition and what it does have tends to be encumbered by bricks-and-mortar infrastructure that crushes them and makes them losers."
As for Amazon's astonishing credit card it is another example of Amazon playing disruptor, something that isn't likely to end anytime soon.
In fact, the Amazon Prime Rewards Card draws an interesting comparison with American Express, as it's an unusual mix of retail card and high-end prestige vehicle. Like a standard retail card, its rewards primarily accrue to shoppers at one specific store.
That 5% back at Amazon isn't there for the fun of it. They want to lock shoppers into one universe as much as possible, the same as with airline cards or any those single-company credit cards that cashiers universally push at checkout. (Although the terms are remarkably generous.)
At the same time, however, the Prime Rewards Visa Card offers many of the same services as higher end vehicles such as the AmEx Platinum or the Barclay's MasterCard, including bundled travel insurance, a 24/7 concierge service and roadside assistance if you get into trouble. Many of the high-end cards want to act as more than just a financial vehicle, they want to fill the role of a personal assistant, and the Prime Card seems prepared to do just that.
It's shopping, with a little bit of lifestyle thrown in the mix.
Although membership in this card is reserved to Prime customers, that still describes an enormous amount of Americans. Estimates range from 38 million to as many as 69 million people, potentially a full half of all U.S. households.
And Prime has become integral to Amazon's success, with members spending twice as much on the website as non-members. Although the company is cagey about the details, many analysts suggest that the $99 annual membership fees paid by those millions of users are what keeps the company in the black.
That helps explain the last detail of this card: it's free to users. According to Amazon's website there is no annual membership fee aside from the standard charge to sign up for Prime, and while slightly on the high end, the card's interest rates are otherwise well within normal range.
In other words, for folks who do just about any shopping on Prime, this is a potentially fantastic deal.