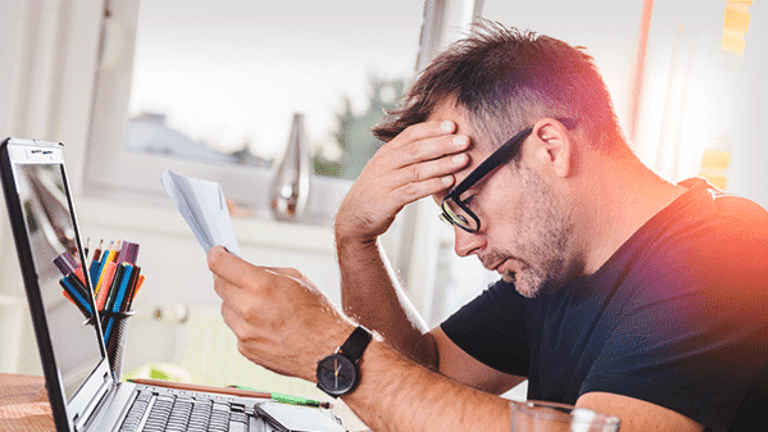 60% of Americans Can't Dig Up $500 for a Car Repair, and That's a Problem
'Cash on hand,' or more specifically, lack of it, is putting millions of Americans in financial peril.
Editors' pick: Originally published Jan. 19.
Too many Americans have empty pockets when they need them filled with cash most, states a new report from Bankrate
According to the study, about six in ten Americans don't have enough savings to pay for a $500 car repair or a $1,000 emergency room bill.
The real problem is that so-called "surprise expenses" pop up all the time.
"It's not a matter of if but when an unexpected expense will pop up," says Jill Cornfield, a Bankrate analyst. "Our survey shows that just under half of adults surveyed said they or a family member had a major expense in the past 12 months."
Just as surprisingly, Americans aged 18 to 29 are "best equipped" to deal with a major, unexpected expense, Bankrate reports, with 47% saying they have the savings to deal with a car repair, hospital bill or other immediate payment.
Cornfield says the best way to prepare for a short-term cash expense is to build, come hell or high water, a household "surprise expenses" fund.
"If you have a car, a house or apartment, a pet or a child - if you're a member of the human race - something that costs money is bound to go wrong," Cornfield adds. "It might be a minor car repair or a surprise medical expense. The best way to prepare is to have an emergency fund you can draw on."
That seems obvious enough, so why do so many U.S. adults have a tough time building a short-term cash fund?
"People are not saving for many reasons," says Mary Kelly, author of the book Money Smart: How Not To Buy Cat Food When You Don't Have a Cat. "For example, it's so easy to buy online. Right now we have many choices for their spending. We can shop 24/7, and we are tempted by ads when we are browsing Facebook, Instagram and Pinterest. We get ads on Facebook and with one click, we can buy that product. Online shopping and one-click makes spending money a one- second decision."
U.S. household leaders that do have short-term funds say they can be a financial life-saver.
"It all boils down to priorities," notes Holly Wolf, a resident of Fleetwood, Pa., who, along with her husband, has saved a good-sized emergency fund. "I have always considered an emergency fund a priority, and my next priority is reducing debt."
Most people don't realize it's a million little steps that add up to the big dollars, Wolf advises. "Pack your lunch," she says. "Don't get tattoos. Don't go out for dinner. Turn off the lights and reduce your thermostat. And above all, stay out of stores and get offline."
"If you calculate how much that $500 expense will cost you if you have to put it on a credit card, that's motivation to save the money," she adds.
If you're starting from behind in building a cash fund, don't fret - there are ways to catch up, says Joan Cox, senior vice president of savings products at Navy Federal Credit Union.
"First, track your monthly expenses and put a budget in writing," Cox says. "Identify how much you can put towards savings on a monthly basis. Even if it's a small amount, savings accounts will allow your contributions to grow with the power of compound interest."
Also, bank savings accounts help separate your dedicated savings from your day-to-day needs. "If you combine small sacrifices with consistent and regular savings contributions, you'll successfully build an emergency fund as well as good financial habits," she adds.
With 60% of Americans struggling to handle a broken car axel or make good on a hospital emergency room payment, it's increasingly obvious that a household emergency fund is the best way to go.
So cut your household spending now, and use the extra cash to create your own short-term household cash fund. When a cash emergency knocks on your door, you'll be glad you did.