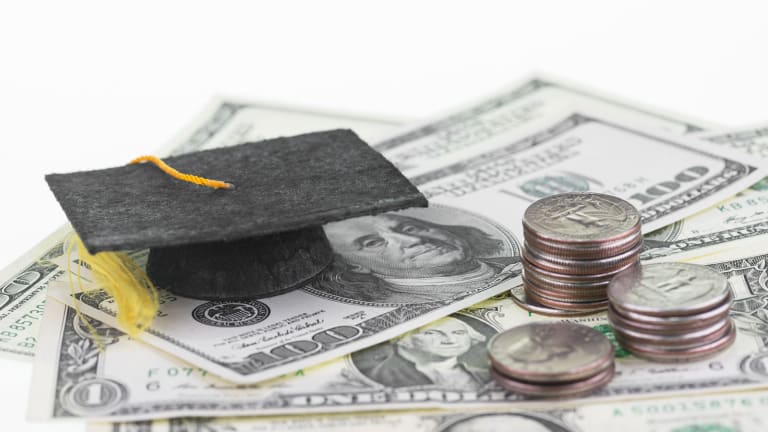 Publish date:
529 Patience: Turbulent Times May Call for Zen
Market timers take note: 529 college savings plans weren't intended for day traders.
Market timers take note: 529 college savings plans weren't intended for day traders.
As the Dow flirts with a 52-week low, many investors are likely to be getting nervous. Oil may trade in the incredibly cheap $30 to $45 a barrel range for the foreseeable future, providing an unforeseen drag on the world economy, as a global glut has led to a fall in demand, coupled with a decline in China's economy, commodities and currency values in developing countries.
Many investors with kids and money in 529 College Savings Plans have watched the value of their investments contract, and the temptation to sell may increase. Should you give in to that temptation?
"My view is that the 529 forces you to do the opposite of what most investment opportunities give you the option of doing--try to time the market and move in and out of positions," said Bill Liatsis, CEO of New York City-based CreditIQ, an online consumer loan aggregator that partners with LendKey, Quicken Loans, SoFi and other lenders. "529s encourage you to take a longer view." The transactions alone when moving money around, he said, are likely to incur unwanted fees.
"Most plans are age based," he said, "designed for a longer horizon, where the money won't be needed for a decade or more. Rather than re-allocate your assets, even in a crisis, you add to your existing positions, which were picked on the assumption that you're in this for the long haul."
Most people get their plans from the state they live in, noted Liatsis, but investors are free to put their money in plans originating in other states. Liatsis noted that when you decide to go with the plan from a specific state, you're also going with a specific fund manager.
He also noted that, depending on what investors turn up in their pre-investment due diligence, fees are likely to be less than with non-529 investments.
"Let's say, hypothetically, the manager for a given plan is Vanguard or Fidelity," he said. "The fees you're being charged in the 529 could be the equivalent of 25 or 50 basis points. If you invested outside a 529, again hypothetically with Morgan Stanley, you might be charged 200 basis points or more." But state charges vary. You could go to two different states and be charged the same on fees, Liatsis added.
Still, the pitfalls are both daunting and a known quantity. "The conundrum for families is that markets go up and go down, but college inflation moves in one direction: up," John Pitlosh, a certified financial planning practitioner said in his blog at Miami-based Investor Solutions, a registered investment advisory. "Unlike the synchronous movement of gas and oil prices, matching up market risk to tuition inflation can explode in your face during a market downturn. In tough economic times, state budgets and college endowment funds lose tax revenue and investment dollars, and as a result, colleges experience a downturn in funding. When this happens, colleges are faced with the choice of cutting costs and/or passing on the tuition increases to incoming students."

On the other hand, Pitlosh said, "when you are funding a plan via periodic installments and your investment dollars are not gaining the time they need to level out market volatility, your investment return can be a crap shoot." He added that plans with age-based allocation programs reduce risk as college approaches. "Because of how the age weighting options function, you could end up with the worst of both worlds: poor equity performance and little or no opportunity for the investment to come back," she said. "Since we can never predict when a year like 2008 will occur, an initial more predictable investment option might be the better approach from the start when funding a savings plan via installments."
"The basic concept behind an age-based investment — offered by most 529 college savings plans — is to shift away from stock-weighted portfolios to fixed income-weighted portfolios as your child approaches college age," said Joseph Hurley, founder of Savingforcollege.com, a Pittsfield, N.Y.-based provider of information on college financing. "That way, the amount you've worked so hard to save is less vulnerable to potentially large losses due to market volatility when the time to take withdrawals gets closer. The intent of this conservative approach is to protect parents with older children, while allowing parents of younger children to capture greater returns over time by maintaining a higher concentration in stocks."
Hurley said his website's study of 529 plans found wide disparities in how the various plans allocate funds in their age-based portfolios.
"Depending upon market conditions those accounts with significant exposure to stocks, and in many cases those with significant exposure to bonds, could be adversely affected by market volatility," said Hurley, who opened plans in 34 states when his own kids were in college, according to his website.
That's not to say, however, that when the beneficiary gets close to college age-based options with less exposure in the stock market are always preferable. Since most 529 accounts will be withdrawn during the four or more years it takes to finish a BA, market conditions may turn much more favorable for stocks before the account for a college student is withdrawn completely.
Investors in 529 plans should be aware of the investment approach used by their investment managers and make sure they are comfortable with the riskiness in their age-based portfolios. Liatsis noted that states will closely vet their fund managers before they are allowed to manage anyone's money. Given that opportunity, managers are extraordinarily anxious not to blow it."Becoming a 529 College Fund manager is a little like applying to a competitive college--it's hard to get in," Liatsis said. "Once they get in, they don't want to leave."