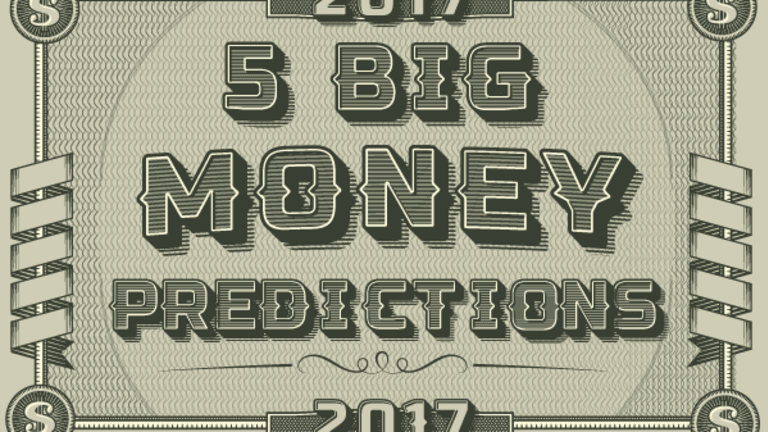 5 Big Money Predictions That Will Change Personal Finance in 2017
Financial experts see a bevy of economic game-changers coming down the pike next year - which ones will impact Americans the most?
Editor's pick: Originally published Dec. 20.
Big changes are coming to the U.S. economy next year, and not just because a real estate mogul just won the presidency.
From accelerated changes in financial technology tools and higher interest rates - and a whole lot in between - Americans should see a different economic landscape in 2017, and that should impact their household budget in myriad ways.
What changes will stand out the most? Here are five big predictions from finance and economic experts. Any could change the way you manage your money, and how you make key financial decisions next year:
A much healthier economy? - Michael Palumbo, founder and controlling partner of Third Millennium Trading LLC, predicts U.S. gross domestic product (the measuring stick of the U.S. economy) to rise significantly in 2017. "From the 2% we have become accustomed to under President Obama, GDP should rise about 4% in 2017, and maybe as high as 5% by 2018," Palumbo says. "The key is that expansionary fiscal policy has not been used here since President Bush gave that tax refund back in 2008 which helped mitigate the damages of the financial crisis. It's a very powerful tool and if done correctly can jumpstart a stagnant economy."
A tale of two stock markets - Sameer Samana, global quantitative strategist for the Wells Fargo Investment Institute, says the ongoing stock market rally will continue in the first half of next year, but will stall in the second half as inflation and interest rates become more of a headwind. "This means that investors should focus on getting invested now, as opposed to waiting for a pullback that may or may not come," Samana advises.
A better year for bank savers - Money-market accounts will finally yield something higher than 1.0% as the Federal Reserve raises rates two more times next year. "This will lead to less of a drag from the cash and short-term fixed income in your portfolio and help boost returns," Samana adds.
Fin/Tech advancements make every device a payment tool - Paul McMeekin, director of growth markets at ACI Worldwide, says the digital payments world will grow by leaps and bounds next year. "With the 'Internet of Things,' every connected device will enable commerce," McMeekin says. This was seen as a fantasy only two years ago, he notes. "Think about Amazon's 'Dash' button and how easy it is to re-order items, or, think of ordering pizza using an emoji on Twitter with Domino's Pizza," McMeekin says. "These two scenarios were laughed at several years ago. Although they're not mainstream today, soon they will be as familiar as using a credit card."
Mobile lets consumers "negotiate" monthly bills - Mobile technology promises a lot of things, but negotiating bill payments? That's the case, says Adam Dell, founder and CEO of Clarity Money. "In 2017, Clarity Money will give customers the ability to negotiate their bills directly in a mobile app," says Dell. "For the first time, consumers will have an AI-powered tool that works on their behalf to save them money. Tools like this will transform personal finance, empowering consumers with choice, insights and the ability to act, all from within a mobile app."
With Americans opting to vote for change in Washington, D.C., change is exactly what they're going to get in 2017 from a personal finance point of view. Sure, some of it stems from political reasons and some of it stems from technology advancements, with no shortage of economic trigger factors in between.
But it's change nonetheless, and U.S. financial consumers should expect much more of it in 2017.