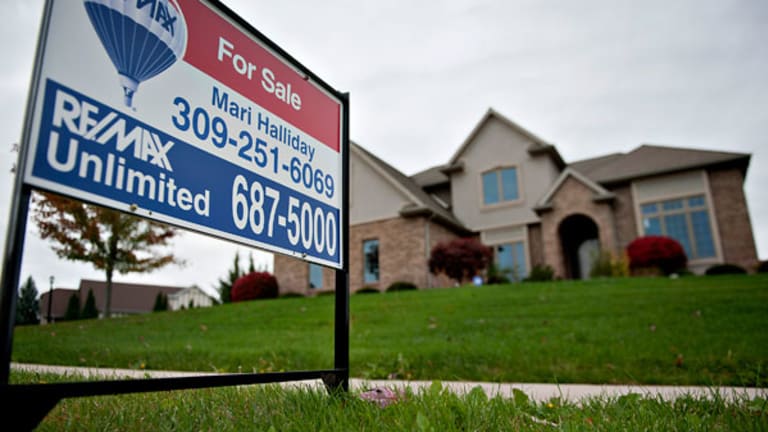 44% of Homeowners With a Mortgage Can't Sell: Zillow
Many homeowners can't afford to sell their homes, constraining supply and prompting a rise in home prices.
Many homeowners can't afford to sell their homes, constraining supply and prompting a rise in home prices.
NEW YORK (
) -- About 44% of homeowners with mortgages cannot afford to sell their homes, according to a recent
from real estate company
Zillow.
Despite a recovery in prices, over a quarter of homeowners with mortgage loans still owe more than their homes are worth. "But another 18.2 percent of homeowners with mortgages, while not technically underwater, likely do not have enough equity to afford to move," according to the blog post.
43.6% of homeowners have less than 20% equity in their homes. That makes it hard for them to move or trade-up, given the considerable costs involved in buying and selling a home, including the cost of a down payment for the next mortgage.
This inability to sell is one of the big factors behind the acute shortage of existing homes for resale in the country. Strong investor demand for foreclosed homes is another reason.
Also see: Gundlach: 'We Own Apple' >>
Previously, foreclosures provided an overwhelming supply of homes that dragged down the market. Now investors are snapping up distressed properties at a rapid pace and converting them into rentals. The share of distressed sales -- foreclosures and short sales -- is now only 33% of all sales, compared to 44% recorded a year ago, according to a survey from Campbell/Inside Mortgage Finance.
The inventory of existing homes for sale represents 5.2 months of supply, up from 4.7 in March, but still below the 6-month mark that is considered a good balance.
Still, the shortage of inventory is contributing to a rise in home prices, which creates an interesting feedback loop.
As home prices rise, more and more homeowners are pulled from underwater. The national negative equity rate dropped to 25.4% of homeowners with a mortgage in the first quarter of 2013, down from 27.5% in the fourth quarter of 2012 and 31.4% a year earlier.
Also see: Housing Momentum Good Till 2017 >>
During the first quarter, 730,000 homeowners were "freed from negative equity."
In regions particularly hard hit by the housing bust, including California, Florida, Arizona and Nevada, "there has been a negative equity feedback loop, as regions with high negative equity have experienced acute inventory shortages brought on in part by locked-in underwater homeowners, and these shortages in turn have produced home value appreciation spikes, which have been reducing negative equity at a fast pace," according to Zillow.
The blog post also noted another positive trend. While the overall negative equity rate remains high, the depth of negative equity is declining. For instance, in Phoenix, the percentage of homeowners who owed more than double of what their homes were worth plummeted to 5.7% in the first quarter of 2013 from 14.8% a year earlier.
In Las Vegas, nearly 16% of mortgagees owe more than double the value of their homes, but this is down sharply from 26.8% a year earlier.
Also see: No Housing Bubble Here:Trulia >>
The strong improvement in negative equity positions is very positive, as it lowers the likelihood of defaults. Historically, borrowers who are deeply underwater have shown a greater propensity to default on their mortgage loans.
Mortgage loan performance is improving significantly, with LPS reporting that the percentage of homeowners late more than 30 days on their loan payments slipping to 6.2%, the lowest level since 2008.
Also see:Foreclosure Inventory Rate Drops 25% >>
91% of all underwater borrowers are current on their mortgage, with 9% defaulting. That means 2.3% of all homeowners with a mortgage remain at high risk for foreclosure in the near-term.
Zillow forecasts the negative equity rate to fall to 23.5% by the first quarter of 2014, freeing up 1.4 million homeowners.
-- Written by Shanthi Bharatwaj in New York.
>Contact by
.
Disclosure: TheStreet's editorial policy prohibits staff editors and reporters from holding positions in any individual stocks.