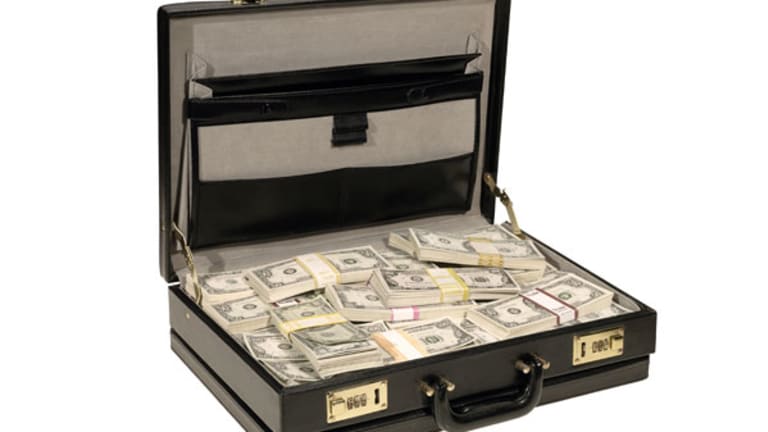 Crunching the Costs of New Year's Resolutions
The goals may be different, but one element of each of these personal promises never changes: They're going to cost you.
BOSTON (TheStreet) -- New Year's resolutions are made to be broken, not to leave the resolved broke.
While there's laudable merit to the actions of 44% of Americans who told the Marist Institute for Public Opinion they'd make a resolution this year, that's down from 48% last year. There's also that 40% of respondents who bailed on their resolutions last year after only 35% didn't come through in 2009. Having the time and energy to invest in such self-help pursuits helps -- as evidenced by the 47% of households with children that nixed their resolutions, compared with 32% of their childless counterparts -- but being able to commit some extra cash to the cause doesn't hurt, either.
TheStreet
took a look at eight recurring New Year's resolutions and rang up the costs behind ringing in 2011 in happier, healthier fashion. The goals may be different, but one element of each of these personal promises never changes: They're going to cost you:
Get in shape
You know that guy in the tracksuit who nearly knocked you over as you got the mail this morning, then bent over winded half a block later? Woman in spandex on the Schwinn who held up evening rush pedaling home from work last night? Not only weren't they there a week ago, but they'll likely be taking up your space on the elliptical machine or treadmill once you get to your local
Town Sports
(CLUB) - Get Report
or
Life Time Fitness
(LTM) - Get Report
.
In a surprise to no one, 16% of Marist Poll respondents who planned to make a New Year's resolution this year wanted to lose weight -- placing fitness first among all resolutions. According to The International Health, Racquet & Sportsclub Association, a health club industry group, the recent economic downturn has made this a really good time to join a gym. In 2009 -- the last year for which statistics were available -- 45 million health club members nationwide paid an average of $41.47 a month (or just less than $500 a year) in gym fees, down from $42.55 a month in 2008. Meanwhile, gym members were sneaking in more average visits -- 101 in 2008 to 102 in 2009 -- while trying to squeeze more value out of their New Year's vow.
"Due to less discretionary income, consumers now expect to pay a bit less for their memberships, but they tend to use them more -- in short, they want more bang for their buck," Melissa Rodriguez, IHRSA's Research Manager, said in a statement.

Go into therapy
This option gets mentioned in jest during the preceding season, but the impetus for this resolution often runs a lot deeper than one dysfunctional family Christmas.
Jake Lynn, spokesman for the American Psychoanalytic Association, says the cost of effective psychoanalysis varies on an individual sliding scale. Working through the root causes of one's issues can take less than a year and cost as little as $10 per session or upward of $200 and -- as Lynn illustrated through the example of
New York Times
(NYT) - Get Report
literary critic Daphne Merkin and her August magazine piece
-- may require decades to address.
With some health care programs only covering 10 to 20 visits a year -- and one a week when, Lynn says, multiple visits are recommended -- the cost of psychoanalysis can be as worrisome as the issues it addresses. Choosing psychotherapy, which tends to focus more on current conditions than underlying causes, doesn't give a discount either, with American Psychotherapy Association spokeswoman Tanya Miller noting that per-session costs in her organization's home state of Missouri ranged between $85 and $100, and San Francisco-based psychotherapist Jim Hutt telling his Web visitors that per-hour fees in his city average $25 to $200 but range between $2 and $250.

Continue your education
So this is the year you finally get those last credits and a diploma or that graduate degree, eh? Make sure to put a checkbook on your list of school supplies.
According to the College Board, even students who want to pad their academic achievements with a two-year associate's degree will have to pay more than their peers did a year ago. The average annual cost of attending a two-year public college rose 6%, to $2,713, which is still a bargain in the world of higher education.
Those looking to finish up a four-year degree or begin working toward one at an in-state public college or university will have to hand over an average of $7,555 in tuition and fees for 2010-11, or 7.9% more than they would have in in 2009-10. For out-of-state students, that tally rises to $19,595 -- a more than $1,000 premium over last year. Private-school students nearly quadruple their public in-state counterparts, paying an average of $27,293.
For students looking to finish their master's or doctoral degrees, the difference in tuition couldn't be more disparate. While $6,588 is 6.5% more than what grad students pursuing a master's were paying last year, it's almost four times less than the average $24,438 their private-school colleagues will pay. The same holds true for doctoral candidates, who pay little more than $8,500 in-state but nearly $33,700 at a private institution. None of that includes room and board, the costs of which are up between 4% and nearly 7% within the last year.
Travel
If this is your resolution, there's no time like the present to get to it.
During January -- often referred to as a dead period by travel experts -- airlines, hotels and even vacation-rental agencies offer deals to entice vacationers. Virgin American, for example, is offering $119 fares between Boston and Los Angeles, $129 fares between New York and San Francisco and $129 seats to Seattle from Washington's Dulles Airport.
Sonesta Hotels
( SNSTA), meanwhile, is offering $111 room in per-person rates in the U.S., Caribbean, South America and Egypt through Jan. 11 as part of its 1.1.2011 promotion.
American Airlines
(AMR)
,
Southwest Airlines
(LUV) - Get Report
and
Fairmont Hotels
are among other outlets offering deals during this down period, when the Department of Transportation's Bureau of Transportation Statistics says air traffic dwindled to 52.6 million passengers last year from 64 million to 68 million each month during the summer before.
Quit smoking
Oddly, this is the resolution that's supposed to save consumers money by kicking their per-pack habit. According for the Centers for Disease Control and Prevention, Americans spent roughly $84 million on cigarettes in 2006 alone. Last year, the American smokers paid $4.80 a pack on average, which is roughly $1,750 on a pack-a-day habit that doesn't include the $1.01 federal cigarette tax and an average of $1.44 in state cigarette taxes.
Unless you're quitting cold turkey or using free support systems such as Web and phone counseling or classes and 12-step programs, costs can run from $200 to $300 for nicotine patches and medication to nearly $3,000 for therapy or nicotine inhalers. Some health care plans cover this and, though uncovered solutions are monetarily costlier than the habit itself, the CDC says the 13 to 14 years of life that nonsmokers have over smokers -- on average -- is worth the investment.

Meet someone/get married
This is a resolution fraught with all sorts of peril, as relationships are seldom as simple as plucking someone off of a shopping list, but that doesn't mean people who make it won't try.
The online dating industry was built seemingly with this resolution in mind, as dating sites such as Match, eHarmony and Lavalife charge between $35 and $60 a month -- less for long-term memberships -- to pair singles up with their supposedly perfect someone. Laugh if you must, Mr. or Ms. organic dater, but at least the folks on these dating sites are trying to shave the odds in their favor somewhat.
According to Ian Stanczyk of the
Book of Odds
site, the average single is paying
$250 or more per date
when playing the aggressor in his or her courting process. By his calculations, this yields a 1-in-6 chance of sex -- never mind marriage -- that could result in $1,500 in dinners and movies before the cash-wielding courter is even invited upstairs for drinks.
This would normally be the part where we'd enumerate wedding costs but, if this is really what the dating public is considering when seeking a mate, that would be getting a few continents ahead of ourselves.

Change careers
While not an option for employees just happy to have a job during the recent economic downturn, a recent survey by job placement firm
Manpower
found that 84% of workers plan to look for a different job this year, up from 60% a year ago.
That said, there are myriad factors beyond salary that could turn a change of careers into a cash vacuum. According to the folks at
Monster.com
(MWW)
, any new degrees required for this change would incur the tuition, fee and room-and-board costs mentioned earlier in this list. Unused sick time and vacation days would also be chalked up as losses, as would any disparity in benefits such as stock options or day care. Job-hunting expenses are usually tax deductible, but that only applies when seeking a job in the same profession.
If your career path leads out of town, however, the Employee Relocation Council says to prepare to pay an average of $1,836 for a house-hunting trip, more than $16,000 on average for the move itself if you rent and an average of more than $55,000 if you own a house and need to sell it.
Pay down debt
The good news, according to the Federal Reserve, is that revolving debt, including credit cards, was down $5.64 billion in October. The bad news is that the Reserve Bank of Boston and CreditCards.com say the average household with credit card debt owes $15,788 and total revolving debt stands at $801.7 billion.

Considering that missing a payment can lead to default interest rates of 25% to 30%, refraining from additional credit card spending, consolidating debt under lower rates and hitting that already-high payback number will keep that resolution from becoming bigger than a cardholder can handle.
-- Written by Jason Notte in Boston.
>To contact the writer of this article, click here:
Jason Notte
.
>To follow the writer on Twitter, go to
.
>To submit a news tip, send an email to:
.
RELATED STORIES:
>>NFL Causing Its Own Blackouts
>>Against The Spread: NFL Picks Week 6
>>NFL TV Blackouts Tune Out Tampa
Follow TheStreet.com on
and become a fan on
Jason Notte is a reporter for TheStreet.com. His writing has appeared in The New York Times, The Huffington Post, Esquire.com, Time Out New York, the Boston Herald, The Boston Phoenix, Metro newspaper and the Colorado Springs Independent.