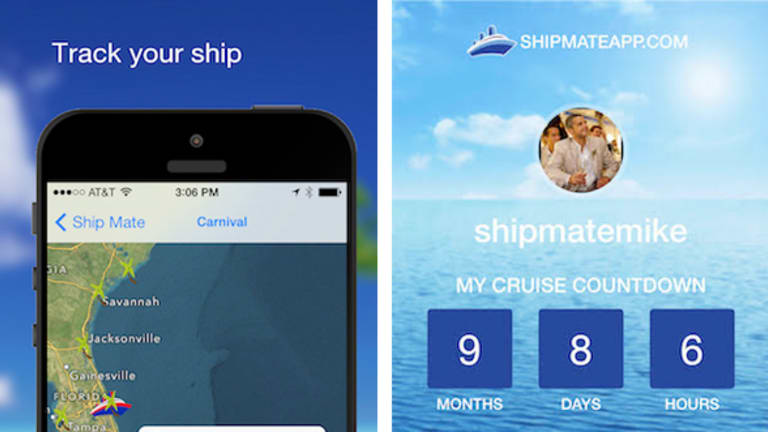 Cruise Ship Apps are Dramatically Improving the Cruise Line Experience - Here's How
A variety of new onboard cruise ship apps have been released over the last few years, here's a look at their most notable and game changing features
Back in the day, when large groups or extended families went on a cruise ship together, it was not uncommon to see them using walkie talkies to communicate while onboard.
The cumbersome devices were the most practical ways to keep in touch when scattered throughout the massive floating cities that are cruise ships, allowing group members to make plans and check in with each other.
Long lines of passengers at the concierge desk was another regular sight, as cruisers patiently (or impatiently), waited for an opportunity to book shore excursions or take care of other vacation-related business and scheduling matters while onboard.
Both routines however are becoming a thing of the past thanks to a flurry of new cruise apps that allow for everything from instant messaging with fellow cruisers to booking excursions or restaurant reservations, and checking daily onboard activities. And that's just a few of the highlights of the increasingly sophisticated and detailed apps.
Now is an interesting period when it comes to the many cruise ship apps that have emerged  within the past year or more, that are already changing the passenger experience - for the better.
"It's an exciting time to be in this space," says Carolyn Spencer Brown, editor-in-chief of Cruise Critic, "Beyond supporting travel needs, these apps are providing convenience. In the old days, when you wanted to make a restaurant reservation or if you lost your bill, you had to go someone's desk and stand in line and wait. Now you can just do these things from your phone. So, you can be sitting by the pool and say 'What are we doing tomorrow? I want to go on a excursion.' And then go on your phone and book the excursion."
All of which makes those walkie talkies seem almost antiquated doesn't it?
In addition to allowing passengers to make various reservations and chat with each other, some of the new apps provide interactive ship maps, locations of the various activities onboard, menus for the day's meals, onboard spending calculators and even language and currency conversion assistance geared toward the various exotic ports a ship may be pulling into.
Nearly every cruise line has its own app these days, industry experts say, and there are other apps developed by small start-ups, also competing in the space.
The net effect of all the apps and the many services they provide, is cruisers getting to see more of a cruise ship than they may have in the past, being able to communicate more easily with fellow travelers and most importantly to some - cruisers are now able to spend more time actually relaxing and enjoying the vacation.
For Shani Wolf, Disney's new cruise app had a significant impact on her family's recent vacation aboard the Disney Wonder. The mother of two young boys rattles off a whole list of conveniences tied to the app - including being able to set an alarm in the app that notifies you of upcoming activities, as well as being able tap on the activity and see information about where it is located on the ship.
But perhaps most importantly, the Disney app allowed Wolf to feel safe about letting her two sons explore the ship on their own, or participate in activities without her nearby.

"We let them go and said 'O.K., text if you need anything," explains Wolf, an independent travel consultant who specializes in Disney. "They loved being free to roam on the ship. And I felt comfortable letting them go and being able to communicate with them."
And this being Disney, there is one other feature worth noting (that was particularly popular with the Wolf family and likely countless other Disney enthusiasts) - the app provides the whereabouts of characters on the ship, so you don't have to spend time hunting down Mickie Mouse or Minnie. Just look at the app and find out where they are at any hour of the day.
For the Wolfs, who had previously gone on a Disney cruise in January 2011 - a time when apps had not yet been launched - the two cruise experiences were very different.
"We went on the Disney Dream years ago and it was overwhelming to me in terms of where everything was," Wolf says. "This app would have come in handy."
Brothers Jan and Mike Jirout, meanwhile, started their own app in 2009, in order to assist with the family's biennial family reunion cruises, as a way to keep track of their herd.
A big Italian family, about 50 people in total, would take part in the family's regular cruise vacations.
"My brother put it together," Mike Jirout recalled during a recent phone call. "It had two main features - to list all of our cabins so we could remember where everyone was, and the other thing it did was provide deck maps, so we could see what we were close to at any given time."
That little experiment of a self-designed app turned into Ship Mate -- the industry's first and now one of its most popular apps. After using the app privately for a few years, Jan Jirout released it to the public in 2010. To date, it has been dowloaded more than 1 million times and has more than 500,000 active accounts, or users. It is available for virtually every cruise line out there - Azamara, Carnival, Celebrity, Cunard, Crystal Cruises, Disney, Viking, the list goes on and on.
What's more, since it was initially developed, Ship Mate has become far more sophisticated.
Among its features these days is the ability to book excursions,  to take a virtual tour of each level of the vessel, and search the ship's features in various categories of interest.

"These ships are massive," said Mike Jirout. "Before these apps, I would get on a seven-day cruise and by the end of the cruise I felt like I saw 30% of the ship,. With these apps, people are really getting to know the ship."
"Every location on the ship is included on the app," he adds. "You can look at the deck map or you can go to a list, and say 'I want to see all of the restaurants or all of the swimming pools."
Even more interestingly, a large number of users begin engaging with the app long before sailing. The average user downloads Ship Mate about nine months before ever boarding a ship.
The app's popular pre-sail features include things like Cruise Ticker, which counts down the days until your vacation. And one of its most unique advance features is Roll Call - a wildly popular function that allows cruisers to see who they'll be sailing with and chat with them before the trip begins, creating ship mates or friendly connections long before the actual vacation.
"Roll Call gives them a forum to start chatting before the cruise," Jirout continues. "People will talk about 'I'm going with my teenage kids, do you have any suggestions,' things like that. They are forming relationships around their personal situations."
Like the many other apps out there, Ship Mate also has a chat feature that can be used throughout a cruise. And for the social media obsessed, Ship Mate has designed a few specific functions, such as allowing users to upload images to a photo gallery throughout the trip, and provide reviews.
The photo gallery is designed similar to Instagram, showcasing vacationers' most brag worthy images, or selfies. Hundreds of photos are uploaded daily.

There is one downside to the Ship Mate app. While it's free to download, in order to be able to use its interactive features while cruising, you will need to pay for the ship's onboard WiFi. This is in contrast to the apps designed by the cruise lines themselves, which typically allow users to operate the app via the ship's internal system for no charge.
You can still use Ship Mate's non-interactive features - such as deck maps and itineraries - without WiFi. But such things as its chat function or posting photos, require Internet.
Some of the other functions that come with the cruise line designed apps include being able to track your luggage from when you first board the ship until your suitcase arrives at your room, and booking restaurant reservations.
"In the last year, these things have really become quite useful and valuable to travelers," says John Mast, VP of Marketing for Expedia CruiseShipCenters. "They started out as what I would call communication tools, because on cruise ships up until recently, WiFi was so expensive, and to a certain degree people were cut off from their (Smartphone) devices, which seems to be hard for people in the modern day and age. So cruise lines wanted to make sure people weren't passing up a cruise simply because they couldn't stay connected on a ship."
Since that initial rationale for developing the apps, their sophistication and level of convenience has continued to multiply.
Mast says one the best apps out there right now is Royal Caribbean's Royal iQ app, which allows users to make dinner plans in advance, book shore excursions, reserve evening entertainment, manage dining reservations, schedule times for onboard activities, and modify reservations.

Another notable feature is iQ's RFID luggage tracking option (which allows travelers to follow the progress of their luggage through seven stages - from the pier sidewalk to stateroom.) For cruisers this is apparently a big deal, Mast explains.
"Now a cruiser can get onboard, go sit by the bar or the pool and track their luggage as it makes its way up to their room and they know when it's time to go back to the room to get unpacked," he explains.
Royal Caribbean's app also helps cruisers find their way back to their rooms on its famously gigantic ships.
"You can use the app to find yourself on the ship," Mast continues. "You type in your state room and it helps you find your room."
All of this is really just the beginning, when it comes to onboard cruise ship apps. According to Mast, Spencer-Brown and others, the technology and its potential is still in its infancy. The next few years will continue to bring more innovation and convenience. But already the apps have made a significant change in the quality of a cruise experience for many travelers in the increasingly complex and dizzying world of cruise ships.
"Fifteen years ago, if you were lucky there were three different restaurants on a ship," says Mast.
But today there are dozens of dining options, spas, countless excursions, and a variety of kids activities - all of which typically require reservations, Mast explains. Thanks to the Internet and the many new on-board apps, coordinating all of those logistics has just gotten a lot easier.
"Now you have all of your bookings at your fingertips and you get a day of your vacation back," says Mast.