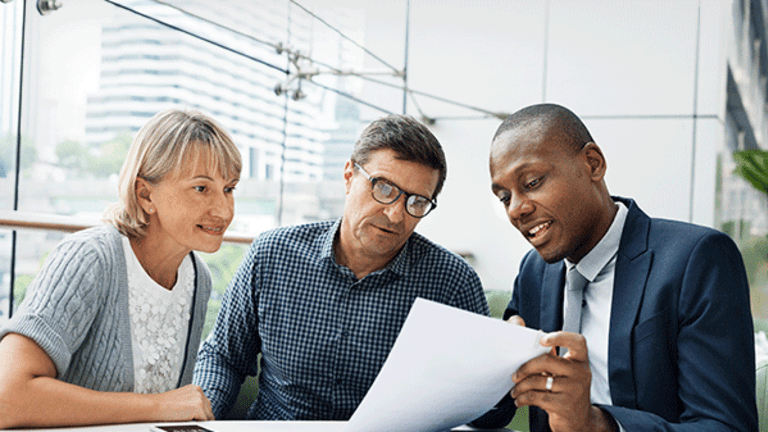 Critical Questions to Ask a Financial Advisor -- Before You Hire One
Don't hire a financial advisor until you get some necessary information first. Start with these key questions.
More than half of U.S. adults work with a financial advisor, according to data from the Society of Actuaries, and there are 12,172 registered investment advisors across the nation in 2017, Statista reports.
Yet more than 50% of middle-class adults and 60% of "high wealth" adults will switch advisors in their lifetime for a variety of reasons, and many more Americans will be choosing an advisor for the very first time.
If you're in the market for a new financial advisor, it's important that you do your due diligence and thoroughly vet any investment advisor you may hire. The key in doing so is asking the right questions and getting the right answers.
To figure out the best questions to ask before hiring a financial advisor, TheStreet reached out to investment industry professionals to list the most important queries a would-be client should ask before linking up with an advisor.
Here's what they advise asking:
More of What's Trending on TheStreet:
How are you compensated? - "Clients should know about any commissions or kickbacks an advisor receives based on the products they recommend," says Ben Birken, a money manager at Woodward Financial Advisors, Inc., in Chapel Hill, N.C. "People should always know how their advisor is paid, as well as how objective he or she might be about potential recommendations."
Will you act as a fiduciary at all times during our relationship? - "With the recent U.S. Department of Labor fiduciary ruling, advisors are required to act as a fiduciary if they advise on retirement accounts like IRAs," adds Birken. "But after-tax accounts aren't subject to this requirement, nor do non-qualified annuities." Consequently, potential clients will want to know what level of fiduciary service they can expect from their advisors.
Do you charge a flat annual fee? - "I believe that the flat fee model is the future direction of investment and wealth management," says Ben Westerman, an investment advisor with HM Capital Management, LLC in Clayton, Mo. "Charging a flat fee better aligns the advisor's compensation to the services provided, eliminates the inherent conflict of charging based on assets under management or commission, and allows the advisor to provide truly objective advice."
Do you promise to beat the market every year or will you boast about past winning investments? - "Past performance is no guarantee of future results," says Kalen Holliday, director at Interactive Brokers Asset Management, a registered investment adviser with offices in Boston and London. "There's a reason you often see this line in financial marketing literature. It happens to be true." If a financial pro keeps touting his or her best investments from last year, ask him about the recommendations that flopped, and why, Holliday advises. "Investing is a risky and uncertain business and every year is a new game, so beware of cherry-picking," she notes.
Do you guarantee a certain investment return? - If a potential advisor guarantees a specific rate of investment return, they are delusional and possibly in violation of U.S. Securities and Exchange Commission rules regarding promissory language in marketing materials, Holliday notes. "Guaranteeing a fixed rate of return can be a red flag," she says. 
What specific deliverables can I expect from your services? - You'll also want to know if you are going to receive investment management, financial planning or other wealth planning, states Stephanie Bruno, a wealth advisor at SBWA, LLC, in Denver. "You want to make sure what they provide matches up to the services you need," Bruno notes.
If I agree to work with your firm, who specifically will I be working with on my accounts? - Many folks have rainmakers who bring in clients, but then you are switched to a more junior advisor, says Bruno. "This is not necessarily a bad thing if the person is competent, but you should ask to meet the person you will be working with on an ongoing basis," she states.
How many clients do you serve? - If an advisor serves over 100 clients, realize that you are going to get very little in terms of service, says Bruno. "If you don't need a lot of service, maybe that's O.K.," she says. "But if you're looking for regular periodic meetings and oversight of your plan and investments, the advisor may be challenged to deliver that level of service."
These aren't the only questions you should ask a financial advisor, but they're all at the top of the list. Make sure to ask each one when you're in the hunt for a new money manager.4