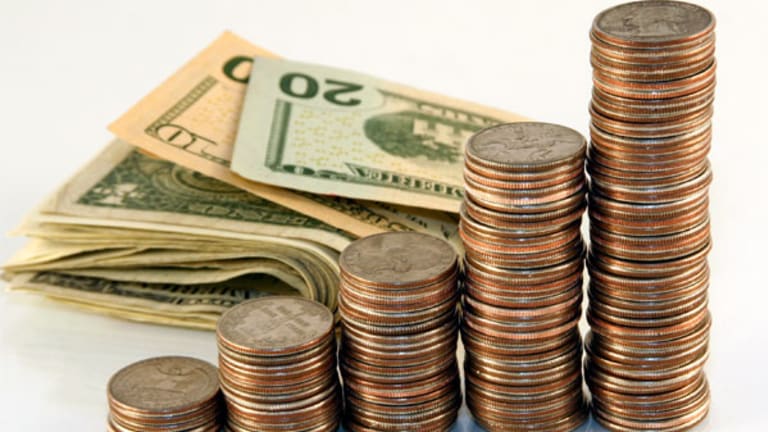 Credit Union Pays You to Use Debit Card
As big banks like Bank of America add fees for debit card use, a credit union wants to pay you.
NEW YORK (MainStreet) -- As Bank of America (BAC) - Get Bank of America Corp Report prepares to implement a $5 monthly debit card fee and Wells Fargo (WFC) - Get Wells Fargo & Company Report flirts with doing the same, the idea of a bank actually paying its customers to use a debit card seems almost laughable. But that's exactly what's happening at the Randolph Brooks Federal Credit Union in Texas.
The credit union ordinarily pays free checking account customers 10 cents for every purchase they make with their Freedom Check Card. But last week the credit union upped the ante by
bumping that reward up to 15 cents
. The increase will last through Dec. 31.
As big banks such as Bank of America add fees for debit card use, a credit union wants to pay you.
While the promotion may seem perfectly timed to take advantage of the publicity surrounding Bank of America's fee increase, Sonya McDonald, RBFC's senior vice president of marketing, says plans had been in the works before Bank of America's announcement.
"We'd been planning it since August, and we fortuitously made our announcement right after Bank of America made theirs," she says. "With the current state of the economy, members need to worry about their own business, not fitting extra fees into their budget."
The promotion comes as many Bank of America customers are threatening to leave the bank. In an informal poll by
TheStreet
,
83% of readers
said they planned to leave the bank over the new fees. Experts say inertia is likely to keep many of those disgruntled customers
from following through
, but those who do decide to defect will likely take a hard look at small banks and credit unions.
The Durbin Amendment, which capped debit card swipe fees and prompted the barrage of checking account fees from the major banks, does not apply to institutions with total assets of less than $10 billion. That means smaller institutions are more likely to continue offering free checking, as well as perks such as RBFC's debit card bonus.
McDonald says the credit union has indeed seen a significant uptick in membership in the week since Bank of America's announcement.
"In the past week we've seen record numbers of people coming through the door," she says. "On a typical day we'll get 150 new members, but in the last week we've seen around 265 new members a day, and a third of those are coming over from Bank of America."
Membership to the credit union is primarily limited to residents in the Austin and San Antonio areas. And keep in mind that this deal isn't going to make you rich: Even if you use your debit card once a day, you're still taking in less than $5 a month in bonuses. Getting a good reward credit card that gives you 1% to 2% cash back is likely to put more money in your pocket.
Still, the promotion is a good reminder that smaller institutions, and credit unions in particular, are likely to be safe havens for bank customers fleeing the never-ending avalanche of new bank fees.
READERS ALSO LIKE:
Are Credit Unions FDIC Insured? >>
No, but your 'shares' are insured in a similar way to bank deposits.
Follow TheStreet.com on
and become a fan on