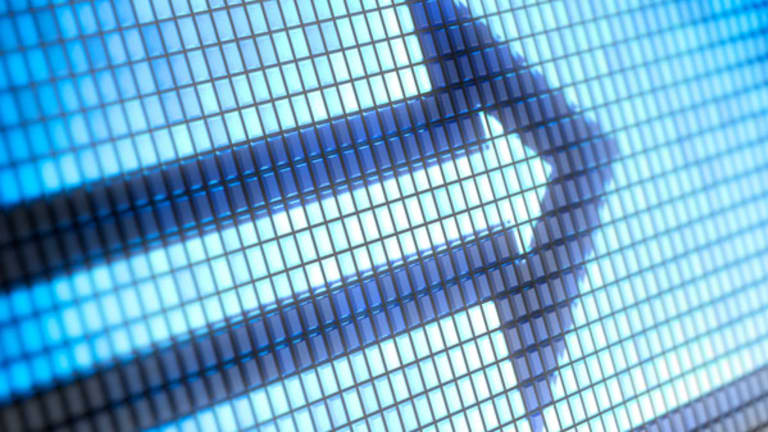 Credit Power Index: Banks Squeeze Consumers
New metric shows banks squeezing consumers more than before the financial crisis.
NEW YORK (TheStreet) -- Banks are squeezing consumers more than they were three years ago, despite a recovering economy, according to a new index.
The Credit Power Index, based on the world's largest database of banking rates compiled by
TheStreet
's RateWatch division, reveals how much consumers are squeezed by the rates they pay for credit compared with the interest they receive on deposits at banks across the country. The index shows that the interest rate climate for consumers in the U.S. is considerably worse than it was before the financial crisis, despite the taxpayer-funded banking bailout and the easy money policy of the Federal Reserve.
The metric provides new insight into the disposable income of average Americans by measuring their biggest expenses -- mortgages, car loans, home equity loans and credit -- compared with their earnings potential from deposits.
The decline in consumers' credit power has largely been driven by a sharp drop in deposit rates, which has not been offset by the smaller drop in loan rates. While mortgage rates have hit historic lows, for instance, the average rate for unsecured personal loans has dipped only slightly during the past few years.
"Because the deposit side of the rates has fallen more sharply than the loan side, the spread between what the bank charges you and what it pays you has grown, costing consumers more in net interest rates," says Bob Quinn, chief operating officer of RateWatch. "Based on this 'net interest rate' calculation, this is the among the worst rate climates we have had over the last four years."
The index tracks consumers' banking power by subtracting certificate of deposit rates at four terms (12, 36, 48 and 60 months), from the lending rates on four bank products at the same terms: a personal unsecured loan, a home equity loan, a new car loan and an adjustable-rate mortgage. (Banks that did not offer all eight products were excluded from the Credit Power Index; for the full methodology, see
How the Credit Power Index Works
.)
The difference at each term is then added to create the Credit Power Index for each bank -- a measure of how favorable the bank's rates are for the consumer. The greater the index, the greater the difference between loan and deposit rates, and the more consumers are getting squeezed.
The national Credit Power Index peaked in May 2009 at 25.46; as of December 2010 it remains high at 23.74. For comparison's sake, in January 2007 (the earliest month for which the index was calculated) it sat at 18.49, meaning that consumers have been hit by a net gain of five points in aggregate interest rates.
A quick look at some of the nation's largest banks gives a snapshot of the poor rate climate facing consumers. For instance, the rate for a 12-month CD at
US Bank
(USB)
is 0.4%; but if you're taking out a personal unsecured loan you're facing an interest rate of 12%. Want a 36-month home equity loan? At
Chase Bank
(JPM)
you're looking at a 9.85% to 10% interest rate on the loan, but the bank will give you only 0.75% for a CD at the same term. Go to Wachovia and you can get a 48-month new auto loan at a 4.62% rate, but the bank offers you only .955% if you take out a 48-month CD. And if you're looking for a five-year adjustable-rate mortgage,
PNC
(PNC)
will give you a 3.5% rate -- low, but not as low as the 1.2% rate for locking up your money in a five-year CD.
So how did we get to this point?
How we got here
The bank bailouts of 2008 and the Federal Reserve's decision to keep interest rates at a record low of 0% to 0.25% for the past two years were sold to Americans as the keys to success -- moves that would ultimately open credit markets and lessen the economic burden on consumers.
"This
bailout should help to restore the flow of credit to households and businesses that is essential for economic growth and job creation," Fed Chairman Ben Bernanke said
as Congress debated the Troubled Asset Relief Program in 2008
.
And to an extent, it worked; the program's defenders are quick to point out that the bailout was indeed successful in keeping the banking system intact and credit flowing, and that it ultimately
wound up making a tidy profit for taxpayers
. Meanwhile, mortgage rates fell to historic lows, and those who sought loans got favorable rates.
Yet consumers have hardly made out like bandits from these moves, at least when it comes to bank rates. An analysis of interest rates at banks across the country shows that even as loan rates dropped considerably, deposit rates fell even more sharply, with most savings accounts yielding a fraction of a percentage point in interest. And according to data gathered by RateWatch, the situation has worsened considerably during the past three years.
That's not to say that the bailout made things worse -- just that it benefited banks far more than consumers. Rather than TARP, many economists point to the Fed's easy money policy and its decision to buy up long-term debt for sending bank rates plummeting.
"The Fed can easily push the short-term interest rates down," says L. Randall Wray, a professor of economics at the University of Missouri-Kansas City who examined at the Credit Power Index. "But they've also tried to reduce the long-term rates, and they've been successful."
In other words, consumers could be facing an even more dire rate climate had the Fed's policies not been implemented -- a dystopia of miserable deposit rates and too-high loan rates. And while Americans can be grateful to have avoided that, the data tell us we're still in rough shape: American can still get relatively low loan rates, but are faced with rock-bottom deposit rates if they want to save for retirement.
Where consumers have the most (and least) power
Broken down regionally, it's easy to see one of the biggest culprits for the current state of affairs: the West.
Western states are the worst area to bank in the country, with an astounding 25.15 Credit Power Index. This dubious distinction is driven by poor rates on both sides of the equation. The region comes in dead last in the deposits department, sporting an anemic 0.46% rate on 12-month CDs and bringing up the rear on the other three terms as well. And on the loan side, it has the highest rates on personal unsecured loans and home equity loans. Banks are giving consumers less on their deposits and charging them more to borrow.
The West wasn't always a bad place to bank -- as of January 2007 it had a reasonable 18.35 index figure, better than the national average. A rise of nearly seven aggregate interest rate points makes it the region where consumers have lost the most banking power in the past few years.
"It's easy to see one of the reasons for the West's position when you look at the state-by-state averages for 12-month CDs in 2010," Quinn says. "The six lowest average rates all belong to states in the Western region."
It's not all bad news, of course. The best region to bank? Try the Southern states, where a best-in-the-country 22.62 index figure is aided heavily by top marks on deposit rates across the board. And the East would win the "most improved" award if any part of the country had actually improved; its Credit Power Index went up "only" 4.23 points, making it the most stable of the four regions of the country.
Meanwhile, Arizona claims the title of the worst state to bank, with a whopping 28.57 Credit Power Index as of December. In fairness, though, the state has always scored poorly, while the runner-up, California, had a relatively modest 19.18 score in January 2007. But by December it had seen its score skyrocket to 27.02, fueled in large part by spikes in auto and home loan rates.
That comes as no surprise to analysts familiar with California's economy. "Ever since
California has become a state it's had great boom and bust cycles," says Matt Lloyd of Advisors Asset Management. "It being
second to last doesn't surprise me."
Finally, let's end on a positive note: The best state to do your banking is North Dakota, which boasts solid rates on CDs (0.72% on a 12-month certificate) and unsecured loans (10.46%).
Deposits
If you've looked at a bank statement lately, you may have noticed that the cash in your savings account isn't earning nearly what it used to. And if you've tried to open a CD, you were probably shocked by the rock-bottom rate of return you get in exchange for letting the bank use your money.
"We have seen a steady decline in rates paid to consumers in the form of CD rates, starting in roughly the middle of 2008," Quinn says. "For instance, a 12-month CD rate has fallen approximately 85% over that period of time."
This startling decline in deposit rates has been the single-biggest driver of consumers' declining credit power. As of January 2007, the national average for a 12-month CD was an even 4%; as of December, it's a measly 0.55% among included institutions. That decline has been mirrored by 36-, 48- and 60-month CDs, now returning 1.14%, 1.36% and 1.62%, respectively.
So why is it suddenly impossible to get a decent rate on a CD (or, for that matter, a savings account, where rates average an anemic 0.176%)?
In short: It's the economy, stupid.
"It's basically a function of the Fed policy," says Brian Bethune, chief U.S. financial economist at IHS Global Insight. "They have dropped rates drastically because of the recession."
It's a trend that has affected banks big and small.
Bank of America
(BAC)
, for instance, offers a rate of 0.2% on a 12-month CD and 0.05% on a savings account, while Chase Bank offers about the same at 0.2% and 0.01%. To be fair, small institutions fared better: The national average 12-month CD rate at credit unions surveyed by RateWatch is holding steady at 0.861%, though that's still far below what they offered prerecession.
These low rates have caused many consumers to shy away from tying their money up in CDs, with many anticipating that rates will start to climb appreciably in the coming months. And some just don't see the point of sacrificing liquidity for such a miniscule rate of return.
"Right now the rates are too low to make it worthwhile to tie up your money for one or two years," says Dana Marie Skrocki, a
Voices of MainStreet
blogger from New Jersey.
Still, some economists warn that a rate increase may not be imminent, making a short-term CD a worthwhile investment even at the current rates.
"At this point we think we're pretty much steady as she goes," says Bethune, projecting that higher deposit rates are unlikely to come until the second quarter of 2012. So don't be shy about putting away some money in a 12-month CD -- it's unlikely that rates will suddenly go through the roof in the next year.
Personal unsecured loans
Even Americans who don't own a car or house usually carry some form of debt, typically in the form of credit cards or personal loans. The index therefore uses personal unsecured loans to track the interest rates on unsecured personal debt since January 2007.
And as with credit cards, personal unsecured loans have seen a smaller decrease in interest rates than we've seen on lending rates as a whole. In January 2007 the average rate on an unsecured loan was 13.52%. After bouncing around a bit during the past three years it's settled just a bit lower, at 12.75%.
Once again, the economy is the biggest factor. Sure, loan officers have been skittish about lending money in the absence of collateral (which would normally drive up interest rates) but there's also been considerably less demand by consumers, who are just as skittish about spending and borrowing money. This has caused rates to drop.
"Consumer demand for loans has dropped off dramatically," says Bernard Baumohl, chief global economist at The Economic Outlook Group. "Households are still careful about taking on new household debt, which means that the demand hasn't really increased."
Consumers will eventually start borrowing again. Even if the economy doesn't turn around radically in the next year, many Americans suffering from what Baumohl calls "recession fatigue" will start to take out loans to finance big-ticket purchases. When that happens, rates should go back up.
Home equity loans
Credit cards and unsecured loans are great options for those who need cash but are unable or unwilling to put up property as collateral. But Americans can get a significantly lower interest rate on their personal loan by putting up collateral such as the equity in their home.
Home equity installment loans in a 36-month term are used for the next segment of the Credit Power Index. Home equity loan rates have dropped, but the pattern during the past few years suggests that it's not a simple matter of Americans tightening their belts to weather the recession.
In January 2007, the average interest rate stood at 7.74% and stayed fairly steady for the better part of three years; as of July 2009 the average rate at surveyed banks was 7.83%. At that point rates started to drop, and as of December 2010, the average rate for a 36-month home equity loan stood at 6.57% -- a drop of approximately one percentage point in less than 18 months.
In this case, declining homeownership and increasing mortgage defaults are to blame for the decline in interest rates.
"Home equity loans have been dropping since 2009 primarily because of the drop in the equity in homes," Baumohl says. "It's shrunk so much, so Americans have less equity they can tap."
Less equity means less demand, and that means lower rates. So if you're one of the lucky Americans with equity in your home, now might be a good time to borrow.
New auto loans
Rare is the person who has the liquidity to buy a new car outright, which means most need an auto loan. The ubiquitous new auto loan is used for the 48-month segment of the Credit Power Index.
Fortunately for consumers in need of a car, those rates have plummeted along with deposit rates; they sit at 5.15%, way down from the average of 7.43% in January 2007.
But those rates are still higher than they could be.
The market for new-car loans is dominated by so-called captive finance companies -- the lenders affiliated with auto manufacturers, which are not surveyed by RateWatch. These institutions are better positioned to offer lower rates due to their size and ability to write off discounts as a marketing expense. Baumohl estimates that getting your loan through the manufacturer can save you between 100 and 200 basis points on your loan.
With most new-car buyers getting financing through the manufacturer, that means many of those who go to banks for loans are there because they have poor or insufficient credit. That's necessarily going to drive up the rate market at banks.
Still, if you're going to buy,
now's the time
. People who have put off their purchase during the recession may finally be ready to buy, and that will increase demand for car loan products -- and by extension, the prevailing interest rate.
"People have been holding on to their old cars, and now those aging cars are getting to the point that
they need to be replaced," Baumohl says. "With the economy improving it's a good time to buy a new car."
Adjustable-rate mortgages
The recent history of adjustable-rate mortgages has been a sordid one, with some foreclosed homeowners alleging that the terms of their home loans
constituted predatory lending
. But many consumers still find the product to be a good option for low-cost financing. In the Credit Power Index, five-year ARMs represent the real estate segment of consumer debt.
Admittedly, ARMs haven't been the most popular home loan product lately. "In general I don't think that's a product that
banks are going to be pushing now, for obvious reasons," Bethune says. But there are many reasons why having an ARM pays off for consumers -- not the least of which is the rock-bottom rates.
Among banking institutions qualifying for the Credit Power Index, the average rate on a five-year adjustable-rate mortgage was 3.61% as of November. A little less than four years ago, that rate was 6.34%. The precipitous drop is obviously attributable to decreased demand for a product seen by many as predatory, but it also mirrors a drop seen in the mortgage industry as a whole. Fixed-rate mortgages hit historic lows late last year before once again starting to climb.
The outlook
So where are we going? In a word, up.
Economists don't agree on when it will happen, and the Federal Reserve decided once again on Wednesday to leave interest rates
. But the general consensus is that once the economy begins to recover, emboldened -- and hopefully, employed -- consumers will increase their demand for loans. That will drive up loan rates, but also force banks to raise deposit rates to raise the capital needed for this increased lending.
Some analysts say the turnaround has already begun in the form of increased loan demand. "You're going to start seeing a turn on the demand side," Lloyd says. "If you listen to some of the CEOs of these banks, they're saying there's a slight uptick."
The question, then, is whether we can expect to see loan or deposit rates rise faster. Will the gap shrink, increasing consumers' credit power, or will loan rates outpace deposit rates, rendering consumers even more powerless at their local bank?
"We're expecting that loan rates will rise faster than deposit rates," Baumohl says. "The gap is going to get bigger."
That's largely because banks have been sitting on stockpiles of cash they've been wary to hand out to would-be borrowers. When demand climbs and lending rates start to rise accordingly, the banks can burn through their reserves first, without needing to raise capital by hiking deposit rates.
"They have the potential to tap a lot of those reserves and lend that money out, so there may not be that motivation to lift deposit rates so quickly," Baumohl says.
Wray agrees that the gap could widen. "I think that we're going to be here for a while," he says. "Savers are going to have to get used to lower rates." That means that even as consumer demand for loans drives up long-term interest rates, the APY on your savings account will stay relatively low.
In other words, even a recovering economy won't tip the balance of banking power in the consumer's favor, at least not at first. But economic projections are notoriously fickle, and MainStreet and RateWatch will continue to monitor interest rates and provide updates on the Credit Power Index on a monthly basis.
>To submit a news tip, email:
.
RELATED STORIES:
>>The Worst 30-Year Mortgages in the US
>>Homebuyers Don't Shop Around for Loans
>>The Best Online Savings Rates
Follow TheStreet.com on
and become a fan on