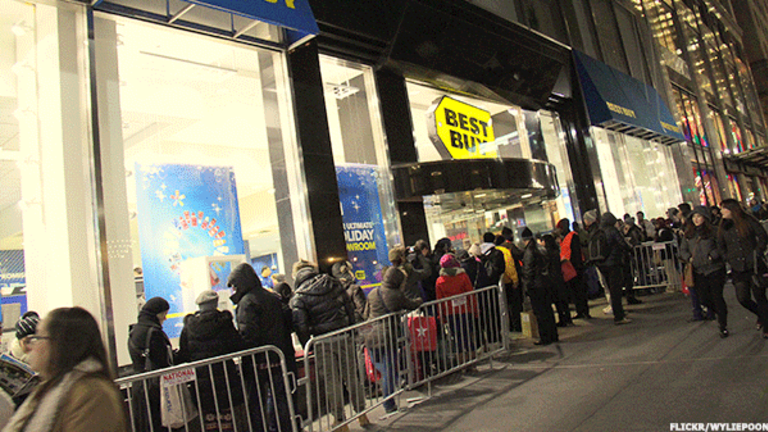 Your Victorious 5-Step Black Friday Shopping Plan
With 134 million Americans whipping out cash and credit cards this holiday weekend, smart shoppers need a Black Friday battle plan first.
With 134 million Americans whipping out cash and credit cards this holiday weekend, smart shoppers need a Black Friday battle plan first.
Americans are expected to spend a good chunk of the estimated $1,175 in per-adult total holiday spending on Black Friday weekend, with 59% of shoppers (about 137 million people) descending on malls, shops and online retail sites.
"Black Friday remains one of the busiest shopping days of the year, with Americans planning to take advantage of aggressive in-store and digital promotions over the entire holiday weekend," says Matthew Shay, president of the National Retail Federation. "Retailers know consumers are spreading out their holiday budgets to shop throughout the season. While there's no doubt of the incredible promotions offered during the weekend, the holiday shopping season is long and consumers will look for and expect great deals down to the very last minute."
Smart shoppers won't crack open their wallets and pocketbooks until they've budget-minded blueprint in hand to ensure they get the most bang from their holiday shopping buck.
To help build that blueprint, TheStreet has enlisted the help of top-shelf retail experts to find the best deals, and to find the best budget-savings tips in advance of Black Friday and Cyber Monday.
Here's how that battle plan shapes up:
Compare prices: It's important to remember on Black Friday that "sale" price isn't always the "best" price, says Erin Warren, a smart shopping expert at Splender, a cash-back shopping site. "Some merchants may offer a sale price on an item for a limited time, while others discount the price on the same item every day," Warren says. "Having an item's manufacturer, model number and other identifying information can help you find the best price for the item you want." Warren also advises checking out websites that compare prices for items offered online. "Some websites also compare prices offered at stores in your area," she adds. "There are a number of different price comparison tools and websites such as PriceBlink, PriceGrabber and Invisible Hand. You can even use shopping apps like Bakado that allow you to scan the bar code of an item and compare the cost at local retailers and online. Apps like these make it easy to compare prices in seconds and help you decide whether you should arrange for a store pick up or have the item delivered."
Stock up on coupons: Warren is also a big proponent of checking your local newspaper for coupons, scouring your inbox for emails with coupon codes and leveraging online resources, too. "Lots of websites have printable coupons for both products and stores that you should check out regularly," she says. "You can also look for promo codes to use during online transactions for general discounts or free shipping, and you can sign up for daily deal alerts from a variety of Internet sources. From Facebook to manufacturer websites, you'll find them in more places than you'd ever imagine."
Watch out for sales based on the "manufacturer's suggested retail price" - "Those can create a huge difference in 'was' and 'now' prices, giving the illusion of an unbelievable steal - until you realize the retail
price was inflated to start," says Josh Elledge, founder of Savings Angel.com. Elledge advises shoppers to use "leaked" online store ads and to leverage the power of the internet to compare prices, quality, limits, and terms store-to-store before buying anything. "You may find a deal just as good online, without having to go anywhere," he says.
Review your cash back options before you buy - Jon Lal, chief executive officer of Be Frugal, says that before you shop online on Black Friday or Cyber Monday, take two minutes and check out a cash back shopping website first. "You see a coupon code for free shipping or a sale you didn't know was going on, and you can earn cash back on your entire purchase," he notes. "Plus, you can stack those cash back deals -- up to 7% with BeFrugal -- with any great Black Friday or Cyber Monday discounts you're already getting."
Team up - When you hit a store, have a friend or relative hold a place in line immediately upon entering. "Send the other shoppers in your group with specific assignments to grab only the pre-planned items, and meet back at the person holding the place in line as fast as possible," Elledge advises.
Expect chaos when you hit the stores this holiday weekend, and have a plan to avoid the heavier crowds. The tips above should help you get the products and services you want, faster and easier - leaving you more time to sit back, turn on "White Christmas" and sip an eggnog or two.