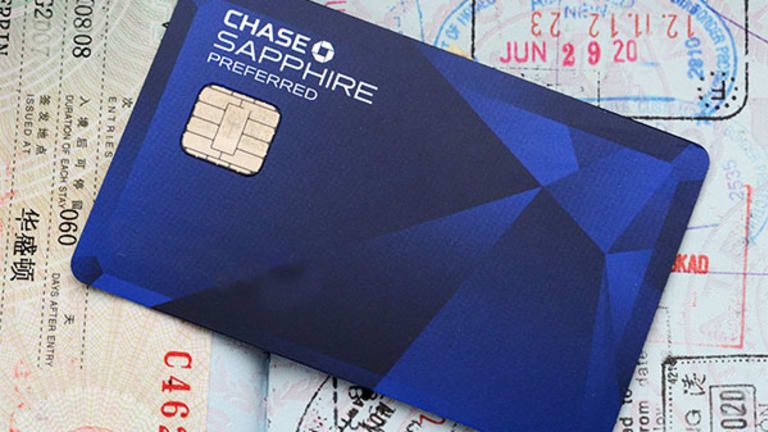 With the Federal Reserve raising rates, consumers trying to shed debt and banks eyeing the bottom line, the era of the rewards card may be ending.
As Bankrate.com discovered a few weeks ago, 30% of credit card users never redeem their card's rewards. While 38% redeem them those rewards within six months, only about 24% of card users overall are willing to pay the monthly fee typically required to earn rewards. Among those who have rewards cards and use their rewards regularly 49% exchanged points for cash, 17% picked up airline tickets and 12% used rewards points on gift cards.
"Credit card rewards don't usually gain value over time," says Bankrate.com credit card analyst Robin Saks Frankel. "In fact, they're more likely to lose value as companies require more points or miles for the same perks. Your best move is to cash them in regularly."
Then again, avoiding rewards cards is understandable. Back in Feburary, the Federal Reserve Bank of New York announced that total household debt increased by $226 billion (or 1.8%) to $12.58 trillion during the fourth quarter of 2016. That's the largest quarterly increase in total household debt since the fourth quarter of 2013 and $460 billion in debt more than U.S. consumers had amassed a year earlier. It also put debt just 0.8% below its peak of $12.68 trillion in the third quarter of 2008.
Almost every form of debt increased from the same time in 2015. Mortgage debt is up $231 billion to $8.48 trillion. Student loan debt increased $78 billion to $1.31 trillion. Auto loan debt is up $93 billion to $1.16 trillion. Credit card debt climbed by $46 billion to $779 billion. Even all of those figure may be low.
"Debt held by Americans is approaching its previous peak, yet its composition today is vastly different as the growth in balances has been driven by non-housing debt," says Wilbert van der Klaauw, senior vice president at the New York Fed. "Since reaching a trough in mid-2013, the rebound in household debt has been led by student debt and auto debt, with only sluggish growth in mortgage debt."
According to the Federal Reserve in Washington, D.C., revolving debt of all kinds exceeded $1 billion in the fourth quarter of 2016 for the first time since 2008 and returned to that mark again in February. That said, credit card delinquency rates were around 10% the last time revolving debt hit the $1 billion mark in 2008. At the end of last year, only 7% of credit card debt was past due.
"2017 will be a record-setting year for credit card debt," says Matt Schulz, CreditCards.com's senior industry analyst. "Americans' credit card debt will almost certainly reach its highest levels ever later this year and keep growing from there. Add in a few expected rate increases from the Fed over the next two years, and that makes it even more important than usual to focus on paying down your credit card debt."
The economic climate isn't making rewards cards incredibly enticing for issuers, either. For years Chase has offered a 100,000-point sign-up bonus to those who spend $4,000 on the company's Sapphire card within the first three months after opening an accounts.That 100,000-point bonus is valued between $1,500 and $2,000, but Chase put an end to it in March. Now, customers only get 50,000 points as a sign-up bonus, but still get $300 annual travel credit that's offset by a $450 annual fee. J.P. Morgan Chase CEO Jamie Dimon said in December that Sapphire alone put a $200 million hit on the bank's quarterly profit. Meanwhile, analysis from portfolio management and investment research company Sanford C. Bernstein & Co. suggests the Sapphire may not break even for another five and a half years.
As a report from UBS points out, the model that made cards like the Sapphire seem viable might now be broken. Rewards cards target buyers who pay off their cards each month, have incomes of more than $100,000 (in Sapphire's case, closer to $200,000), carry little risk and rake in both huge processing fees and big annual membership fees. When those folks do carry balances, it's nearly double the industry average and brings in ample interest.
Yet not only do 20% of rewards go unused, only 40% of purchases will be the type (travel and dining) that earn extra points. Not that cardholders know how to amass points or what their points add up to. A study by credit card analysis site CreditCards.com found that 32 million credit cardholders haven't changed their go-to credit card in at least ten years and another 20 million have never changed it. However, considering that 35% of cardholders use their card strictly for its rewards limited-time offers can change their value a bit.
"The truth is that loyalty doesn't pay when it comes to credit cards," says Matt Schulz, industry analyst for CreditCards.com. "It is especially true with rewards because the quickest way to rack up rewards is to sign up for a new card with a big signup bonus. That means that if you haven't gotten a new card in the last five years or more, you've missed out on a tremendous amount of possible rewards."
The difference between cards can be substantial. Credit card analysis site CardHub took a look at non-cobranded cards -- cards not linked to a hotel chain, airline, retailer or other business directly tied to the card's rewards -- and found and enormous disparity between the ends of the spectrum. The rewards offered by the best card -- Capital One's -- are 49% better than those offered for shopping with the worst (TD Bank's). Worse, according to Card Hub, the $1,621 in rewards that consumers can rack up with a Barclay's Arrival Plus World Elite MasterCard are nearly $813 more than the $716 a cardholder would manage during the same span with Fifth Third Bank's Real Life Rewards Card.
Even within card brands, the rewards can be disparate. Wells Fargo's Propel 365 American Express card reaps $882 in rewards over a two-year period. That isn't great when American Express's own Blue Cash preferred doles out $965 during that same stretch, but it looks even worse when CapitalOne's VentureRewards produces $1,482 during that same period. Sometimes a rewards card is only as good as what you redeem rewards for. CardHub found that redeeming rewards points for miles or other travel expenses offers 54% more value than turning them in for merchandise.
"The most important thing to consider when choosing a travel rewards card is your travel habits," says Amber Stubbs, an analyst for credit card information and comparison site CardRatings.com. "If you are brand loyal, then a co-branded card is hard to beat. Cards like the Marriott Rewards Premier and Hilton HHonors Reserve offer special perks on top of rewards points that earn you free nights."
Even among less-affluent cardholders, rewards cards are falling out of favor. A survey by Accenture Strategy, retailers are wasting billions of dollars a year on loyalty programs as rewards points sit unused and consumers shift to rivals anyway. The report found that 78% of customers have turned their back on loyalty programs and 54% have switched to a different retailer or service provider within the last year.
It's hard to blame them. In a survey of 100 retailers in the U.S. by CreditCards.com, the average annual percentage rate on store credit cards cards is 23.84% -- or nearly double the Federal Reserve's 12.41% average for all credit cards. Not only that, but only half of the cards offer a sign-up rewards deal or purchase discount -- with only 13 out of 100 exceeding $25 in rewards for a $200 purchase. Ten retailers In 2015, Last year, 10 retailers dropped signup offers for new cardholders, while only 13 offer low-to-no interest introductory rates. Just 29 retail cards overall are equipped with chips instead of magnetic stripes -- making them far more vulnerable to fraud. However, lower credit limits around $500 or so, higher-risk applicants and, in many cases variable APRs tied to the prime rate make store cards far more accessible.
"With their outrageously high APRs, most consumers would be wise to steer clear of these cards unless they're 100% certain they can pay their balance off every single month," said Schulz. "And even then, there are plenty of general-purpose credit cards with better sign-up bonuses."
This article is commentary by an independent contributor. At the time of publication, the author held no positions in the stocks mentioned.