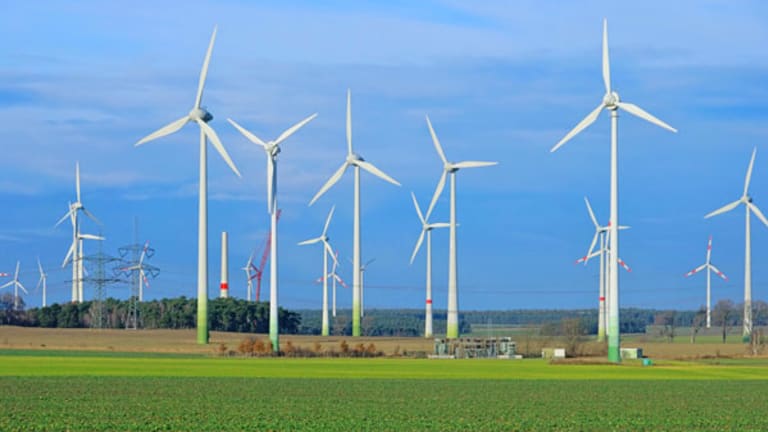 Publish date:
Wind Energy Gets Profitable Gust -- A Mighty Wind Blows From the Developing World to Indiana
Windstream Technologies, which uses a sun-wind energy combination in its SolarMill, could be a model for the boons innovations can bring to American employment. But can it take off?
Windstream Technologies, which uses a sun-wind energy combination in its SolarMill, could be a model for the boons innovations can bring to American employment. But can it take off?
NEW YORK (MainStreet) — This is the way it's supposed to be.
An American technology company turns its innovation into products that other countries want and need. They buy it, they gain from it. But so does the company, and so do its workers.
Wash, rinse, repeat. It's how development happens, through technology that enables more places to simulate conditions in the developed world, and in time to join it.
That's what Dan Bates is trying to do right now in North Vernon, Ind., home of his company Windstream Technologies but, as with development itself, it's an uphill battle.
Bates is CEO of Windstream, which produces hybrid wind-and-solar power systems. The SolarMill looks something like an oversized table, with turbines that look like dancers' legs lined up like Rockettes from the base to the top. Place it on top of a hill or a building, where the wind is best, and the turbines turn all night, producing electricity from inside the table's base. The top consists of solar panels, which can be tilted to catch the sun all day and produce more power.
Each SolarMill unit can produce 6 KwH of electricity, Bates said. They can't compete with U.S. grid energy, which can cost 12 cents per KwH. But they can compete in the Caribbean, where the price of grid energy is 50 cents, in Africa where it's 60 cents, and in India where a generator might cost $2 per KwH to run.
Bates has a staff of 35 making SolarMill units at his North Vernon factory, and says they have assembled 2,000 so far. He said he has an inbox with 1,000 potential customers wanting to buy a single unit but can't handle that business. The flagship product, if you can get one, is often priced at about $6,000. Bates said he needs the efficiency of distribution to scale profitably.
But Windstream does do some large deals directly, as with a recent $2 million order from the Jamaican Public Service Co. of which the instllation on the roof of local law firm Myers, Fletcher and Gordon is a part.
Some 50 SolarMill units will go onto the law firm's roof, producing about 106,000 KwHs of power each year, most of it from the solar panels. The investment is expected to pay for itself in four years. A company called Caribbean Esco will audit the installation to measure its performance.
For the law firm, the deal may mean it can operate its computers 24-7 without worrying about blackouts, just like a law firm in New York. Proof of the concept could bring more homes and businesses in Kingston closer to what New Yorkers call normalcy, and thus make Jamaica a better place to invest. Other Caribbean islands, through Caribbean Esco, will be watching the results closely as they seek to modernize and reduce oil and gas imports.
Windstream stock is currently offered as a "pink sheet" stock under the symbol WSTI, most recently priced at 89 cents per share. It has a total market cap of about $79 million. It's not yet large enough to be considered an investment. It's highly speculative.
The most cogent criticism of the business may be that, with the installed price of solar photovoltaics continuing to drop, the wind turbines on the Windstream SolarMill are just a way to sell solar panels, that solar will bury Windstream. But the point of the SolarMill is that the wind turbines also produce power at night, thus the cost of a SolarMill should be compared with that of a solar system that includes substantial battery back-up. It's 24-hour power.
Bates said Windstream should also not be compared with large wind turbine companies like Denmark's Vestas (VWDRY) and General Electric (GE), or with Chinese companies like Goldwind, Suzlon Group and Mingyang which, among them had most of the market in 2013 according to MAKE Consulting. Windstream isn't even in the top 15.
Instead it is, like the countries it serves, a development stage company with multiple bottom lines.
Promoting international development and self-sufficiency is one bottom line. Creating American jobs is a bottom line. Delivering electricity to developing nations that works both night and day is Bates's primary goal.
In the end, the bottom line is also the bottom line. For the quarter ending in March Windstream brought in $238,000 in revenue, but lost $659,000. A $2 million line of credit secured July 1, backed by the Export-Import Bank, bought it time. SolarMill has maybe a year to prove itself as an export product.
In short Bates is still leaning upwind, but the struggle is what we should remember. The struggle, after all, is sometimes necessary to achieve the American Dream.
--Written by Dana Blankenhorn for MainStreet