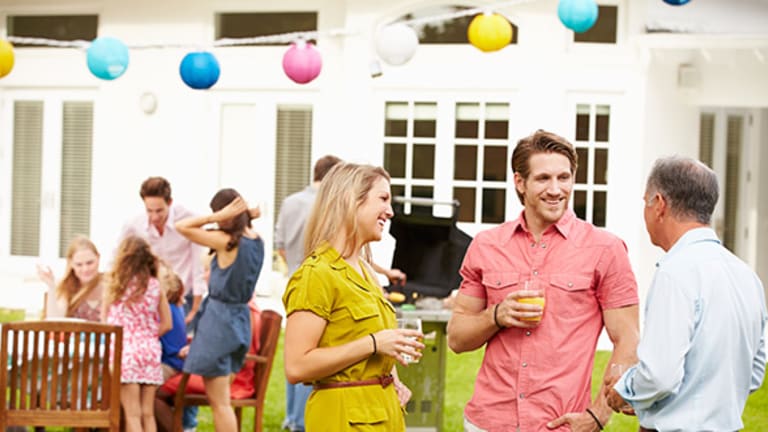 What This Year's Labor Day Sales Will Look Like
Labor Day is the last big sales push between back-to-school season and holiday shopping, so savor the summer deals while you can.
Labor Day is the eye of the late-year shopping storm: enjoy the relative silence
The long Labor Day holiday weekend basically signals and end to back-to-school shopping, but it's when the first Christmas items start showing up at the local Costco, Home Depot and Macy's. That said, even the earliest holiday shopping surge typically doesn't arrive until at least October. The September lull has been the one retail constant since the recession hit in 2008 and was, with few exceptions (2006, 2004, 2003 and 1995), the rule since roughly 1992.
Labor Day provides shoppers absolutely their last bit of motivation to hit the stores after spending big on back-to-school shopping. Even as they recover from summer vacation spending, they know the holidays are just a few cool weeks away. Typically, they're more than happy to just leave themselves of the couch on Saturdays and Sundays, even if they aren't watching the first games of the college and pro football seasons.
If you're wondering what the Labor Day sales are going to look like the folks at DealNews have come up with a handful of suggestions. Those deals won't involve Apple products -- not with the iPhone 7 announcement coming -- but some Labor Day sales have been in effect since as early as August 9:
Summer clothes
You folks have definitely caught on to the Labor Day push on apparel sales that are part summer clearance and part back-to-school push. Last year, clothing sales made up nearly a third (28%) of all Labor Day discounts, which is actually down slightly from 35% in 2014 but should be significant again this year.
In 2015, preppy bro boat-shoe emporium Sperry offered huge discounts to the wannabe '80s movie villains that sport their gear on Natty-Ice soaked infields during Triple Crown season. Nike also had a Cyber Monday-quality sale, while Lord & Taylor took 85% off, with a stacking coupon that took another 25% off. Dealnews also suggest keeping an eye on Uniqlo, Dick's Sporting Goods and REI for sweet clearance sales.
Swimwear
A season's worth of sea salt and chlorine takes a toll on swim gear.
If doing your best Michael Phelps or Kate Ledecky impressions took a toll on this year's swimwear, DealNews points out that Speedo's Labor Day sale last year featured a coupon that took extra 25% off sitewide, including sale items which were already up to half off. Even stores like JC Penney and Kohl's may cut up to an extra 25% off their clearance swimwear selection with coupons throughout the next month.
The best deal, however, may come from Victoria's Secret, which is cutting its swimwear line altogether and is already slashing prices by up to 70% before the holiday weekend. Expect those cuts to go deeper as VS rids itself of its failed experiment.
Shoes
Making up a quarter of all apparel sales last Labor Day, shoes are yet another item that's at the crux of summer clearances and back-to-school stockpiling. Nike, Reebok, and Puma all offered deals last year, but 6pm had brands like ASICS and Fila from $14.99.
Of course, if you aren't looking to dress like a perpetual teenager and want something that will complement items other than your cargo shorts that are old enough to drink legally, actual shoes are on sale as well. Cole Haan, Kenneth Cole and Men's Wearhouse take as much as 70% off regulars prices last year, while department stores like Target dropped prices on shoes to as low as $1.98.
Big-screen TVs
You're not getting a better deal on sets 55 inches or smaller. That's about where those prices will be until Black Friday.
Last year, 25% of deals on televisions were on models measuring 55" or larger. That's going to keep going this year, with Dell likely offering something similar to the gift cards worth up to $300 that they bundled with sets last year. If you're going smaler, Best Buy and Walmart are dropping prices 1080p of roughly 40" to well under $200. If you're looking for 4K TVs, sets of that size hit $250 last year.
Patio sets
No, don't buy a grill yet.
Timing a grill purchase is a ridiculously tricky business that isn't helped by fickle retailers. Home Depot and Target will drop the prices on patio furniture -- with Target alone accounting for 38% of DealNews Labor Day patio furniture deals last year -- but the grills are off-limits until later in September, when they're almost positive you aren't grilling anymore.
It isn't that nobody's discounting grills around that time: Sears repeat took 25% off brands like Kenmore and Char-Broil in 2015. But Amazon dropped a Char-Broil 2-burner grill to as low as $79 last year, only to drop prices lower later in the month.
You're better off with the patio furniture. The lowest price DealNews found for a 3-piece patio set last Labor Day came from Home Depot, which dropped the price to $70 — exactly half what it cost in June, and a low by $327. However, last August saw six times as many deep discounts on patio furniture than June or July. Good luck out there.
This article is commentary by an independent contributor. At the time of publication, the author held no positions in the stocks mentioned.