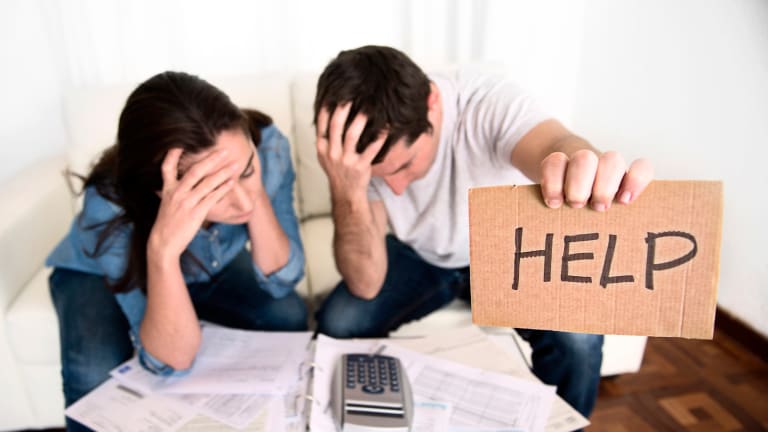 The Lifetime Cost of Bad Credit Goes Far Beyond Substantial Interest Payments
Bad credit can seriously impact your quality of life, from the cost of your cell phone contract, to the kind of insurance you can get, to what job you hold.
NEW YORK (MainStreet) — Bad credit has a serious cost. Of course, you know that you're going to pay more in interest. But did you know that bad credit can cost you tens or even hundreds of thousands of dollars in interest over your lifetime? That's a lot of money you could be using for your retirement nest egg, a family vacation or even a house. However, the cost of bad credit goes beyond just what you're paying in interest. It can seriously impact your quality of life, from the cost of your cell phone contract, to the kind of insurance you can get, to what job you hold.
The Cost of High Interest Rates
Interest rates are one of those costs people often don't consider. It's a small amount of money that adds up over a long period of time. Thus, it's a sort of "death of thousand cuts" to your finances. You don't notice it while you're paying it out. Greg Lull. head of consumer insights with Credit Karma, says the difference between a good and an excellent credit score over a lifetime is a whopping $60,000. The difference between poor and excellent is over $200,000.
"What we found is that it just gets bigger and bigger the older you get," says Lull. A 22-year-old with excellent credit is going to save about $811 over the course of a year. That's not peanuts, but you're not going to be buying any islands with it. By 30, however, that number goes up to $5,671. By 40, it stands at $6,302, where it peaks. But even by 65, you'll still be saving over $5,000 every year by having excellent credit.
People With Bad Credit Buy Inferior Products
"Beyond the interest rates, which are substantial, you might be looking at lesser products," says John Heath, directing attorney with LexingtonLaw. He notes that if you go for an auto loan, you might not get approved for a loan on a new car. That means you'll have to buy something potentially less reliable and have to pay for all the repairs you wouldn't be paying for if you had been able to purchase the better product. And if you don't have an emergency savings fund in place, you're going to be paying for those repairs on the steep interest rates associated with bad credit.
Renting Versus Buying
Lull points out that "at a certain level, your credit is so bad that you're not going to buy a house and renting costs more." Even renting is going to be difficult once your credit reaches a certain point. Somewhere below 600, landlords, almost all of whom pull credit reports and credit scores at this point, are going to be reluctant to rent to you. You might be able to find a place to live, but it's going to be a real headache and the places you're renting are likely not going to be as nice as what you'd be able to get without credit headaches.
Getting the Right Job
"The other big cost is in employment," says Heath. "Pretty much all employers check your credit now." So you might not only not get your dream job, but you also might have to settle for another employer who pays less. Heath says that this has become far more common since the economic downturn of 2008. "Employers want to know that you're making financially sound decisions, because they think that translates into being a responsible employee," Heath says. More than that, Heath points out that "instead of working one job you might have to work two." That's a major impact on your quality of life. And it can all come down to having bad credit.
Getting the Right Insurance
You know that you might have to pay more for credit, but did you know that your credit score can impact what kind of insurance you're going to get and what you're going to pay for it? Heath notes that your insurance rates are largely just a function of math. "Insurance companies try and predict where they're going to have to pay off," Heath said. "The thinking is that the less responsible you are with credit, the less responsible you are with your health, with your driving and how you care for your home." This is why insurance companies pull your credit score to figure out your premium.
Getting and Maintaining Your Bank Account
"At around 580, it becomes very hard to get access to any credit," says Lull. "Around 550, you can only borrow money from people you don't really want to." He's not talking about leg breakers. He's talking about payday and car title loans with interest rates going as high as 700%. "At a certain level, you're going to get into unbanked territory where you have to get money orders and cashiers checks to pay for things because you can't get a bank account," Lull says. Indeed, you might even have existing bank accounts closed if your credit becomes bad enough.
So pay attention to your credit. If it's bad, fix it. If it's good, maintain or improve it. You might have to spend time and energy doing that, but it's a lot cheaper than the alternative.
--Written by Nicholas Pell for MainStreet