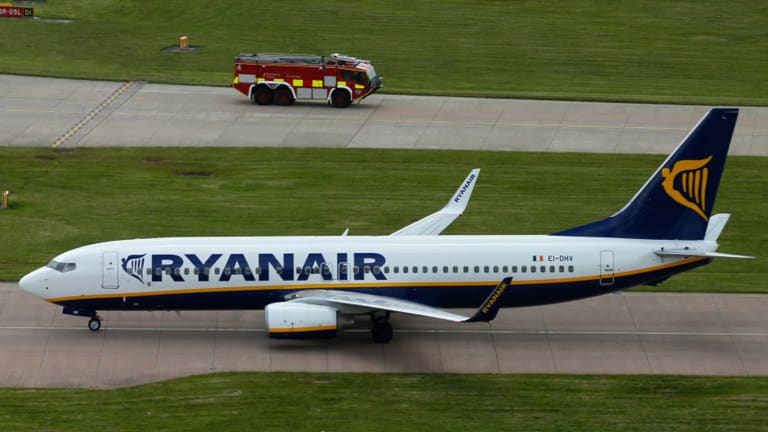 NEW YORK (MainStreet) — New York to London for $15? That could soon be a reality, at least if Monday's news concerning Irish low-cost airline Ryanair is to be believed. Ryanair's board has approved plans to launch routes in the next five years between the U.S. and up to 14 major European cities, with destinations including London, Berlin and Dublin, touting tickets for as little as $15 one-way.
Ryanair, Europe's largest low-cost carrier, has built up an annual passenger base of 89 million and runs more European routes than any other airline. If the company has any brand recognition at all on this side of the Atlantic, it's largely because of its often-cartoonish chief executive, Michael O'Leary, a man whose flair for PR is matched only by the sharpness of his tongue. O'Leary caught the attention in the U.S. in 2009 when he suggested that his company might introduce a $1.50 charge on passengers for using lavatories in-flight.
With that in mind, many in the airline industry have afforded themselves a wry smile at extensive media coverage of the $15 ticket.
"That's a lead-in fare," says Chris Tarry of CTAIRA, an aviation industry research body. "Of course everybody's written about it, but even [Ryanair spokesman] Kenny Jacobs says that the majority of tickets will be more, and my words would be 'much more', than £99 [$145.63]. Airlines don't run a social service."
George Hobica, founder of travel advice website airfareswatchdog.com, agrees. "They will only have a few seats at that fare, and that's just the base fare," he says. "It's going to come with all kinds of fees and taxes and by the time you're done it's going to be $300 minimum. $15 fares are just a publicity stunt, and that's my bottom line."
That being said, for travelers used to paying $1,000 or more for round-trip journeys to Europe, Ryanair's planned entrance into the transatlantic market could be a godsend, even if the chances of securing the very cheapest fares are slim. What's more, it may also jolt existing carriers to lower fares, which have risen rapidly in recent years.
"It's a shot across the bow," says Hobica. "If you look at international fares from the U.S., it's curious that they've remained high on routes, for reasons I cannot understand. New York to Amsterdam this summer is selling for $1,500 round trip, which makes no sense – you can fly the same distance, New York to California, for $250.
"I realize there are taxes involved, government fees, but especially with oil prices coming down, and when you consider these airlines are flying Boeing 787s with supposedly 20% lower fuel costs, there is room for price reduction," Hobica added.
Ryanair is not alone in seeking to attract transatlantic travelers with lower cost tickets. WOW Air already offers flights from Boston and Baltimore to several European destinations, via Iceland, from around $200 one-way. Norwegian Air, another company advertising cut-price tickets to Europe, currently offers flights from JFK to London Gatwick for $350 one-way.
The question remains whether these low-cost carriers can succeed where others have previously failed -- that is, by remaining profitable. Norwegian reported a NOK1.05 billion ($127 million) loss in 2014, largely as the result of its expansion into North America, and Hobica suggests this could be a sign of things to come.
"I think it may end in tears in some cases because of capacity issues," he says. "We could see again what happened in the U.S. 20 to 30 years ago with too many airlines chasing too few passengers."
CTAIR's Tarry is more optimistic, though he admits that truly low fares will be quickly forgotten, as Ryanair balances the availability of the cheapest tickets with more expensive premium economy seats.
"Kenny Jacobs has suggested that 50% or more of the seats will be for premium economy passengers," he says. "An airline is no different from a retailer, because they're trying to maximize revenue for each square foot of floor space. Premium economy has become the most profitable element of floor space, the sweet spot in low-cost long haul – a little bit more legroom, a few other extras, which people have been prepared to pay for."
The cheap prices can be a headline or a lure, but the airline has to get the right number of passengers paying a pretty penny for more comfortable accommodations.
"So it's about getting the mix of passengers right, not just filling an aircraft with as many seats as possible," Tarry says.
So if you're in the market for premium economy, Ryanair might be just the ticket. But those of you hoping for a $15 trip to London should probably keep your feet on the ground.
—Written by James Appell for MainStreet