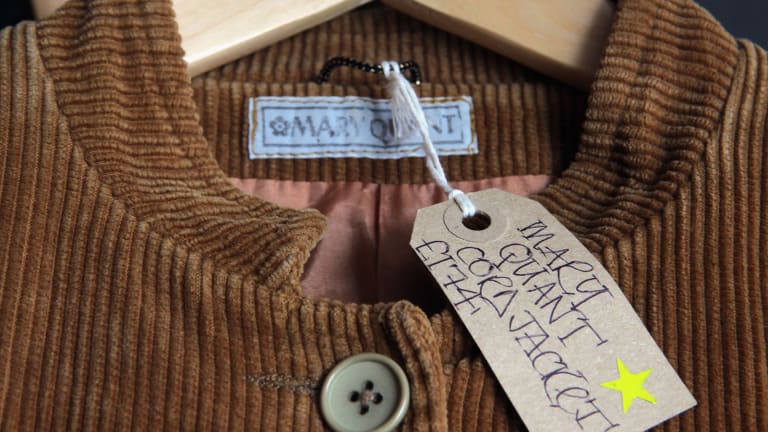 Publish date:
Smartorialism: How to Make High-Fashion But Economical Moves
The compulsion for American women to refresh their wardrobe costs them dearly – to the tune of $160 million annually. Is there an option that's more fiscally responsible this season?
The compulsion for American women to refresh their wardrobe costs them dearly – to the tune of $160 million annually. Is there an option that's more fiscally responsible this season?
The compulsion for American women to refresh their wardrobe costs them dearly – to the tune of $160 million annually.
Issue 27 of The Baffler, a literary magazine that "blunts the cutting edge," bemoaned this very plight of women—the one colloquially known as "fashion." With existential angst that put the Sartre in "sartorial," editorial staffed bemoaned a clotheshorse race with no exit: pay up to purchase new threads or face mockery. But is there a secret to freeing oneself from the nation's Obligatory-Sartorial Vortex? The answer isn't a simple yes or no—rather, there is an almost scientific formula for minimal participation in the seasonally ritual of required consumption. And it's a secret derived not from endless analyses of color boards or the evolution of hem lengths-- the answer lies in the Good Book, Ecclesiastes 1:1 "What has been done will be done again; there is nothing new under the sun."
Fashion's seasonal, cyclical nature makes its movements orderly and quite predictable: What goes around likely comes back around—and sometimes within seasons, not decades—every season, some recycled "trends" sell so well that designers can't resist bringing them back for an encore season or two. Did you invest in a poncho or capelet last winter (or for the extra prescient, F/W '13) will be pleased to know that for yet another winter, it's urbane to rock plaid blankets with armholes and toggle buttons. And no matter what strange disturbances shake the sartorial solar system, the planets of style revolve around a gravitational orb--the fundamental elements of style that transcend seasons. Bohemian—that on-again, off-again vague stylistic Zeitgeist—is back for fall with draping and cruise collection caftans. Flat boots have been re-introduced to us with slight variations for about seven seasons in a row now. And of course, a cardigan is perennial.
Though loath to crush dreams, I must state that the so-called "timeless wardrobe," taken literally, is chimerical. Even high quality sweaters will pill after a few winters, and no boots were made for a lifetime of walking. Plus—who doesn't enjoy spicing up the wardrobe rotation with a new accessory from time to time?
Nonetheless, it does seem a bit ridiculous that the average (non-Kardashian!) American household spends $1,700 a year on apparel and footwear.
Rita Mauceri, a fashion author who currently runs of Tend.com, a lifestyle site for modern mothers, warns women to "beware of fads," advising them to "start with the right basics and tailor them to your own lifestyle."
Indeed, the low-maintenance wardrobe is elegant, expressive and optimized to your particular constraints (time, occupation, budget, preferred palette). It's crucial to recognize trends not as newfangled styles conjured from scratch by designers that reinvent the wheel: they are cyclical forces that swing between the futuristic, the recent, and the nostalgic—often all in one season. It's worth noting the task of assembling a solid foundation of staples is an uphill climb in today's world of constant temptations. Why invest in a timeless cropped Chanel jacket when a "trendier one" from Ann Taylor can be had for a fraction of the price? And how "trendy" does one truly have to be—in essence, how frequent should that "timeless" wardrobe be trimmed or augmented to, ironically, retain its "timelessness"?
These answers, of course, depend on the state of your closet and budget. But let's lay down some universal ground rules for maintenance before guiding ourselves through a seasonal plan for sartorial fiscal responsibility for the Fall-Winter 2015. Trust us, despite what the avant-garde designers and the more mass-oriented publications gathering dust on your coffee tables may declare, tangerine is unlikely to become a staple color for every winter that cometh.
Three All-Time Laws for Ruling your Closet
1. Break the Binge-Buy Urge: It's not your fault. It's not your fault. Today, fast fashion and mass luxury beckon from every window with their au courant posturing and beguiling semi-affordable price tags. A $60 Zara "silk-blend" blouse in cobalt certainly seems a better investment than the three martinis needed to de-edge a rough workday. That is, until you take it home to discover that it's a bit too blue—and that faux-silk is dry-clean only. If you often seek sartorial solace, try to relegate the habits to emergencies only. Austerity measures are never conducive to commitment in dieting, European fiscal reform or wardrobe planning. But just cutting down on impulse purchases has two tangible long-term benefits: the savings fund investment pieces that you'll cherish for years (not just a hot season before it suddenly becomes…off-season) and the elimination of decision fatigue from having fewer — but better — choices. In this age of maximizing optionality, those of us who don't work on trading floors or manage portfolios may be rusty on the fundamentals of Options Pricing—just remember one: there is a price. How much valuable time could you save on sparing yourself indecision?
2. No More of the Same: This is a complaint often levied by significant others and vehemently denied by the accused. But quick — go to your closet and count how many little black dresses you have. If the number is more than 3 — at most 4 — the lady doth shopeth too much. There are certain cuts, brands, colors or categories (e.g. bags and shoes) that we tend to collect. And while maintaining consistency is an art form, repetition shopping takes willpower just to avoid. After all, the impulse justification always presents itself. Could another featherweight gray cardigan really hurt? Well, yes--in the long run, playing it safe with individual choices isn't the best sartorial strategy. If you already have a few gray cardigans, you're unlikely to reach for that particular one on your way out to a chilly outdoor dinner, right? Instead, when the urge strikes, (as it inevitably will), reach for something you don't have—for example, an inexpensive, subtly bohemian scarf in muted fall colors. It's inexpensive, a nod to the (yet again) recurring look for fall, and worst comes to worst, an easily re-giftable item come Christmas. Hey, isn't that one niece starting to dress a bit like the Olsen twins circa 2004?
3. Know the Bag, not just the Tag: Though not perfect, the [Cost of item/X of wear] indicator more accurately shows an item's value to you than the retail price itself. As previously mentioned, fashion revolves around an orb of fundamental staples. Likewise, your wardrobe should have a core, which should be complemented—not replaced—by "trend" items each season. For items that are here to stay (e.g. a luxury-caliber work tote more in keeping with your new title that's built to last—even after years of toting a weighty 17" laptop.), don't ever be afraid to invest. At the same time, there's the importance of banishing even the thought of "impulse investment purchasing." It's the equivalent of drunk dialing an old paramour…with international roaming charges. And like continents, investment-worthy sartorial anchors are discovered, not sought--the search part actually comes after falling in love. Suppose your feet are basking in the sleek contours and surprisingly comfortable architecture of matte velvet Roger Vivier sling backs that seem destined to go office-to-evening. Do you walk out with the shoes still on, having discreetly turned your head as you signed the receipt? Or should you do some "showrooming," the practice of comparing brick & mortar vs. Internet prices? Are the same shoe available on eBay for much less? Does that particular shade of gray clash with your mostly-black wardrobe? Needless to say, we strongly recommend putting the item on hold, giving yourself at least a night to mull over the possibilities and constrictions, If you can still visualize that curve of the heel after a few days, march back in, swipe your card and live with no regrets. If significant others question the comma on the tag, simply explain that the cost is being amortized—with negligible depreciation—over the course of half a decade.
If that eyebrow is still raised, don't forget to mention that luxury items have resale value as well—as Ben Hemminger, co-founder and CEO of Fashionphile.com, a pioneer in online consignment noted. "An investment in a truly timeless handbag—such as an Hermes Birkin or a classic Chanel bag—it's not a stretch to consider such items 'wearable mutual funds,' since they retain their value well and may even appreciate," he said.
Paradoxically, minimizing participation by embracing sartorial essentialism may require some staggered upfront investment. But it is a philosophy of living, shopping, and dressing that minimizes long-term stress while maximizing the quality and eternal style of your wardrobe. You will never wonder if your handbag would be considered too "old-lady," or if chartreuse was last season's color. When life derails you from the search for a new dress for an ex's wedding, a niece's high-school graduation or an unexpected funeral, you won't miss the impending dread of having a doze options, none of them quite right. After all, you already have the perfectly appropriate dress and a small, but choice selection of accessories waiting in your well-curated closet.