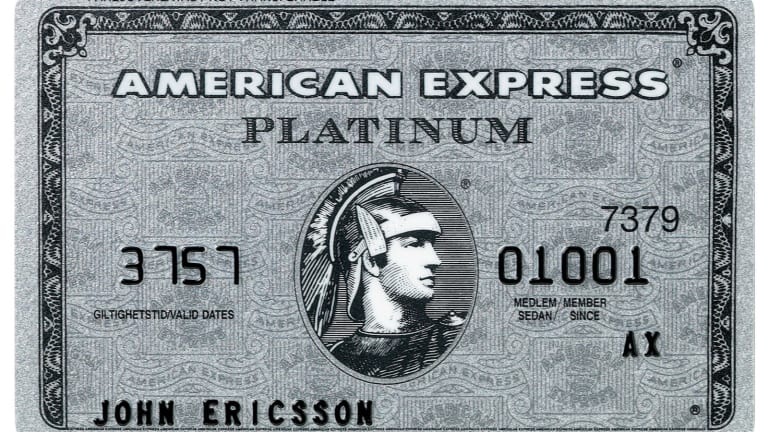 Prestige Credit Cards: When Is the Style Worth the Money?
Prestige credit cards, or would-be cards like the Magnises, look good when you're paying for dinner, but are they smart spending?
NEW YORK (MainStreet) — What if you could put a fancy hat on your debit card?
The idea isn't as ludicrous as it may seem, at least not completely. It's the business model of Magnises, an entirely new kind of plastic (or in this case, metal) built entirely around the idea of personal image. A Magnises card isn't actually a credit card. Instead it's a card that you link to an existing bank account or line of credit so that when the bill comes at the end of dinner you don't have to sheepishly add a debit card to the pile. You can throw down something sleek and black.
Endorsed by rapper Ja Rule and founded by 22-year-old entrepreneur Billy McFarland, a Magnises card is all about the thrill of membership. It's so exclusive that you can't even seek the company out; membership is limited to referral only, and prospects are vetted through a grueling hangout in New York City's hippest enclaves.
It's like Fight Club, but with a VIP section.
Magnises is part of an odd type of financial product: the prestige card. Prestige cards are as much about being seen as financial planning.
Preferably that style should come in black or be made of metal — sometimes both when you can get it, such as with the American Express Centurion Card, a financial instrument forged out of anodized titanium in the credit department of the gods.
Just kidding … it gets stamped in China and mailed out from a troubled U.S. credit card company. But with the black and silver color scheme, plumed warrior's head motif and heavy thunk the card makes when it hits the table, the card does still give the impression it's made from a higher power.
For lesser spenders, by which we mean anyone who doesn't spend six figures annually, there are cards such as the Chase Sapphire Preferred. Also made out of metal but in a sleek blue, this is one of the most popular credit cards on the market, and for good reason. Not only does it offer exceptionally solid rewards, but it inspires a little bit of envy among others. It doesn't shout "I have at least $10 million on deposit with Merrill Lynch" like some cards do, but there's certainly something to putting down a card that's not made of mere plastic.
The important thing is, as Wallaby Financial CEO Matt Goldman says, prestige cards aren't just about personal finance. They're about personal brand. It's easy to call out Magnises as a plaything for the wannabe rich and famous, with their SoHo House memberships, free entry to Goldbar and high-profile parties, but consumers are increasingly conscious about what their card says about them. And they shop accordingly.
It's called the "date test," Goldman said. "Would you take this card out and use it to pay on a date?"
"In a prior job I worked at Green Dot [a maker of prepaid debit cards]," he said. "We moved from a card that was kind of silver-ish to a card that was gold colored … so it was shiny and had a gold stamping. Customers really reacted to that."
It's a sort of arms race among credit card companies, racing each other to new styles and materials that set their cards apart from the competition and make nonmembers look at the table and say, "Wow, I wonder if I can get one of those?"
"People like things that show off, versus you look at your everyday cards where the most stunning feature is the bank's logo," Goldman said.
Take, for instance, the JPMorgan Chase Palladium Card, which is actually made out of a palladium alloy. (Lore has it that one bank even tried to forge its credit card out of gold, but failed when the conductive surface shorted out ATMs.) The Palladium Card carries personal brand clout with it, but it doesn't necessarily deliver better rewards. 
"It's heavy as all get out … but on a core basis it's not really giving you that much more than a Chase Sapphire Preferred card," Goldman said. "But it's five times more expensive."
Sometimes showing off pays. Some prestige cards can be valuable for consumers with a specific set of needs, especially those who funnel a lot of their spending through credit or travel a lot. Prestige cards usually come with slightly higher cashback or point rewards, making them particularly valuable for high spenders.
They also often come with extremely generous and occasionally useful travel programs such as concierge services, access to airport lounges and comprehensive insurance and medical coverage. Is something like the American Express Platinum expensive? Absolutely. On the other hand, it might be worth it for customers who come down with dengue fever in Vientiane.
Expense is a problem, though. Prestige cards cost a lot of money. The Magnises alone costs $250 per year, while the self-referential Citi Prestige runs a hefty $400 annual fee.
That's still nothing compared to the granddaddy of them all, the Centurion Card, at $7,500 for the first year and $2,500 each additional.
These cards cost a lot of money. It's why people want them: to show off access to that kind of cash. It's why they can't have them, and it's often why getting one is often just a bad idea. For most users, the cost will outstrip any financial benefits they would actually see.
Of course, if you're someone who would build a private clubhouse for people who want to pretend they have a black card, smart finances are probably beside the point.
— Written for MainStreet by Eric Reed, a freelance journalist who writes frequently on the subjects of career and travel. You can read more of his work at his website A Wandering Lawyer.