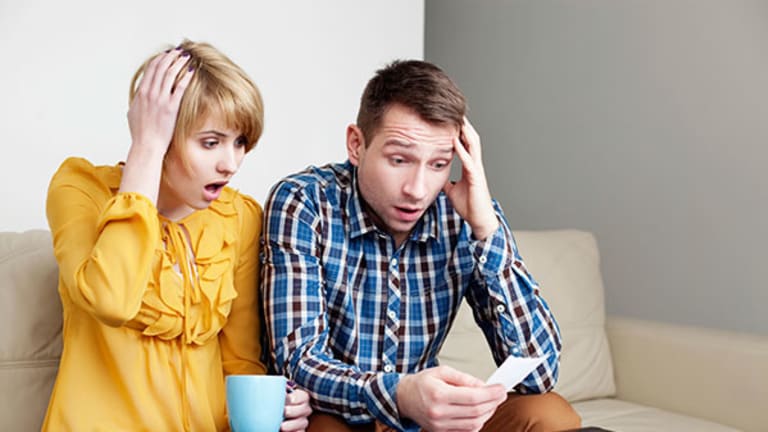 Plastic Punch Out: How to Avoid Credit Card Bill Shock in January
It's December and the holiday shopping is easy, but that won't be the case when the credit card bill comes due in January
It's December and the holiday shopping is easy, but that won't be the case when the credit card bill comes due in January
Editors' pick: Originally published Dec. 14.
Ever hear of a holiday debt hangover?
That's the term financial experts use to describe the damage done to the household budget from excessive holiday spending during the last few weeks of the year.
Really, it happens all the time. Julie Pukas, Head of U.S. bankcard and merchant solutions at TD Bank says it's really no surprise that consumers overdue it with "indulgent" holiday spending, and those who engage in the practice can expect to "take on more debt than anticipated."
To steer clear of that holiday hangover, and eliminate any potential shock-fest when you open your January credit card statement, Pukas and other budgeting gurus have some tips in mind to keep any massive January financial debt out of sight - and out of mind.
Here's what they advise:
Tap your employee bonus - At first glance, this one looks risky, but hear Pukas out. "If you're getting a holiday bonus this year, put all of your holiday shopping on your credit card and pay it off with your bonus after the holidays are over," she says. "Your credit score will look great and you won't feel a strain in your cash flow from the holiday spending. You'll also be able to carry your credit rewards into 2017."
Shop "smart" - Sure, you want to give friends and family (and especially the kids) thoughtful gifts without breaking the bank this year. "In fact, TD Bank's Love and Money survey found that consumer spend twice as much on their children during the holidays ($244), than each other ($148)," adds Pukas. "But, be thoughtful with your holiday spending and don't make purchases that you can't pay off once the holiday season ends."
What's your game plan? - "As they say, those who fail to plan, plan to fail," states Erin Ellis, an accredited financial counselor at Philadelphia Federal Credit Union.
The same notion applies to holiday shopping, Ellis explains. "Before you hit the stores, prepare a game plan," she advises. "Know exactly when you'll arrive at the store, what items are a priority, and how long you intend to spend at each store. It's also a good idea to hit the ATM before you head out. Paying with cash will lessen the chance of overspending."
Take the "stopwatch" approach - "Time is a valuable commodity during the holiday season, says Ellis. "It's easy to get carried away when shopping online or in the mall," she says. "To make the most of your tight schedule, set a time limit when you head out to shop. Before you get inside the store, set a timer on your phone for the amount of time you want to spend. This should discourage you from spending too much time browsing random aisles and making excess purchases." If you're shopping online, give yourself about 20 minutes to search for an item, Ellis adds. "This should be enough time to find the best deal for your gift and will help prevent any overspending that you'll surely regret in January," she says.
Watch your credit utilization rate - Heather Battison, a vice president at TransUnion, says holiday shoppers should be mindful of racking up too many credit card charges in order to keep their utilization (their credit card balance against their credit card spending limit) in a healthy range. "High utilization can signal an inability to pay back debt to lenders, and can negatively impact credit scores," says Battison.
Take advantage of card tracking, discounts and rewards programs - Thanks to major advantages in digital communications, credit companies are coming with creative ways to make you shop smarter. Take Citi Price Rewind. "With Rewind, Citi credit cardmembers can shop early with more confidence knowing that they don't have to spend time searching for a lower price," the company states in an email to TheStreet. The services searches over 500 retailers' online sites for a lower price for 60 days after purchase; if a lower price is found on a registered purchase, the Citi cardmember can get a refund for the difference in price of up to $500 per item and up to $2,500 per year (note that Citi raised these limits earlier this year from $300 per item and $1,200 per year). Between January and October of this year, Citi says it has issued more than $5.5 million in refunds to customers via Rewind.
Lastly, take a long-term view of how much better your life will be with significantly lower credit card debt next January - all because you were smart about your holiday spending.
"Don't forget about the future," says Joseph R. Santos, a director and advisor with Merrill Edge, based in Los Angeles. "Consider what holiday spending does to your bottom line, beyond just a couple of months. By cutting back, think about what can be done with the extra funds, such as investing for retirement or contributing towards a down payment on your dream home."