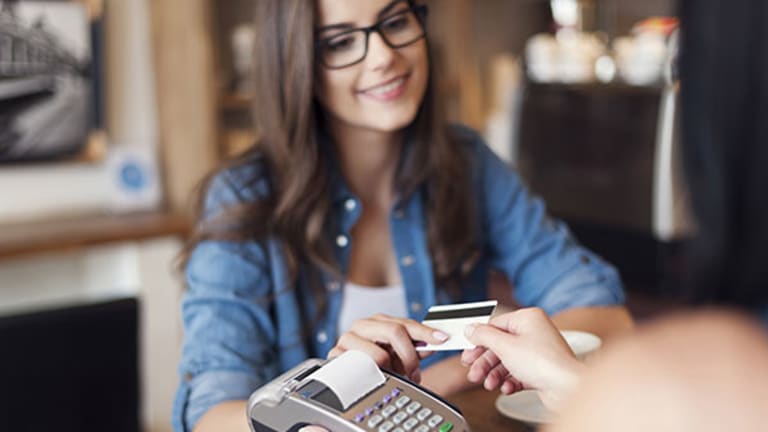 Our Stupid Bank Overdraft Purchases Come With 17,000% Interest
The median average on U.S. bank overdrafts is $34, and most are for withdrawals of $24 or less. Talk about a waste of money.
NEW YORK (MainStreet) — Too many consumers are getting lax about their bank checking accounts and suffering overdraft fees as a result - amounting to charges with the equivalent of 17,000% interest attached, according to the Consumer Financial Protection Bureau.
It doesn't need to be this way. Bank overdrafts are easy to avoid, and the 70% of respondents to a GoBankingrates.com survey who never overdraft know it. The $30 billion a year banks earn in overdraft fees are paid by a minority — the demographic who can least afford them.
But why don't those bank customers avoid them? 
Save Cash on Payments! Compare Low-Interest Credit Cards Now
GoBankingrates.com says 50% of consumers who experience overdrafts do so because they don't know their account balance but withdraw money anyway.
Another 23% say they "need" to make a purchase despite knowing they'll add plenty to that purchase with an overdraft fee. The median average on U.S. bank overdrafts is $34, and most are for withdrawals of $50 or less — in fact, for $24 or less, hence the 17,000% figure. Talk about a waste of money.
The best way to avoid overdraft fees is to know how much money is in your checking account and have a steady, monthly budget that shows money going in and coming out.
You can also:
Minimize the use of debit cards when you shop, but at least get and record a receipt to match it up with your checking account as soon as possible. The bureau calls excessive reliance on debit cards the biggest reason for overdrafts.
Give yourself a "buffer." Keeping a minimum balance of $1,000 or $2,000 in your checking account at all times significantly reduces the chances of ever having a bank overdraft fee.
Ask your bank to link your checking account to your savings account or to a line of credit. If you do overdraw your checking account, the bank dips automatically into the savings account or line of credit account to cover it. Expect to pay a small monthly fee for this service, but it's worth it to keep your checking account and credit score clean (in case a debt stretches on and goes to collections).
The majority of customers who "opt in" for overdraft charges (and aren't protected against overdrafts by their banks, who otherwise would block the withdrawal) run up charges for withdrawals of $24 or less.
— By Brian O'Connell for MainStreet