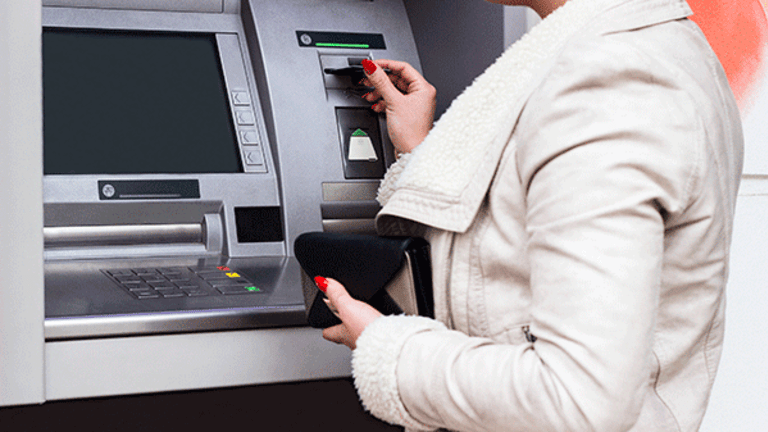 Never Pay ATM Fees Again
Credit unions, Internet banks, and more offer free ATM withdrawals. Here's your action guide.
Editors' pick: Originally published Oct. 13.
Pull a fast $40 out of a non-network ATM, and if you are a Bank of America (BAC) customer you may be dinged for $5.50 or more in fees. That's $2.50 to B of A for using a non-network ATM and maybe $3.00 -- sometimes higher -- to whoever owns the ATM.
Very probably more in tourist places like the Las Vegas Strip where ATMs are known to charge the unwary as much as $5 for a withdrawal. Even of $20. 
That's crazy? Maybe. But it's also typical. JPMorgan Chase (JPM) , Citigroup's (C) Citibank and Wells Fargo (WFC) all charge $2.50 for using a non network ATM. The big money center banks commonly charge $3 for non customers to use their ATMs.
Make one withdrawal a week at a non network ATM and that can be upwards of $250 per year in bank charges. Really, just for handing you your money.
You don't have to pay those fees.
Know this: millions of Americans never pay ATM fees in the U.S., no matter where they withdraw their cash. Never. And they say they are not inconvenienced either.
Some also enjoy sharply lower checking fees than imposed by the nation's biggest banks.
Case in point: Schwab (SCHW) Bank High Yield Investor Checking Account, mentioned by several sources that sang its praises. Said Sam Huang, who runs TopMiles.com, "Here's why: Unlimited ATM fee refunds on any ATM worldwide. I know this sounds too good to be true, but personally I've saved hundreds of dollars annually through the card. Every month the ATM fees are refunded automatically, even while abroad."
No minimum balances. No monthly fee. And proclaimed Schwab: "Unlimited fee rebates from any ATM worldwide."
Mark Quann, author of Rich Man, Poor Bank, offered another solution: join a credit union that belongs to the nearly 30,000 ATM network operated by credit union service organization CO-OP. Transactions are surcharge free.
Bank of America, which operates one of the largest -- possibly the largest -- bank-owned ATM network, has a tick over 16,000 ATMs.
The CO-OP network is huge and it came about because tiny credit unions (which often own just a few ATMs themselves) realized long ago that to compete against the big banks they had to band together and their ATM network is how. It means a member of Affinity Federal Credit Union in New Jersey can pull out money, fee free, from Arizona Federal Credit Union in central Phoenix and also the Phoenix Police Dept.
Quann said he personally belongs to two credit unions. He also stressed that not all credit unions are members of the CO-OP network - most are but there are holdouts - so always check. A quick text to CO-OP (692667) with a zipcode in the message field will return a nearby CO-OP ATM.
You prefer a bank? Ally may be your answer, said savings expert Kendal Perez with CouponSherpa.com. The account is fee free and every month it returns up to $10.00 in fees incurred at out of network ATMs.
Scott Vance, with Trisuli Financial Advising, pointed to another bank: USAA, which refunds up to $15 per month in other banks' ATM fees.
Discover (DFS) Cashback Checking, from the company with the same name credit card, is fee-free, no minimum balance and it boasts an ATM network of 60,000, via networks provided by AllPoint and Moneypass. Search for an ATM in 02139 - Central Square, Cambridge, Mass. - and ten pop up instantly, at various 7-11s, credit unions, and markets.
A last option: dodge ATMs entirely. Business analyst Paco Darcey at Clutch suggested "using a debit card to buy groceries at a local pharmacy or supermarket, and then get free cash back. Usually you can get up to $40 or so per visit."
At some retailers you can get more -- $100 in many instances.
Mark Schroeder, who blogs at The Consumers Edge, advises similar avoidance of ATMs except his preferred card is a credit card - "use a credit card as much as possible for 'walking around' expenditures. Not only will you have better protections against potential fraud and other coverage, but you will earn miles, cash back, or other loyalty currency."
Bottom-line: there is no good reason ever to pay another non network ATM fee in the U.S. again. Overseas -- the Schwab card aside -- it usually is trickier to totally avoid fees at ATMs. But domestically ATM fees are money wasted, it's that blunt.