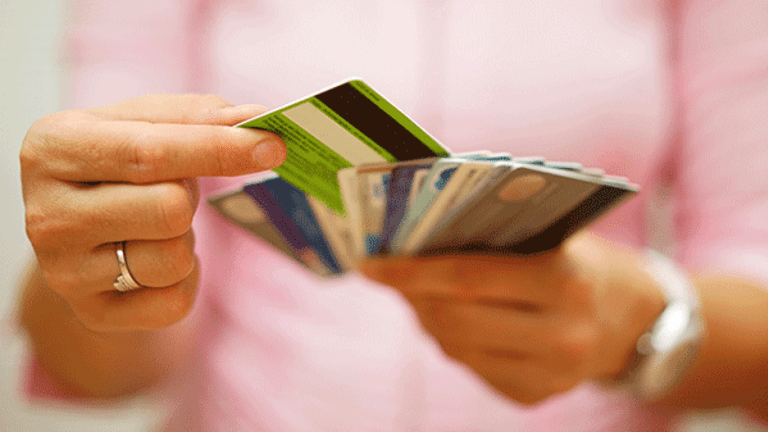 Is There a Credit Card War Brewing as Consumers Pump Up Plastic Usage?
With consumers getting more aggressive about credit card spending, card providers are getting equally aggressive about attracting new business, with new card offers.
A perfect storm is brewing in the consumer credit card market, and its fallout could be fresh opportunities among cardholders to pick better cards, with more incentives and rewards.
That's one takeaway from the newly-released J.D. Power 2017 Credit Card Satisfaction Study. In it, Costa Mesa, Cal.-based J.D. Power points to a "perfect storm of increasing interest rates, deeper credit card penetration and persistently strong consumer spending that has ratcheted up competition and created a customer incentive war among banks and credit card companies."
In general, card customers are happy with their choice of plastic, but if the big card brands are getting ready to beef up card offerings, why should consumers argue with that?
"It's a really good time to be a credit card customer," says Jim Miller, senior director of the banking practice at J.D. Power. "Overall satisfaction is up across the board, and growing numbers of card companies and regional banks are coming to the market with new products that offer rich sign-up bonuses, increased cash-back rewards and new benefits."
The study notes that cash back rewards cards are the most popular among U.S. consumers these days, with customers "most satisfied" with such offerings. In the "low demand, low satisfaction" realm, airline cards and store-branded Visa/MasterCard rewards credit cards have the lowest levels of satisfaction in the rewards card category. Overall, American Express, with an 835 ranking (out of 1,000 possible points) is highest in customer satisfaction with credit card issuers, followed by Discover (827) and Capital One (808).
J.D. Power notes that tougher completion for the consumer card dollar is triggering more generous options in rewards cards, but experts caution card users not to focus on rewards only when choosing a credit card.
"One of the biggest mistakes consumers can make when selecting a credit card is to simply focus on rewards while ignoring more meaningful features such as lower interest rates," says Kurt Rossi, CEO of Independent Wealth Management in Wall, N.J.
Rossi says that if you're someone that carries a significant balance, an extra rewards mile or two will not come close to offsetting the costs of a card that charges higher interest rates. "Low interest rates and low balance transfer fees are a must-have for consumers that carry a balance," he explains. "On the other hand, consumers without a balance have the luxury of selecting a card based upon the nice-to-have features such as travel rewards or cash back rewards. Consumers should also be careful not to be lured into opening multiple credit cards at various banks and retailers in order to score additional sign-on rewards as it could come at the expense of your credit score."
Most card users are usually adept at choosing plastic that has a decent rate and good rewards. When they do choose, the goal is not to go overboard on rewards-themed cards where the real benefits only kick in as you spend more hard-earned money, others say.
"The only danger in taking a card based on rewards only is extending a cardholder's credit facility far beyond their ability to pay," notes George Kriza, founder of MTC Performance, an incentive management software provider in Schaumburg, Ill. "What has been proven over and over again is that people just keep spending."
Additionally, if the cards have an annual cost, the number of cards in play should be limited so as not to accrue unnecessary charges for unused cards, Kriza advises.
Watch out, too, for balance transfer offers costs, which have been creeping up to as much as 3-4% for a one-time balance transfer, Kriza adds. "That's as much as a year's bank interest," he says.
Card consumers looking for a better deal might want to kick some tires on Chase Sapphire Reserve, says Brandon Yahn, founder of StudentLoansGuy.com, a site focused on helping people save money on their student loans and understand the basics of personal finance.
"The Chase Sapphire Reserve card has a $450 annual fee, but provides three-times cash back on travel and dining, and gives you 50% more value when you redeem your points for travel through Chase Ultimate Rewards," Yahn says. "The Reserve card also comes with an annual $300 travel credit each calendar year, which essentially reduces the annual fee down to $150. Plus, it currently offers 50,000 bonus points when you spend $4,000 within the first three months of opening the card, which is worth $750 in Ultimate Rewards travel value."
Yahn notes that even though banks continue to offer very friendly sign-up bonuses to incentivize new customers, you'll typically need at least a 700-credit score to qualify for the best reward cards.
"The rewards programs are great; however, you just need to pay off your monthly bill in full each month," he says. "The interest rates on these cards are still high, so carrying over a balance month to month essentially negates the spending rewards that you receive."
Also, card consumers should understand the annual fee amount, the sign-up bonus (which is typically the best incentive), the regular spend rewards and how you can or cannot use the rewards, Yahn says. "Take a close look at what other benefits come with the card, and how it will affect their credit score, too," he notes.
More of What's Trending on TheStreet:
50 Reasons Dying Sears Had No Choice But to Strike a Deal With the Ruthless Amazon