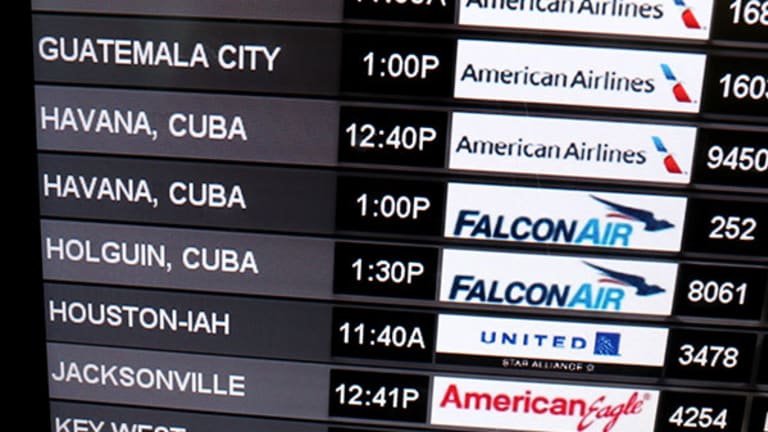 How to Travel to Cuba: It Might Just Be Time To Start Holding Your Breath
Ready to hit the Cuban beaches? The travel ban is still in place, but that doesn't mean it's impossible.
New York (MainStreet) -- In 1968 Pan Am made an ambitious offer. For no money down customers could become members of the First Moon Flights Club, a VIP waitlist for people looking to reserve their seats on a tourist flight up to the moon. Needless to say, the offer didn't quite pan out.
For many Americans today getting to Cuba is about as likely as that vacation on the moon. This time around, though, optimistic travelers might have a little more to hope for. Thanks to last week's announcement by the Obama administration, the very real possibility has emerged that Havana may become the next great vacation spot for American tourists. Industry professionals are already getting excited.
"We look forward to the day – hopefully soon – when all Americans have the opportunity to travel to Cuba," the Orbitz CEO Barney Harford said in a press release shortly after Obama's announcement. "There are numerous economic, social and cultural benefits that will flow from free and open access and our customers are eager to visit Cuba."
Crazy? Maybe not. After all, even under the embargo, 90,000 Americans visited in 2012 and 2013 alone. Now that Americans will have an embassy and access to their credit cards, that will only get easier. But Obama's announcement didn't undo our longstanding travel ban just yet. So how can you legally see Cuba? There are a couple of different ways.

WATCH: More personal finance videos on MainStreet | More videos from Scott Gamm
View Today's Auto Loan Refi Rates
"Basically, there are categories that you need to qualify under," said Giselle Perez, Vice President of Agencia Via Cuba, a travel agency that specializes in travel to and from the island. "There's general license and there's a specific [one]."
Getting a general license means meeting fairly strict requirements, the most common being a family member who still lives on the island. Of course, a general license doesn't allow for general travel: students, authorized professionals, members of a religious group and others can travel on business. They don't even need to apply, just filling out an affidavit is sufficient.
However Perez was very clear that this won't help anyone looking just to vacation.
"My first question would be to you, 'Well, what is your purpose for travel?'" she said. "If your answer was, 'I want to go to the beach and just want to be a tourist,' then my answer would be that you can't."
Dedicated travelers aren't necessarily out of luck. Joining the right church group or university program might get you there, but that's a lot of commitment for just one trip.
Or a Specific License
For budget travelers, specific licenses are a far more realistic option.
Travelers have to apply in advance, and there's generally no harm in trying. So hit Google, and get creative. After all, the worst that Treasury can do is say no.
Spend, Spend, Spend
For anything-but-budget travelers, a few, uncommon travel agencies finagle permission from the Treasury Department under a people-to-people exception. The purpose of the license is to "promote contact with the Cuban people" according to Treasury documents and is reserved for programs with a mission beyond simple tourism.
One example is the New York TimesJourneys trip to Cuba. It starts at a whopping $6,500 and not only takes travelers around the island but includes a curated itinerary and discussions from a veteran reporter. Because of the specialized nature of the trip, and specifically because it involves contact with local Cubans, the U.S. government gives permission.
The money involved probably helps too.
In other words, Cuba is accessible as long as you're willing to bust the budget. Find a specialized travel agency, cut the check and you're there.
Wait
The travel ban is still on… for now. With aging Castro brothers and a Cold War that ended before today's college graduates were even born, the return of American tourists is looking like less and less of pipe dream every day. Obama's announcement makes plain what many people have said for a long time: the embargo is a relic of a bygone era.
In fact the process is already under way, as Perez pointed out that the administration has quietly begun loosening the standards for a general license.
"Under [George W.] Bush it was to the extreme that it was getting inhumane," she said. "You could only visit immediate family and you could only go once every two years for a maximum of two weeks. It was only for immediate family and there were no exceptions for emergencies, death, weddings or anything like that."
Now, she said, family members can come and go almost as they please. Coupled with last week's announcement, this might mean an end is in sight to the long standing ban.
In other words, can Americans vacation in Cuba? Not yet. It might be time to start holding your breath, though.
--Written for MainStreet by Eric Reed, a freelance journalist who writes frequently on the subjects of career and travel. You can read more of his work at his website A Wandering Lawyer.