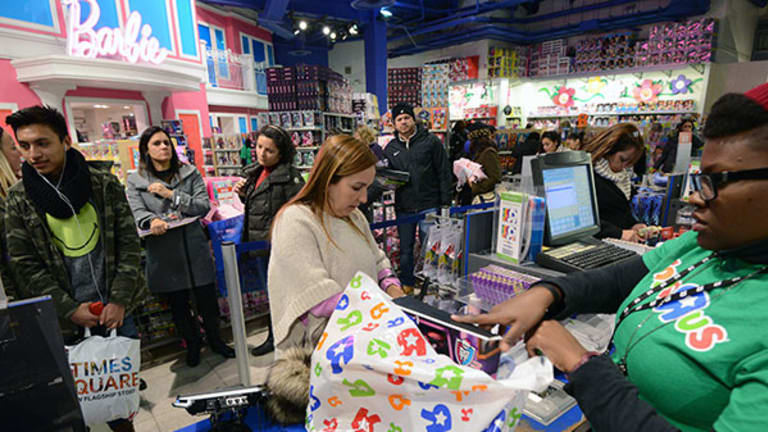 How to Not Rack Up Thousands of Dollars of Holiday Debt
With the biggest holiday shopping days just around the corner, consumers can avoid accumulating a large chunk of debt can be accomplished by not charging their purchases.
NEW YORK (MainStreet) — With the biggest holiday shopping days just around the corner, consumers can avoid accumulating a large chunk of debt can be accomplished by not charging their purchases.
Consumers spend an average of $800 on holiday-related expenses and many people wind up racking up large credit card bills by not planning ahead.
Failing to plan on how they will pay for holiday gifts equals dire consequences for consumers who are saddled with paying the interest long after the purchases are made, said Gail Cunningham, spokesperson for the National Foundation for Credit Counseling (NFCC), the Washington, DC-based national nonprofit financial counseling organization.
If a shopper charges $1,000 and makes only the minimum monthly payment of 2% of the balance at an annual percentage rate of 18%, it will take 12 years to pay off the debt. The consumer will have paid a total of $2,353 for the $1,000 worth of goods and services purchased.
Consumers can easily see the impact of their financial decisions on their credit report through the NFCC's Sharpen Your Financial Focus program, which gave 18,000 people a membership to Experian's freecreditscore.com product for a year at no cost to them. 
"This is the ideal time of year for consumers to take advantage of the Sharpen program, as it will allow them to assess their financial situation before entering the holiday shopping season, thus allowing more responsible spending decisions," she said. "Consumers may still be receiving the summer vacation and back-to-school bills, but should not lose sight of the fact that the holiday spending season is just around the corner."
Finding bargains during your shopping expedition is not the solution, Cunningham said.
"The savings of buying items on sale is lost if payments are stretched out for months," she said. "This makes it vitally important for a person to understand their current financial situation before taking on new debt obligations. Doing otherwise could result in damaging an already fragile financial situation."
Consumers can easily have money available for holiday spending and traveling and create a debt free holiday by trimming daily spending even by just saving a few dollars a day.
"Review your current spending by looking for leaks," Cunningham said. "Plug those leaks and use the found money for holiday spending."
Read More: 

Commit to shaving $10 off of ten spending categories. While some obligations such as rent, mortgage and car payments are fixed, there are other categories that offer a great deal of flexibility. Consumers can cut back $10 each month on categories such as food, clothing, gas, utilities and entertainment without feeling deprived.
Clean out your closets, basement and garage and sell unused items. Since others are also shopping, this is the perfect time of year to sell items that haven't been used in one year. You could easily save another $100.
Consumers should also open a separate holiday savings account to direct all their savings each week and month. A separate account prevents you from mingling the $1,000 holiday money with existing savings or checking accounts that could be spent easily on other items.
"If you're still paying for holiday spending 2013, consider rethinking your gift giving for this year," she said. "It makes no financial sense to pile new debt on top of old. Kindness and experiences are meaningful substitutes for purchased gifts and are remembered long after the wrapping paper and bows have been discarded."
Living within your means on a daily basis and using credit cards only in real emergencies is the best option, said Kevin Gallegos, vice president of the Phoenix operations with Freedom Financial Network, a company which helps consumers with debt consolidation, resolution and settlement.
"Paying down credit card debt is one of the best investments you could ever make since the effective rate of return easily can approach 20%," he said. "In addition, having no credit card debt is in itself a financial cushion. It will require strict discipline, belt-tightening and a revision of your goals."
Paying with credit cards is only a good idea if the bill can be paid monthly before interest is tacked on and if the consumer has a card that offers a benefit such as airline miles or money back, Gallegos said.
One sign that you are heading for trouble is if you find yourself near the maximum amount allowed on your lines of credit. If you're considering applying for new lines of credit because the existing ones are maxed out, you'll only make matters worse, Cunningham said.
"The last thing you need is more credit," she said. "Being generous to a fault is not a gift that will benefit the giver or the recipient."
Even if it was a one-time occurrence or an emergency, applying for a credit card cash advance or borrowing from your 401(k) or IRA this year is a sign that you need to regain control of your finances.
"Adding new debt on top of old is a financial death trap," said Cunningham. "Balances grow and you end up paying interest on the interest. Digging out of debt is impossible unless this practice stops."
 --Written by Ellen Chang for MainStreet