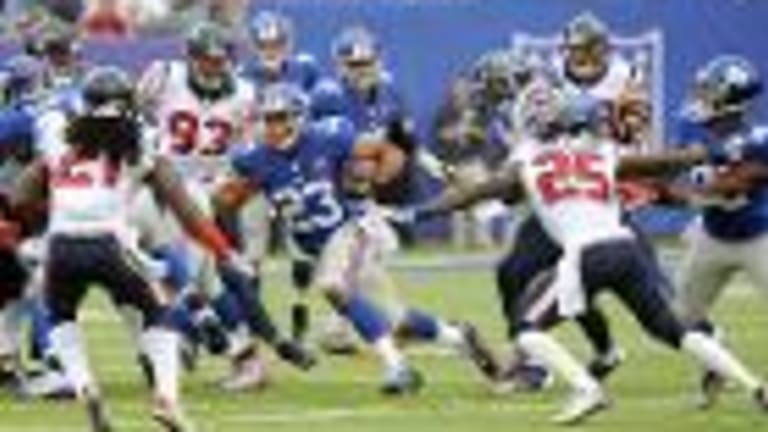 How NFL Fans Can Exploit the League to Avoid TV Blackouts
The NFL loves money above all else, which makes paying for the RedZone channel or its overseas Game Pass service worth the price for blacked out fans.
NEW YORK (MainStreet) – The NFL reserves the right to black out games on local television this season, but fans don't have to play along.
The NFL blacked out only two games in teams' home markets last year, down from 15 games in 2012, 16 in 2011 and 26 in 2010, but it still has the power to take games off local television if attendance falls short. Under the NFL's original television blackout rule, which dates back to an act of Congress in 1961 that created the league's current antitrust agreement, home games couldn't be shown on TV stations that broadcast within a 75-mile radius of the stadium if non-premium tickets weren't completely sold out 72 hours before kickoff. Last year, the NFL allowed teams the option of calling games "sellouts" at 85% capacity and keeping them on local television. Even after opting into that rule this year, however, the Cincinnati Bengals needed a last-minute sales push to avoid blacking out broadcasts of Sunday's home game against the Tennessee Titans.
That reduced blackouts and shifted blame for them from the league to its individual owners, but more importantly it opened a discussion about avoiding blackouts altogether. Last year the Federal Communications Commission made a non-binding decision to end NFL blackouts. In an op-ed for USA Today published this month, FCC Chairman Tom Wheeler vowed that his agency would vote Sept. 30 to end sports blackouts completely, saying they "are obsolete" and "make no sense at all." Fortunately, fans don't have to wait for that result to dodge the NFL's blackouts.
The NFL gave fans a way around blackouts when it added the RedZone channel to its NFL Sunday Ticket out-of-town game package on DirecTV a few years ago. That channel shows only the scoring drives from each game, but has no means of blocking scoring drives in games played in home markets. Better still, the NFL has opened RedZone access to Dish Network, Verizon, AT&T U-Verse, Cox and Cablevision customers as part of its NFL Network offerings. It requires a subscription, but it also bypasses the less-interesting portions of a home game to get right to the action.
That's actually a better deal than subscribers who pay $5 a month for Verizon's NFL Mobile streaming service or fans paying $240 to $330 a year for DirecTV's NFL Sunday Ticket are getting. Each of those services is still subject to NFL blackout rules despite their subscription costs.
Compare Today's Low Mortgage Rates
If you're looking to watch the whole game, however, there's only one real way around a home blackout: a virtual private network connection. Online viewers can join services such as Express VPN or Safer VPN to change their Internet Protocol address to an one beyond the local coverage area and stream games through the NBC, Fox, CBS or Yahoo! websites, or ESPN if you have a subscription. If you're feeling really intrepid, you can change to an address outside the U.S. and subscribe to NFL Game Pass, which allows fans outside the U.S. to follow a specific NFL team for $100 a year, follow all the NFL regular season action for $130 a year or get access to the playoffs — which aren't immune from blackouts — for $200. The NFL still gets paid, fans still get to watch and VPN technology makes sure nobody's the wiser.
Internet service providers can't do much about VPN servers and aren't really trying. While some users have tried using enhanced Domain Name Systems (Smart DNS) for the same purposes, some ISPs have resorted to DNS hijacking or transparent proxies to render that method useless.
As long as the NFL gets paid, it doesn't seem to care. Last year, the NFL made nearly $10 billion in revenue, with roughly $6 million of that divided among team owners. The NFL's money machine made more than the $8 billion produced by Major League Baseball over the same span and more than the revenue of the National Basketball Association ($5 billion) and National Hockey League ($3.7 billion) combined. Its television revenue is only going up, as it's reworking a $1 billion-a-year deal with DirecTV for its NFL Sunday Ticket package for out-of-town games and just took $275 million from CBS to broadcast Thursday Night Football this season.
Overall, Fox, CBS and NBC pay the NFL $28 billion — or roughly $1 billion a year — for broadcast rights through 2022. ESPN pays $1.9 million each year — or more than double what any network pays for a season of Major League Baseball — just to host Monday Night Football. Meanwhile, 34 of the 35 most-watched television shows last fall were NFL games.
NFL blackouts may be nearly extinct, but there's no reason for modern fans to put up with them when technology has rendered them obsolete.
— Written by Jason Notte for MainStreet
>To contact the writer of this article, click here: Jason Notte.
>To follow the writer on Twitter, go to http://twitter.com/notteham.
>To submit a news tip, send an email to: tips@thestreet.com.

RELATED STORIES:
>>NFL Sponsorship Is A Thankless Trap
>>What The NFL Owes Taxpaying Fans
>>The NFL Doesn't Discriminate Against Money