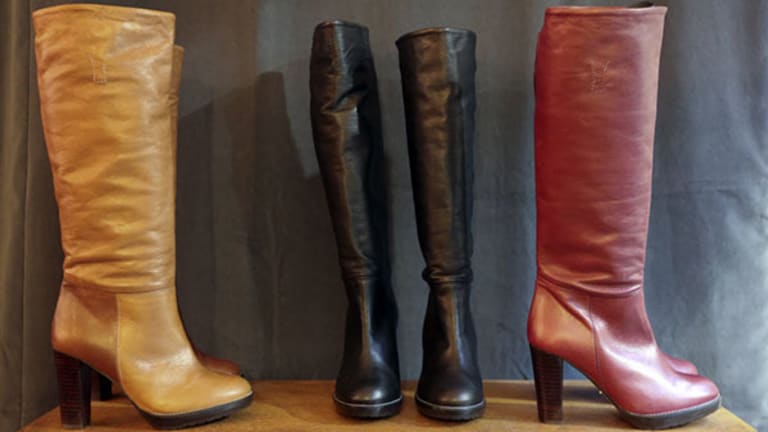 Holiday Shopping Boot Camp: How to Identify and Avoid the 10 Most-Extreme Retail Markups
Paying only a 100% markup is becoming a thing of the past.
NEW YORK (MainStreet) — Oh, we long so for the days of "keystone." That's the term retailers give to traditional profit markups. It's taking the cost of a product or service and doubling it. But a 100% markup is rapidly becoming a thing of the past. As the holiday shopping season moves to full bloom, here are 10 of the most-extreme retail markups you'll want to avoid, as researched and provided by Sumo Coupon.
Electronics
We are all painfully aware of the high profit margins on electronics. It's a wonder Circuit City, CompUSA, J&R and so many other retailers blew up. Maybe they weren't selling enough cables and cords. While big-ticket items often have slim margins to maintain a competitive edge, it's the accessories that pile on the profits. Phone chargers (672% margin), ethernet cables (1,000%) and HDMI cables (1,900%) are big money makers.
And we don't even want to mention your home cable Internet hookup—with its 4,900% margin. Remember that the next time you're  on hold with customer service.
Pets
Who can resist a new pet as a holiday gift? Of course, cats are the real bargain in this category – who pays for a kitty? But when it comes to puppies, real bargain hunters go for the rescue than the purebred pedigree. With a Humane Society average cost of $200 for a ready-to-pet pup compared to the $3,000 ticket for a puppy with papers, you'll save a 1,400% markup.
Tickets
Millennials are said to appreciate experiences more than merchandise, so event tickets can be a great gift idea. Movie tickets seem expensive but with a 192% profit they're really a bargain compared to your typical concert. Ticket resellers typically score a 2,873% markup on hot-seat events.
Coffee shops
Taking a break from holiday shopping can often mean a quick stop in your favorite coffee shop. Everyone knows this is an expensive treat, but who can resist? Especially when you crave a shot of caffeine. When you realize that a cup-o-joe costs about a dime when home brewed but carries a 2,900% markup for the average $3 coffee shop order you may decide to pack a Thermos.
Order a glass of wine (400% markup), beer (694%), mixed drink (1,150) or soda (1,150%) seems like a bargain compared to your typical bottle water (2,000% markup).
Pain relievers
If the crowds, shopping or (too much) wine tend to give you a headache, you'll get little relief from the pain killers. Brand-name remedies often carry a near 400% markup. But that occasional Prozac is a real hard pill to swallow: a generic version costs $3, put the real-deal brand name goes for $136.52 – a 4,451% markup.
Apparel
Fashion is always a holiday gift favorite. Designer boots will be on the top of many ladies' wish lists (354% markup), perfect to pair with those designer jeans (650%). And guys will still think lingerie is a bargain, even with a 1,100% margin. Ladies, of course, prefer diamonds – and with only a $230% markup, who can blame them?
Travel
Flying your kids home for the holidays is a wonderful gift, but with 388% markups you would think they could enjoy at least a bag of pretzels and a little more legroom. Valet parking at the airport is convenient, but costly too – carrying a 313% cost markup.
Home for the holidays
Preparing for holiday houseguests often requires a helping hand from a professional. Lawn mowing services and their 492% markup are not in big demand this time of the year, but snow removal can be – and carries with it a shovelful of profit: 3,900%.
You may be looking to tidy up the homestead with a fresh coat of paint before you decorate for the holidays. The $140 average cost of supplies is nothing compared to the $9,000 labor costs often incurred. That makes for a profit of more than 6,300%.
And whether your maid is merry or not, house cleaning services mop up a tidy 5,900% markup for their efforts. New furniture? Better sit down. Furnishings come with a plush 400% profit.
Pseudoscience
If you're looking for a gift for someone who has everything, you may consider a New Age experience. A phone consultation with a psychic packs a real profit with each prediction: a 9,186% markup.
Gift cards
For eight years running, gift cards have been the most popular holiday gift item. No markup, right? It depends on if you go with a "closed-loop" card or an "open-loop" card, according to the National Consumers League.
Closed-loop gift cards are usually sold by retailers and are used only for purchases from their stores. That means few, if any fees.
Open-loop cards carry the brand of a bank (American Express or Visa, for example). These cards can carry an up-front "activation" fee at purchase, and may include maintenance fees, inactivity charges, balance inquiry fees and other transaction charges. Read the fine print before grabbing one off the rack.
-- Hal M. Bundrick is a Certified Financial Planner and contributor to MainStreet. Follow him on Twitter:@HalMBundrick