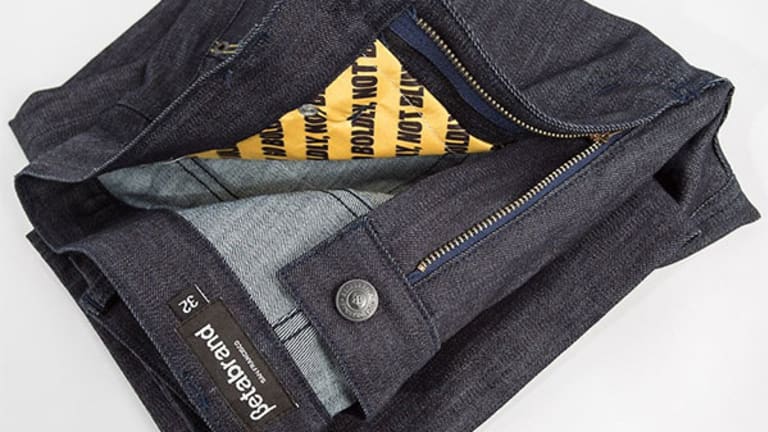 Hack-Proof Pants Protect Your Credit Cards from Digital Pickpockets
Company says 10 million people are victims of wireless identity theft. Always wear protection.
NEW YORK (MainStreet) — While not quite a stylish version of the Iron Man exoskeleton, new crowdfunded apparel does protect the wearer from digital identity theft -- if not providing a force beam, weapon capabilities and free flight. READY jeans for men, as well as a blazer for women, are slim fit denim jeans with hack-blocking pockets. Yes, it's come to this.
Steven B. Wheeler, the San Francisco-based designer of the scan-proof apparel, spent "countless hours hunched over his mother's Kenmore sewing machine" as a child, according to the Betabrand crowdfunding site. "I'm not a know-it-all, I'm a learn-it-all," he says on his Twitter account.
After learning that more than 10 million identities are "digitally pick pocketed" each year by scam artists with wireless scanners, Wheeler sought to fashion a wearable solution. The stretch denim pants contain two radio-frequency identification (RFID) and near-field communication (NFC) blocking pockets, capable of protecting your credit, debit card or passport data from being lifted by a hostile scan. A promotional video says RFID scanners can steal data from over 30 feet away.
Betabrand says by next year, 70% of all credit cards will be vulnerable to such attacks. The jeans reportedly have Symantec's Norton brand protection built in. Besides offering high-tech protection, the jeans are suited for "adventure-prone professionals," Wheeler says.

WATCH: More personal finance videos on MainStreet | More videos from Scott Gamm
View Today's Auto Loan Refi Rates
Fundraising for the jeans has been quite the success. With two weeks left, it's raised 174% of its goal. Shipping is expected to begin in late February. The straight leg fit jeans list for $168, but with a 20% funding discount are selling for $134.40.
The women's "Work-It" wrinkle-resistant blazer, with detachable hood and one scan-proof pocket, sells for $148.50. It is projected to ship in March.
While there are wallets, credit card protectors, mini backpacks and other carry-along RFID-blocking accessories, the Betabrand jeans are apparently the first weareable protection from wireless identity theft.
--Hal M. Bundrick is a Certified Financial Planner and contributor to MainStreet. Follow him on Twitter: @HalMBundrick