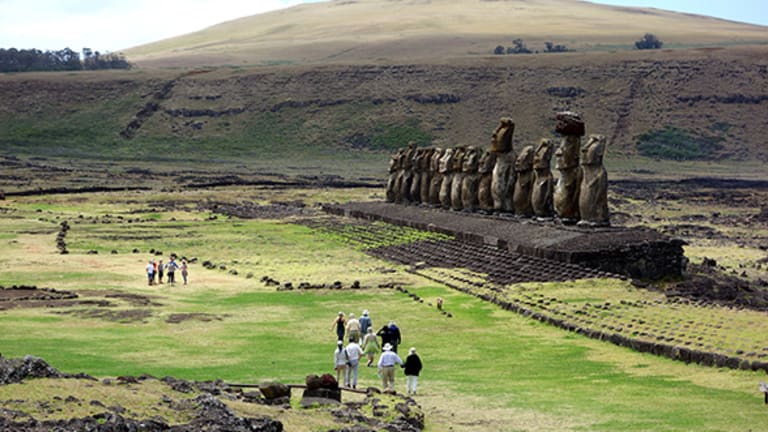 Do You Have $117k? You Can Travel Around the World by Private Jet in Just 26 days
The tour includes some of the most remote places on earth -- from the Amazon River to Kenya.
The tour includes some of the most remote places on earth -- from the Amazon River to Kenya.
NEW YORK (MainStreet) — If you're planning a trip around the world this summer, you may want to consider putting it off until October next year. Luxury travel company Abercrombie & Kent (A&K) has arranged for a 26-day private jet journey from October 17 to November 11, 2016. The tour includes some of the most remote places on earth -- from the Amazon River to Kenya.
The total cost for this trip is $117,000 per person, a reasonable amount, says A&K, considering travelers arrive in remote destinations larger commercial airlines don't serve, and even bypass customs and security lines.
The tour begins in Miami, where travelers board the private jet for the flight to Iquitos, Peru. They will sail the Amazon for three nights before flying to Easter Island, Samoa, Papua New Guinea, Bali, Sri Lanka, Madagascar and Kenya. The journey ends with a gala dinner hosted by A&K founder Geoffrey Kent in Monaco. A fleet of privately chartered helicopters will whisk travelers to Nice for the final flight back to New York.
"Trying to duplicate a private jet trip like this that includes so many remote destinations would take at least twice as long and would cost approximately $2 million if flying commercially on first class," says Rami Girgis, Abercrombie & Kent's product manager for private jet. "On this particular itinerary, very few of the destinations have direct commercial airline service between them, which means lots of connections with forced overnights."
The $117,000 ticket includes the use of the aircraft – you'll be on the same private jet throughout the 26-day tour. The price also covers accommodations, meals, beverages, private transfer, travelling bell boy service, services of a professional A&K tour director, tour managers and luggage managers, hotel and airport taxes, internet access, entrance fees and gratuities.
If you're traveling by yourself, however, you'll have to pay $15,000 more. A&K calls this the "single supplement." And if you're thinking of taking children with you, note that they need to be at least 15 years of age to go on this trip. A&K will only sell tickets to a maximum of 50 travelers.
"This model that Abercrombie and Kent has is absolutely amazing -- the amenities, the service, the destinations, you name it, and it's extremely cost effective," says Joshua Hebert, CEO of Magellan Jets. "It's so effective that, in fact, the Four Seasons has moved into the same market."
Magellan Jets has recently partnered with Four Seasons Resort to offer a luxurious Caribbean vacation. Prices will vary depending on departure city and aircraft size, but the package will include round-trip charters, five nights of villa accommodations, a round of golf, spa treatment or professional tennis lesson and day trips to St. Kitts or St. Barths.
"This is the new way for programmed luxury travel and we see this growing in the future," says Herbert.
Magellan Jets has seen a steady increase in demand for private jet travel since 2008. Travelers who typically fly first class are seeing the benefits of private aviation, particularly when making immediate plans.
"If you're booking a round-trip flight at the last minute, which most of our customers do, in many ways private aviation would be less expensive," Herbert says.
A quick check on Kayak.com shows that a round trip first-class fare from Boston to London for this weekend is $19,477 on British Airways. A round-trip flight from Boston to London on a Gulfstream 4 private jet would cost $150,000. Given that there's a minimum of 14 people on the private jet, the cost per person goes down to about $10,700.
--Written by Marilen Cawad for MainStreet
Disclosure: TheStreet's editorial policy prohibits staff editors and reporters from holding positions in any individual stocks.